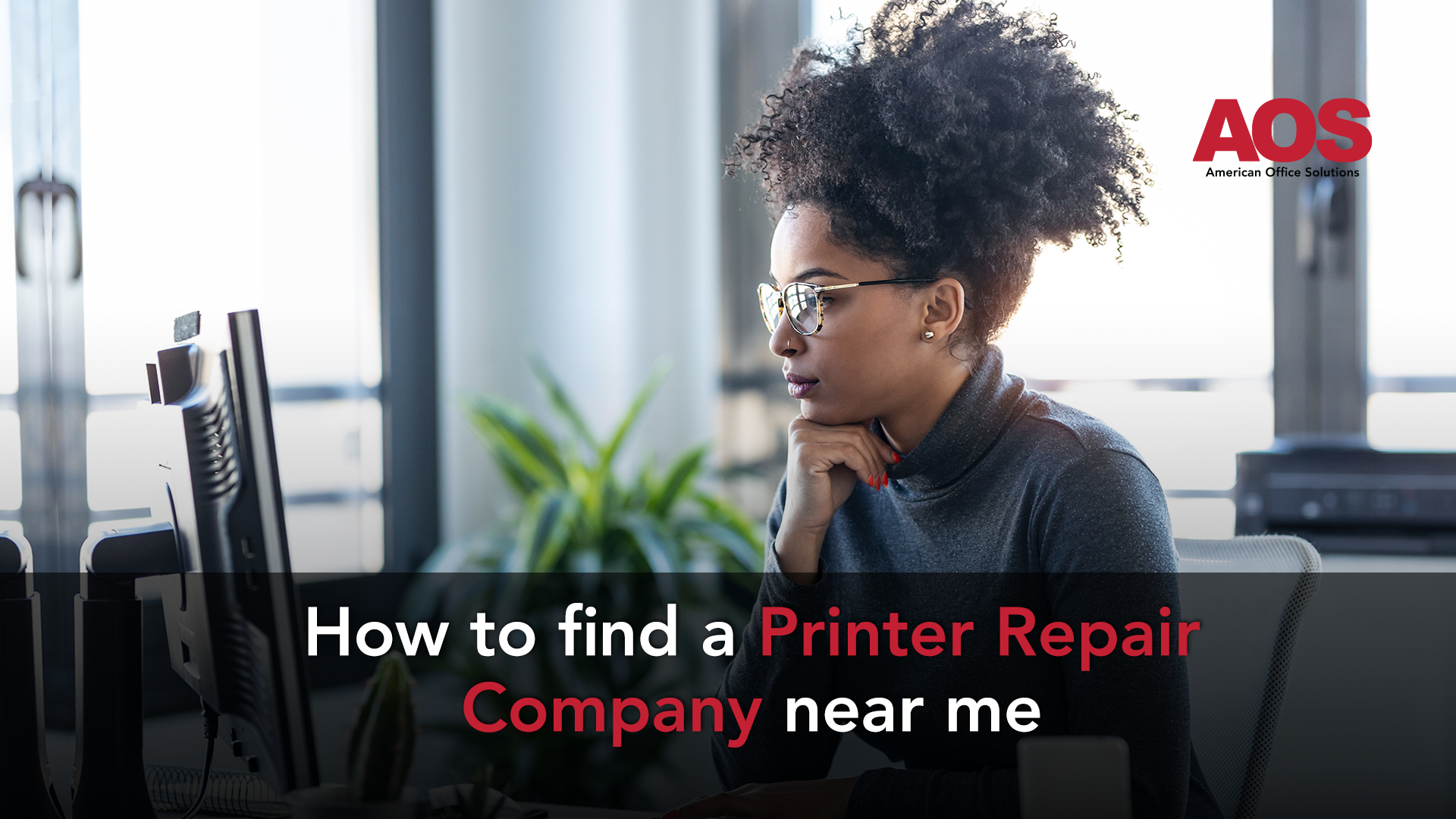 Does it seem like you're constantly facing a problem with your office printer? From the error lights to the paper jams, it's one thing after the other. The need for constant repairs means that your current service company isn't getting the job done, and it's time to make a change.
First, though, you need to know how to find a printer repair company in your area. Not to mention, you need to learn what exactly to look for when searching for a company to repair your printer. Then, you'll be ready to start fresh with a new copier or printer repair company.
What To Look For When Choosing A Local Printer Repair Company
Because your office copier or multifunction printer (MFP) plays such a vital role in your business, you need to be mindful when selecting a repair company to partner with.
We've listed some essential characteristics to keep in mind when scouting for a new one. When you find a provider with these features, you know you've discovered the best repair company in the area.
Make Sure The Company Offers Maintenance Contracts
First, look for companies that offer maintenance contracts. That way, you won't have to pay for each individual service—instead, everything is included in one low monthly payment.
Signing a printer maintenance contract keeps your repair costs low while also ensuring you have access to service at all times. It's much easier to stick to a budget and keep your printer running as it should when you sign a maintenance contract.
Without a contract like this, you could end up going way over your budget and running out of money to fix your office copier or MFP.
You would then have to find a way to manage your printing needs without having a printer onsite, which wouldn't be easy and could force you to spend even more money.
Look For Continual Support
Some printer repair companies only offer in-person support. That means you have to schedule a service call for even the most basic of problems.
Choose a printer repair company that provides continual online and offline support so that you can resolve some problems without a service call. Once you reach out online or over the phone, the company will examine the issue and, if possible, walk you through a solution.
You can then start printing, copying, and faxing again without scheduling an in-person service call.
Related: Technology Solutions: Top 5 Tips to Keep Your Office Copier Up and Running.
Check Their Guaranteed Response Times
While it's nice to have remote support, sometimes, you will require in-person service. Look at the response time guarantee when choosing a printer repair company.
If a company is there in less than three hours, you know you won't have to worry about your copier being down for too long. Instead, the company will get there quickly and repair your machine. Then, you can get back to work without any issues.
Go With A Company That Has A Proactive Replacement Strategy
Have you noticed how some printer repair companies are so focused on making money that they refuse to replace parts until the machine completely breaks down?
They might notice that a part is about to break down, but they want you to get every last copy out of it before replacing the part. Then, the machine finally does break down, causing unnecessary downtime.
The best companies are proactive regarding parts replacement. If they notice a part is nearing the end of its life span, they will go ahead and replace it. This will increase the machine's stability while also limiting any potential downtime.
Hire A Company With Well-rounded and Knowledgeable Technicians
The best copier repair companies are staffed with technicians who can handle a variety of printer problems. They shouldn't have to call for backup because they can't figure something out. Instead, each technician should be skilled at diagnosing and fixing issues.
Make Sure The Techs Have Access To Parts And Supplies
If your printer goes down, you don't want to wait days for a part to come in the mail. Your printer repair company should stock technicians' vans with the most-used parts and supplies.
Your printer repair company should also have a local warehouse with additional parts, so you never have to wait long for a repair.
If a company has to order parts, it's best to look elsewhere. Otherwise, you might face large amounts of downtime that inconvenience your business.
Consider Customer Service
Customer service is also essential when hiring an office copier repair company. You should choose a company staffed with friendly, helpful employees. You will then get the best service possible, whether you are talking on the phone or dealing with a service technician at your office.
When you use a company with excellent customer service, you end up with more than a copier service company. You deserve to have a trustworthy partner for your small business that will go above and beyond to make sure that you get the best service at all times.
Related: What is Remote Monitoring with Regards to Copier Service?
Choose A Company That Recommends Different Solutions
Some office repair companies can also provide different solutions if you're having printing problems or need advanced features, such as wireless printing or mobile printing.
The right company can conduct an assessment to determine if your current setup is right for your business and create a proposal to help you save money while meeting your printing and copying demands.
Even if you aren't ready to upgrade your machine right away, it's still a good idea to choose a company that offers various solutions for your organization. That way, you can upgrade when you're ready without having to shop around again.
Once you upgrade your copier or printer devices, you can benefit from new technology while also lowering the cost-per-page.
The Final Say: Find The Best Printer Repair Company Near You
The best printer repair company will meet all of your needs and then some! When you sign a contract with a top company like AOS, you won't have to worry about the printing problems that slow your business down.
If you're not sure of your next steps, start here by reading our article: Who are the Best Copy Machine Companies—Manufacturers or Local Dealers?
AOS is the right choice when looking for a local printing and copying partner for your team members and organization. With managed print services and maintenance contracts, you can leave your printer needs to us. Make sure to reach out to us today to learn more about how we can help you reach your business goals now and in the future.