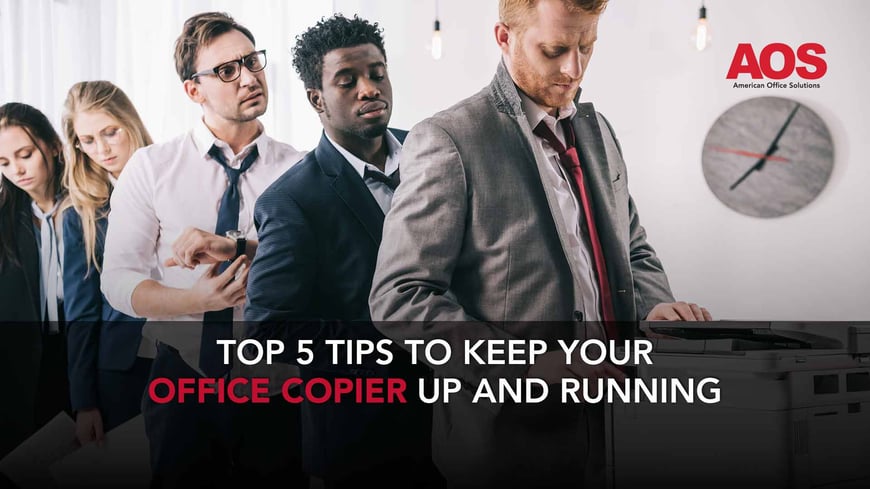 READ TIME: 5 MINS.
It is one thing to understand the complexities of purchasing or leasing a new office copier. It's another thing to actually get (and keep) that machine healthy once it's in your office. Just like humans, copiers need a little love too!
So what are the top 5 tips to keep your office copier up and running? You landed in the right place!
A well-maintained copier for your business is always a good idea. In this article, we'll be discussing five tips you should follow to keep your copy machine and multifunction printer working to the best of its ability because let's face it, there's nothing worse than when a copier breaks down.
By the way, a multifunction printer (MFP) is a device equipped for printing, copying, scanning, and faxing. It's an all-in-one solution!
Tips to Keep Your Office Copier Up And Running
Like any other technology device, you've got to invest in a little care here and there to preserve it for years to come. Copiers aren't cheap, and facing downtime related to a broken copier could cost you frustration and potential revenue loss.
1. Keep An Eye On Your Office Copier Supplies
When it comes to your office copier, not all supplies are created equal. For example, toner cartridges vary in their consistency, components, and quality. Failing to use the right toner for your machine could cause severe damage—potentially requiring costly repairs and even void your warranty.
To avoid this, make sure to reference your owner's manual that typically lists all recommended toner the machine is compatible with.
If you find a bottle that looks like it still has toner inside, don't attempt to top off another bottle you may have. This is a common mistake that many of us tend to make. Toner bottles are designed to release their contents only when placed in a machine for a reason; toner can make a big mess… trust us on this!
It's a great idea to check with your service provider to ensure you are ordering the right supplies and ensuring everyone in your office is using the right product for the right job.
2. Show the Necessary Care

As we mentioned earlier, your copier needs a little love every now and then. If your multifunction copier or printer hasn't seen much activity in a few days, avoid abruptly starting it up the way you usually do. Doing so can cause harm to your machine. Instead, start with a small print job to help the machine warm up before attempting a large job with a high volume of pages.
As a reminder, make sure to replace old paper with a new ream of paper and check for any jams before starting.
When left unused for a while, most copiers go into sleep mode. So, give your device a minute or two when booting it up. Just like any technological equipment or programmable device, your copier must undergo this process.
And as such, tapping or hitting the copy button several times won't speed up the process and may eventually harm the machine.
By the way, during this time of extra sanitization we're currently experiencing, make sure to stay on top of the best ways to disinfect your copying or printing machines. Read our article to learn more, Cleaning / Disinfecting Your Office Copiers and Printers.
3. Invest in the Right Type of Papers for Your Office Copier
One of the most common mistakes we make is to overload our copiers. Not to mention, a high printing volume (and printing speed/pages per minute) is also something to keep an eye out for in terms of overloading these machines.
It's always a great idea to check the paper capacity before loading up your copier. You can even make a note of your copier's paper capacity and leave it near the device, so others don't forget.
Most (if not all) copy machines have lines to indicate a set fill-level on the inside of the paper tray. Keep an eye out when loading your paper reams for that line and keep your paper nicely stacked below the line.
On another note, different paperweights may change the number of sheets you can load at once; that is fewer sheets for thicker paper.
Do well to place your clean paper load in a dry, neat, and organized place for efficient use. And if you can, steer clear of humidity. Meaning, the physical location of your device and it's accompanying equipment is something also to consider. Damp or humid areas tend to cause your paper to ripple or curl, resulting in low-quality prints and scans.
4. Stay Up-To-Date on Maintenance and Service

Another initiative to reduce downtime related to a broken copy machine is to schedule regular maintenance with your office copier provider or support team. Whether you are leasing or have purchased your copier, most manufacturers recommend standard maintenance service.
Learn more about maintenance or service agreement here.
Just like a routine oil change or tire rotation for your car, your copy machine benefits from regular service, too. Or, just like a physical at our doctor's office, we're recommended to get each year. I'm telling you, copy machines are more like humans than you think!
The frequency that these services are recommended may vary, and some leases may include periodic maintenance services. However, even when it is included in a lease, you may still need to contact the service provider for other maintenance demands, such as service set-ups.
Take some time to research the maintenance recommendation for all of your office technology devices, and set automated reminders, so you remember to request the service when you need it.
5. Avoid Lines

Ever heard the saying, "leave the lines for fashion designers?" Well, we couldn't agree more with one when it comes to your copiers and the potential (and dreaded) lines that sometimes show up on your printed work.
If you detect lines on a single page or multiple pages, see it as a sign to place a service call to a professional technician or to your copier dealer.
When you start seeing lines on printouts from your copier, it could be a dirty roller inside the machine. The roller might have picked up dirt and must be cleaned.
We run into many clients who don't know how to clean the slit glass. Are the lines on your documents occurring from a print or copy first, before the actual print job occurs? If so, try placing your original document on the copier glass rather than feeding it through the document feeder. If not, try cleaning the slit glass.
Here's a great article on cleaning your office copier glass you'll find beneficial, How-To Clean Your Office Copier Glass with Windex.
Final Thoughts: Top 5 Tips To Keep Your Office Copier Up and Running
Whether you use your office copier for your small business or personal use, it's always a good idea to invest in the best cleaning practices so that you get the most out of your device.
There are also tons of other tips to look into that'll help maintain the longevity of your copier, especially if your machine has more than just standard features, such as printing to mobile devices, extra faxing capabilities, and wireless networking. So, be sure you're well-versed in your specific model and brand.
Keep in mind, your office copier is there to make your job easier—not to cause problems. Treat it with a little TLC, and you'd be surprised how long it'll last!
At AOS, we're an office copier provider who is passionate about providing our readers and clients with best practices for their technology devices. An office copier is one that so many of us use each day, and it's essential to know the best ways to preserve it so that you and your employees remain happy and productive. To learn more about copy machine maintenance or any of the products and services we offer, make sure to reach out to us today. We're here to keep your business on its path of growth and success.