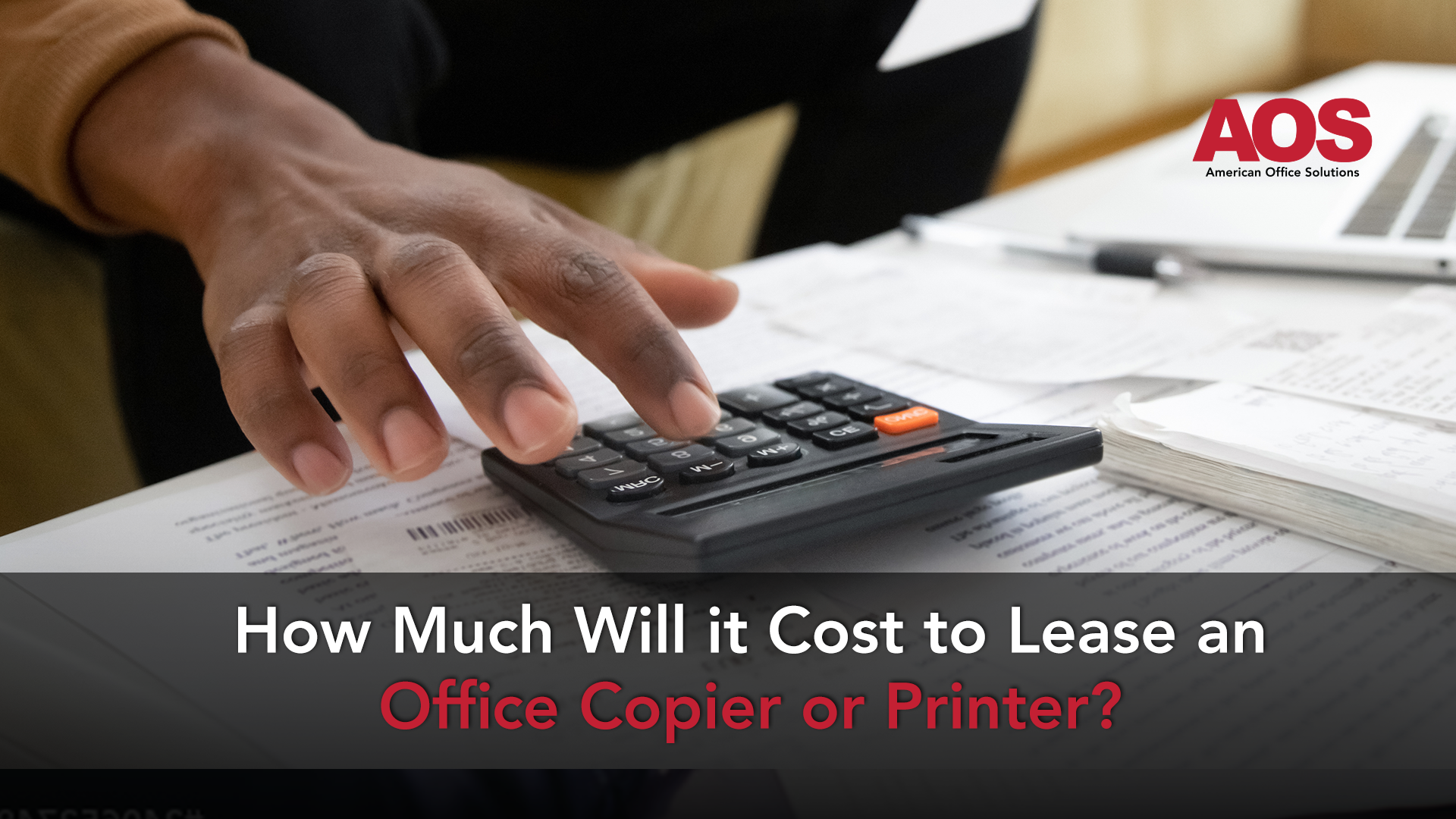 If you've researched how much it will cost to lease an office copier or printer, you might be disappointed with the results. That's not because it's too expensive. It's because you can't find any real answers.
Companies aren't trying to keep this information hidden. However, so many factors go into the price of a lease that it's impossible to give a price without knowing what you want. You have to consider what you're going to get before you know how much it will cost.
Let's look at what goes into the cost of an office copier lease. You'll see price ranges to help you determine how much you can expect to spend.
Factors That Go Into the Cost of an Office Copier Lease
When you lease an office copier or multifunction printer, a sales representative will go over different options and create a proposal based on those options. Look at some of the choices you can consider when entering into a lease for a multifunction printer (MFP).
Copiers and Printers (~$70/month)
You might be surprised by the huge price range when it comes to copier models. It's much easier to understand when you compare this to shopping for a vehicle.
Let's say you go to the dealership and you want to buy a Toyota. You look at a Camry that costs right around $25,000. That's nice, but you prefer something more extensive and more powerful, so you move onto the Tundra that is close to $34,000. Both will get you from point A to point B, but there is a considerable price difference.
That price range is even more extensive if you move onto Toyota's luxury brand, Lexus. You could end up spending $80,000 or more if you upgrade to a Lexus.
Copier machines are the same way. Basic models cost less, and the price increases as you move up the line. However, paying more upfront could save you money in the long run.
For example, imagine that you print half a million pages each month, but you choose a copier that has to be serviced after every 100,000 pages. You'll end up wasting time and money on servicing. Keep in mind; it's a great idea to learn your print volume, too.
Because choosing the right office copier model is essential, you should reach out to a local copier dealer like us at AOS. We can quickly help you choose the right office copier for your specific needs or printing demands.
Features and Add-ons (~$4+/month)
Let's go back to the car analogy again. When you look at cars, you'll notice that prices are listed as "starting at," meaning the listed price is the base price. That's because you can also choose the trim level.
Each trim has additional features for you to enjoy. Of course, you have to pay extra to get those features.
You can also get extra features when you lease an office copy machine. Just like a vehicle, the additional features add to the price of the device.
There are tons of extra features out there that can improve efficiency at your office. For instance, you can add finishers such as stapling or a hole punch to your machine. You can also add letter folding capabilities, booklet making, card readers, and more as well.
The extra features might cost money, but they can save you lots of time. As the adage goes, "Time is money." So by saving time, you can get an excellent return on your investment.
Black and White or Color Printer (~$26+/month)
When you lease an office printer, you'll have to choose a black and white or color option. It's more affordable to make black and white copies, so you can expect to pay less for a black and white multifunction printer.
However, you might need a color printer. If so, your authorized copy dealer can go over different color printers to help you get the best deal.
Service and Maintenance (As low as $30/month)
You can get a service and maintenance contract when you lease a printer. Because the agreement is necessary for maintaining your printer, you need to factor it into the machine's cost.
Copy machine dealers often set maintenance contract prices based on the age of the device and the availability of parts and supplies. For instance, if you owned an older device you would pay more for a service contract than you would for a device with new technology. The newest technology reflects the lowest cost of operation. ,
Based on the quality of the MFP alone, it's not unusual for these contracts to vary by hundreds of dollars.
Final Say: Get a Quote From a Local Copy Machine Dealer
Because there are so many factors that go into the price of a copier lease, you need to get a quote to find out how much you'll pay.
A well-qualified office technology consultant will build your quote based on your needs, including the features you want with your office copy machine. Leasing a copier provides many benefits, one of the strongest includes keeping you on a regular refresh cycle to keep you in the lowest cost of operation.
AOS leases copy machines from the top manufacturers. We partner with all size businesses and organizations from small to large to provide the best printing solutions for their specific needs. We take a consultative approach and offer competitive leases and managed print services.. Contact us today to get a customized quote for your office copier or printer lease.