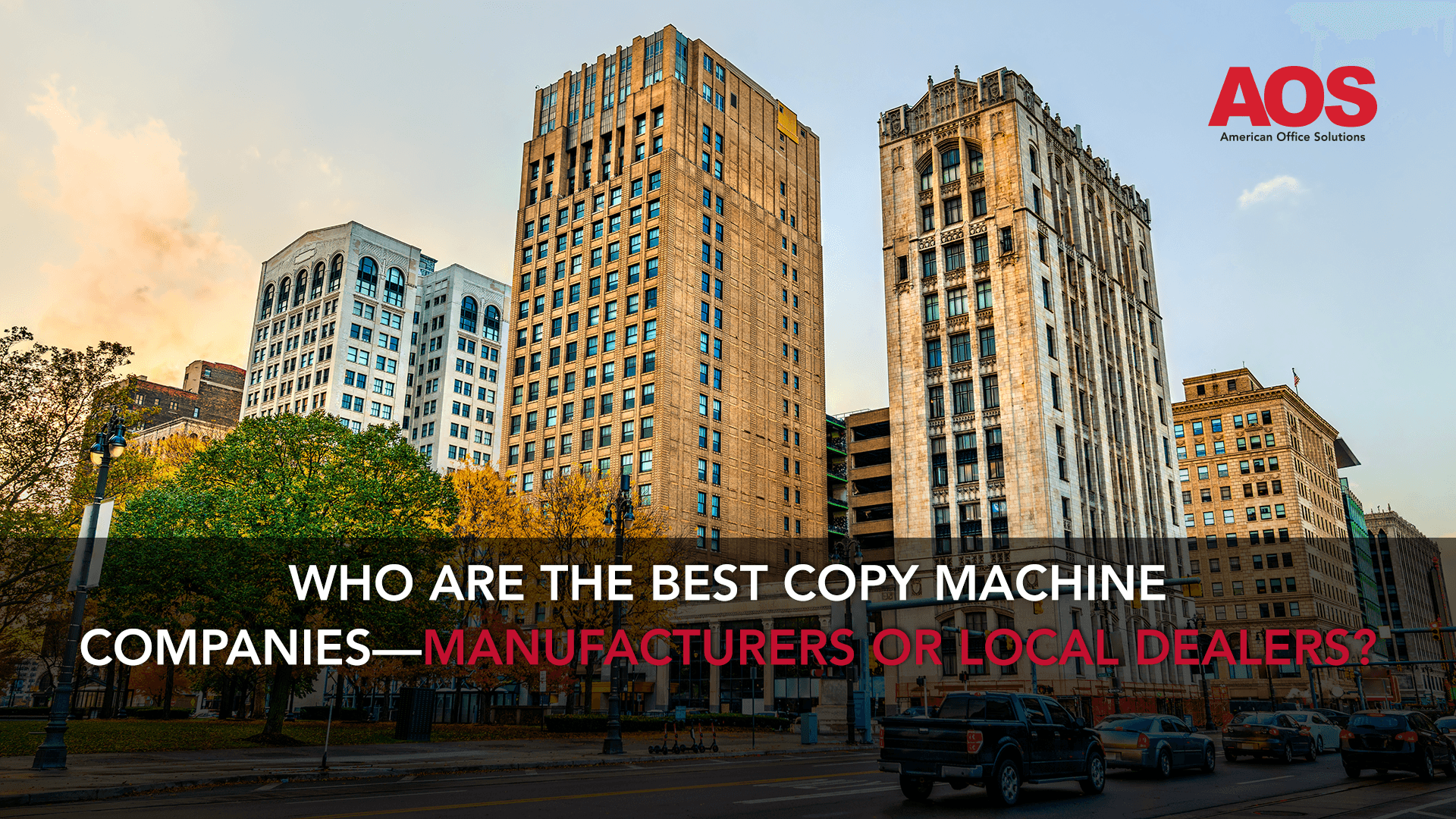 READ TIME: 5 MINS
Buying or leasing a copy machine is similar to purchasing many other types of essential technology products. When you choose the right company or manufacturer, you sometimes have the option to get much more than just the product.
You can also get a partner who will provide a warranty and additional service and support, ensuring that your new product lasts for years to come.
But when looking for the best copy machine company, a manufacturer or local dealer, which one is best?
We're exploring this topic so you can better understand how a manufacturer and local dealer differ—and how these providers can support your business in the best ways.
First, though, you might wonder why we haven't mentioned your local big-box retailer. Isn't it easiest to run down the street to your local Office Depot, grab a printer for $100, and call it a day?
As enticing as that $100 price tag is, it's the perfect example of the adage, "You get what you pay for." Big-box retailers have low-end printers that aren't designed to keep up with the bustling demands of your office.
Plus, you can expect lots of hidden costs when you buy an office copier from a big-box retailer. For instance, you'll have to replace the toner cartridges and drums often, which ends up costing more than the printer itself. On top of that, you won't get the same level of customer service–if any at all.
To learn more about the hidden costs of using store-bought printers or copiers for your organization, check out this article.
Now, let's take a closer look at manufacturers versus local copy machine dealers.
Manufacturers vs. Local Dealers: A Closer Look
There's a lot on the line when determining the best partner for your office copying needs. Cost plays a huge role in the kind of service and dedication you receive once the purchase is made.
Office Copier Manufacturers
If you live in a large city, you likely have access to various copy machine manufacturers. Most manufacturers set up sales offices worldwide to sell and service multifunction printers (MFPs) and copiers.
Below are some of the more well-known office copier dealers. But keep in mind, depending on your location, may not live close to some or all of them.
Kyocera: Although Kyocera is also based out of Japan, they have a number of sales offices located throughout the United States. This innovative company started in ceramics and used that knowledge to change office copiers. They stand out for the ceramic drums it uses in their copy machines, and their durable drums don't require as frequent replacement or servicing—lowering product lifetime cost.
Sharp: While Sharp is most known for consumer electronics, such as televisions, they are also a popular office copier machine manufacturer. Sharp is now an industry leader due to its outstanding technology, including the Sharp Open Systems Architecture.
Lexmark: Established in 1991, Lexmark is a well-known leader in imaging and output technology solutions and managed print services by many of the technology industry's leading market analyst firms.
Canon: This Japanese company also has headquarters in the United States. Canon began as an imaging and optics company. It is one of the first copier manufacturers, and its popularity has grown over the years.
Xerox: Based in Connecticut, Xerox also has sales offices throughout the country. Xerox is one of the first companies people think of regarding copy machines and is most known for its extensive range of color machine models.
Local Authorized Copy Machine Dealers

Unlike office copier manufacturers that only carry one copier brand, local authorized copy machine dealers typically have several. For example, you can choose a dealer, like AOS, that offers copiers from Sharp, Kyocera, and more. Their team of experienced consultants and technicians will help you choose the one that makes the most sense for your business needs.
You might think that regardless of which copier you choose from a local dealer, you'll pay more than you would at the manufacturer. However, this is a common misconception.
Manufacturers and authorized dealers actually pay the same wholesale price for machines. Due to low overhead costs, authorized dealers can often charge less for the machines—saving you money.
Local authorized dealers offer more than an excellent price, too. When you buy or lease a multifunction copier from a local dealer, you can also expect:
Local billing support
Customized solutions
A long-lasting relationship with experienced account managers
How to Find the Best Copy Machine Company: What Questions Should you Ask?
Before you hire a new employee, you interview the person. The same is true when choosing a copy machine company. You need to ask the right questions, evaluate the answers, and decide based on your needs.
Here are some helpful questions to ask to make your decision a little easier.
What copier brands are available?
Should I buy or lease my copiers?
How do I get a copier proposal or quote?
Will your dealership match competitors' pricing?
How long does it take to get a new copier?
What does the installation process for a copier look like?
Do you sell toner and ink cartridges?
What's included in a copier service or managed print service agreement?
How long should I have to wait for someone to respond to my copier service request?
How do I place a service request for my copier or printer?
What if my copier can't be fixed? Does AOS offer free copier replacement?
How do I place a toner or supply order for my copier?
How much do you charge to enroll in automatic toner delivery?
What if I don't understand how to use my new copier? Do you offer additional user training?
Can I set up my copier to scan-to-email?
Can my copier print from my phone?
Can you recycle my old laser printer?
Can you recycle my used toner containers?
How do I ship my old copier back to the leasing company?
What is CPC / CPI?
What are Copier Service Base Rates & Allowances?
What do Copier Service Base Rates & Allowances have to do with my billing?
To learn even more questions to ask and to find the answers to these questions, check out our FAQs page.
Uptime is so vital to a business, so when your copiers or printers are down (and eventually it's going to happen), you want to choose a provider focused on getting you up and running in the shortest amount of time.
Look for companies that monitor this metric and have a response time guarantee. Simply ask about their guarantee and average response time. If it's longer than four hours, continue to search for providers who can service your device in less time.
The Final Say: A Local Authorized Dealer vs. A Manufacturer
Local authorized dealers stand out when buying or leasing copiers and printers. You can expect fair pricing, fast service, and a knowledgeable team by your side. But, the choice is up to you based on the specifics of your employees and customers.
AOS is more than a local authorized copier dealer. We don't just sell and lease copy machines; we're your dedicated business partner. Our team of professionals is dedicated to optimizing your business, improving productivity, and cutting down costs. Make sure to contact us today so we can customize an office technology solutions for your organization.