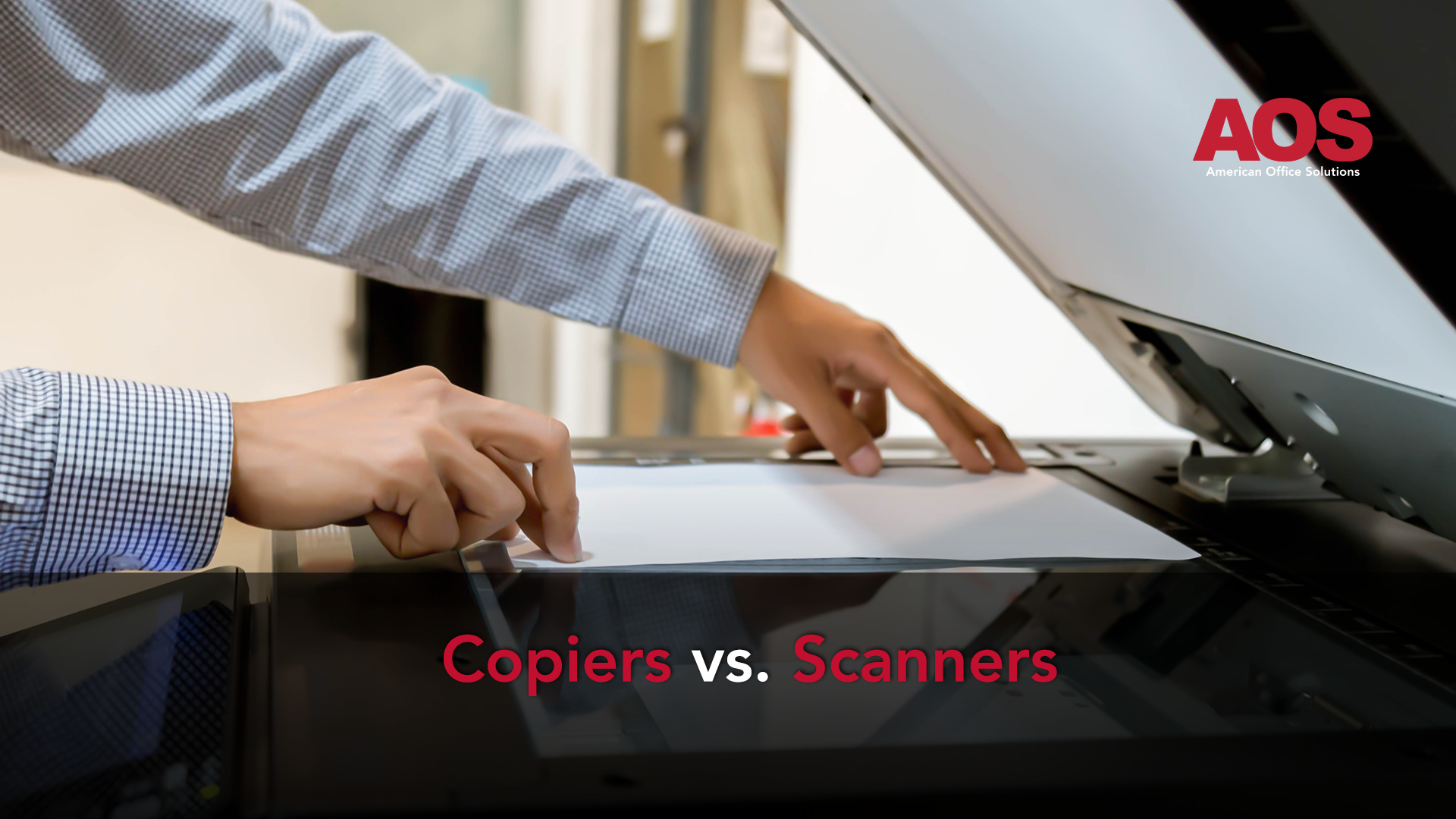 It's becoming a little challenging to keep up with technology nowadays. When it comes to the type of technology your business or organization needs, the functions and features vary.
Do you have a heavy print load? Do your employees need desktop printers in each of their offices? What about the types of content you're printing—like reports or graphics?
It's essential to know your options and the differences between types of office technology, such as copiers vs. scanners. The more informed you are about these devices, the better purchasing decisions you'll make.
Stick around to learn some critical differentiators between copiers and scanners and how these products can help with business growth and continuity.
Related Article: How Can Your Office Copier or Printer Help Win You Business?
Copiers vs. Scanners: What's The Difference?
Although a copier and scanner may seem like the same thing, they actually aren't. A copier creates new paper copies from an original paper source and can be done without being connected to a computer.
A scanner, on the other hand, can create a digital version of an original paper document—and most models require a computer or USB connection. Think about it like this: scanners don't have output functions since they only create digital files.
Key Differentiators Between Copiers and Scanners
Since there is such an extensive inventory of copiers and scanners on the market today, we aren't going into the nitty-gritty specifics of these two machines. We're giving you a more broad idea of some of the most common ways these two products differ from each other.
The Difference in Pricing
Typically, most scanners cost around $100 or so, although some models (especially portable ones) may cost less.
The costs of an office copier really depend on factors such as the type of machine and where you're getting it from. You have the option to lease/purchase a copier from the manufacturer or a local dealer.
Here's an article you may find helpful when it comes to finding an affordable machine, Top 5 Advantages of Buying Your Office Copier From a Local Dealer.
The Maintenance and Service of Copiers vs. Scanners
If you lease a copier, your lease agreement or contract includes a warranty and no-cost repairs. These types of agreements within your contract can be a total lifesaver and also helps prevent downtime.
When it comes to a scanner, you may have to troubleshoot maintenance issues repeatedly. In some cases, you may find that replacing your scanner altogether is more cost-effective than repairing it. However, doing so creates a cycle of purchasing, discarding, and then re-purchasing, which of course, adds up.
Copier and Scanner Features
Both of these devices come with different features and functions. Here are some of the most notable ones:
Copier Features:
Speed: Copiers are typically the fastest printing devices available. An authorized copier dealer can help you determine which size/speed of device is best for your specific workflow.
Resolution: If you're using a copier for heavy graphics or photography, the resolution should be at least 600 dots per inch (dpi). Copiers with 1,000 or 2,000 dpi are also available, although sometimes, a higher resolution can lead to grainy copies. For non-photography purposes, you can probably get away with 300 dpi.
Paper Capacity and Size: In most cases, paper may be less expensive if you buy it in bulk. Some copy machines can work with sheets of paper larger than the typical 8.5 x 11-inch sheets, a feature important for specific organizations and businesses.
Digital Integration: Since we live in such a digitally advanced world, your copier should perform well on the digital front. Since many copiers connect to your office's computer network via Wi-Fi (or remote access through the cloud), your copier needs to include a

strong digital security system

.
Scanner Features:
Resolution: Just like copiers, scanners should also be at least 600 dpi to satisfy most business needs. However, scanner resolution has two subcategories: optical and interpolated resolution. If you're shopping for a scanner, be sure to zone in more on optical resolution. Optical resolution determines the amount of resolution the scanner will pick up.
Volume: Since you don't have to manually insert a page at a time, a high-volume scanner helps streamline your scanning demands. This automatic function is handy for digitizing paper records or files.
Optical Character Recognition (OCR): Scanners enabled with OCR can easily copy and transfer the text from a hard copy to a digital file. OCR makes scanning a lot faster and also saves you more time than using a scanner without OCR.
Image Sensor: Small scanners use flatbed scanning, but the uploaded files may show the original paper's wrinkles and any dirt on the glass. Charge-coupled scanning eliminates this problem, but typically the scanners are larger and more expensive.
Copiers vs. Scanners: What Are Your Needs?
Don't let this article fool you—copiers and scanners are pretty powerful machines with features specific to just about any business out there. Your business and employees rely on these devices each day, and it's essential to make sure you're choosing the right equipment for your needs.
To learn more about office technology solutions, make sure to reach out to us. We've been helping businesses with our reliable lines of copiers, scanners, printers, and MFPs and would love to start a conversation with you. We're dedicated to becoming a long-term partner with you, so your business continues on its path of growth and success.