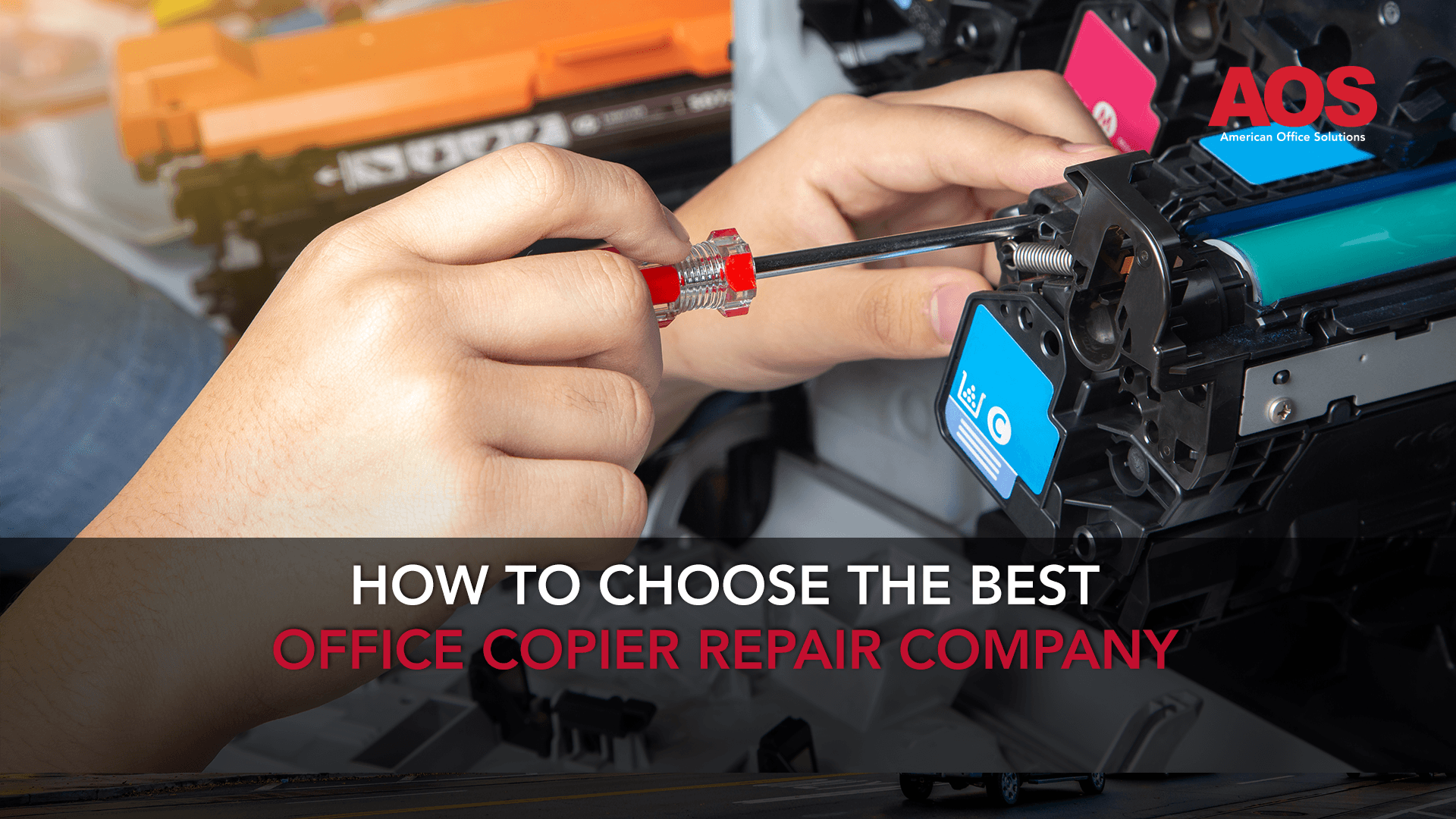 READ TIME: 4.5 MINS
Your office copy machine is the unsung hero of your workplace. It's there when you need to print reports for your biggest clients, and it is up to the task when you need to fire off a presentation.
All that use causes wear and tear, though, and eventually, it might not rise to the occasion. That's why it's so important to choose the best office copier repair company for your organization and employees.
With the best and most experienced technicians at your service, your multifunction printer (a.k.a. copier or copy machine) will be able to take care of you whenever you need it.
Considerations for Choosing the Best Office Copier Repair Company
Manufacturers and local authorized dealers offer multifunction printer maintenance and repair services. Regardless of the option you choose, you need to look for specific qualities when selecting an office copier repair company.
Let's dig in, so you'll better understand how to select the right office copy machine repair company.
Select an Office Copier Repair Company with a Guaranteed Response Time

If you rely heavily on your multifunction printer, downtime can reduce productivity and cost your company money. With that in mind, it's crucial to choose an office copier repair company that has guaranteed response times.
Many vendors are quick to say that they have fast response times, but that isn't the same as a guarantee. Find out if the company offers one and what it is.
Also, see what the average response time is compared to the guarantee. Often, the average response time is even faster than the response time guarantee.
For instance, a company that offers a four-hour or less response time guarantee might still have an average response time of fewer than three hours. That's good to know when choosing an office copier or multifunction printer (MFP) repair company.
Think About the Location
Since fast response times are so important, you also need to consider the company's location. Some companies serve an entire state but only have a single office. That means technicians have to drive for hours to get to the customer's office.
A great factor to consider when talking about location is the number of locations. You'll experience quick response time from a repair company if their technicians live within the communities they serve.

This means the technicians can easily drive straight to their first service call each morning from their homes, and carry the specific parts and supplies for their client's devices.
It's essential to choose a company near your office so that you can cut down on travel time.
Look for a Company that Provides Remote Troubleshooting
Some local authorized dealers can handle various repairs remotely. They can troubleshoot and fix problems over the phone, so you don't have to wait for a service call.

This type of support is something to consider when looking for the best office copier repair company. Avoiding a service call altogether is an excellent way to speed up the repair process.
Inquire About the Number of Parts and Supplies on the Service Trucks
Response time is one thing, and the speed of the repair is another. If a company gets to your office quickly but then has to run back to headquarters to pick up a part or supplies, you'll end up waiting a long time for your copier to be back up and running.

Find out how many parts and supplies technicians carry on their vehicles before you make your selection. Be prepared that sometimes a company will provide you an inventory dollar amount to answer this question.
Choose a Company with Offsite Monitoring
It's also a good idea to choose a company that offers offsite management and monitoring. Remote monitoring allows technicians to collect data to ensure that everything is running as it should.
Remote monitoring enables technicians to discover problems before they cause the printer to shut down. Then, they can address the issue without significant downtime or damage to the machine. Remote monitoring and diagnostics can save you valuable time.
Remote monitoring has another benefit, as well. If you choose a company that monitors your office copier remotely, it can also check toner cartridge levels and then automate the delivery process. That, of course, also prevents unnecessary downtime.
Go with Knowledgeable, Insightful, and Dedicated Technicians
While all printer repair technicians undergo training, some are more knowledgeable, insightful, and dedicated than others. Talk to the service technicians before hiring an office copier repair company. Discuss potentially complicated issues that could arise with your printer and determine how the technicians would diagnose and fix them.
Along with listening to their words, analyze their body language. Are they excited about the work they do? Can you tell they are dedicated to serving your business?
Check the Downtime Limits
Limited downtime is always the goal when repairing a copier machine. If you have a complicated repair that isn't easy to diagnose, the downtime could add up, hurting your productivity.
Some copier repair companies have a hard limit on how long you'll be without your copier machine.
For example, a company might have a guarantee that your device will be up in the running in less than three days. If it isn't, the company will swap it with another device for you to use while the service technician continues to work on the problem. This is at no cost to you. Then, when your device is fixed, the company swaps it back out.
This level of service will give you additional peace of mind. Not all companies offer this, so do your homework before you choose a repair company.
Select a Company that Will Evaluate your Printing Services
Some copier repair companies don't see the big picture. The technician comes in and fixes the device over and over again without giving it much thought.
Your company will benefit from going with a repair business that can evaluate your specific needs and make recommendations.
For example, your copier might break down repeatedly because it's the wrong size or type for the job. You also might need more copiers to meet the demands of your office.
By providing service options, the company can help you save time and be more productive—and choosing a company that offers managed print services enables you to address all of your needs, instead of just your printer repairs.
The Final Say: Choose the Best Office Copier Repair Company
When you choose a local copier repair company with these characteristics, you'll have better peace of mind knowing the technicians will meet your needs. From fast response times to downtime limits and managed print services, you can get everything you need under one roof.
At AOS, we stand out for fast and efficient diagnostics and repairs. Our managed print services help small businesses reduce costs while improving efficiency, and our service contracts ensure you never have to worry about a breakdown derailing your business. Contact us today to talk more about our maintenance contracts and managed print services.