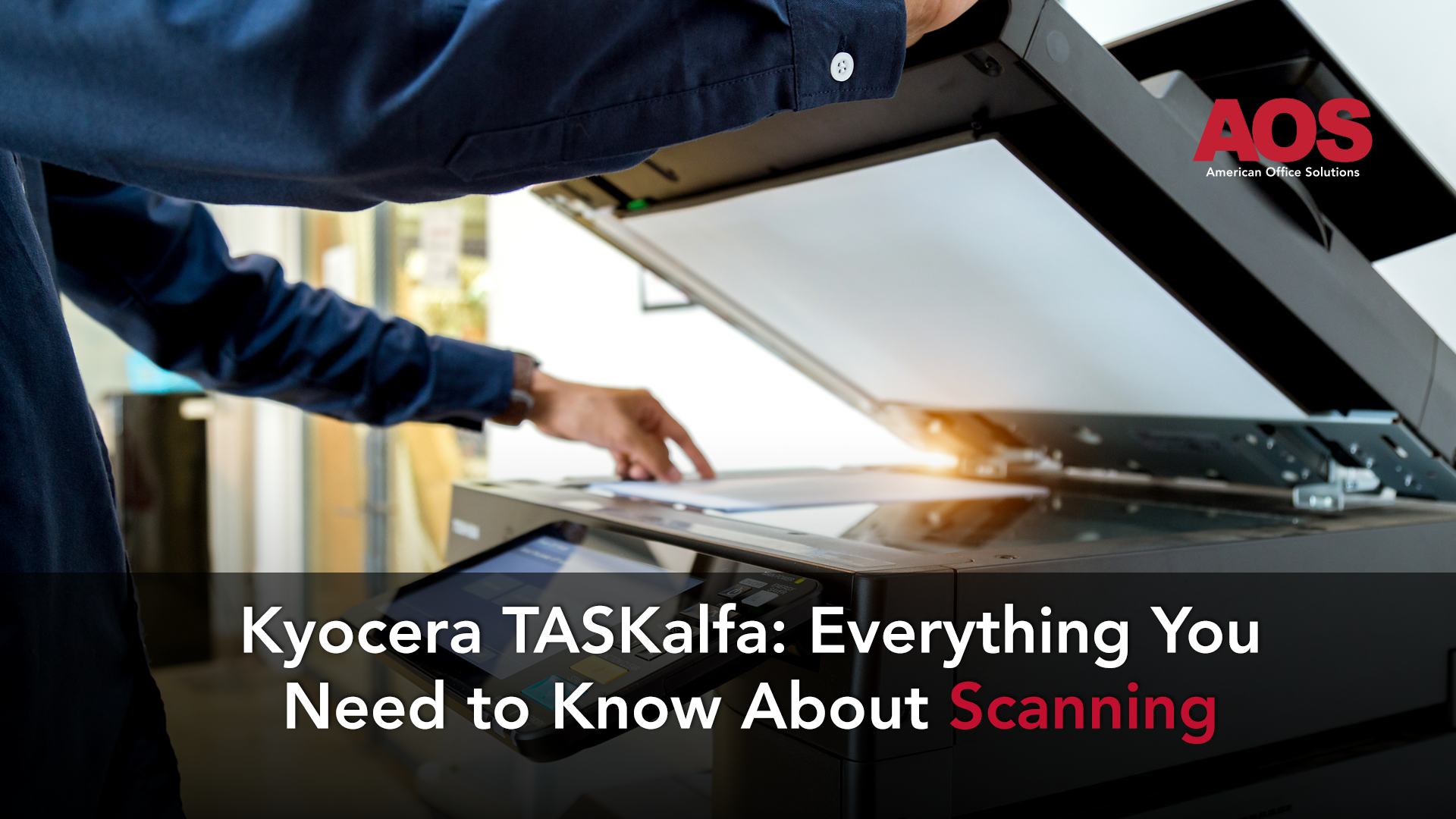 One of the most robust series of copiers in the field today is Kyocera's TASKalfa series of multifunction printers. There are several useful functions built into TASKalfa copiers, including high-quality printing, copying, scanning, faxing, and more. In particular, the scanning function is incredibly important in modern office environments where everything is moving toward digital storage and functionality.
What is Scanning?
Scanning is the process by which a document or image is copied and converted into a digital format by use of a moving light source and mirrors alongside an image capturing device. Put more simply, a scanner generates a copy of a document or image and sends it to a digital storage such as a computer hard drive or a flash drive.
The Two Methods of Scanning: Doc Feeder vs. Glass Scanning (Platen)
When it comes to scanning on a TASKalfa copier, there are two main methods the user can employ. The first method is using the glass that can be found by lifting the top section of the device. This glass piece is officially called the platen or flatbed, but most people simply call it the glass. The second method is to feed documents through the doc feeder on top of the device. There are pros and cons to both methods.
Placing an original document on the glass surface is perfect for single-page documents or images. It blocks out external factors that could otherwise affect the scan. Utilizing the glass can guarantee higher quality on digitized documents.
On the other hand, feeding a document through the doc feeder can allow for multiple scans to be made in one sitting. There are even optional upgrades to the TASKalfa scanners that can allow for double-sided scanning.
How to Scan a Document on a Kyocera TASKalfa Copier
In order to proceed in making a scan on a Kyocera TASKalfa multifunction printer, place the original document face-down on the glass or face-up in the doc feeder. Then, press the Send option on the touch screen. A green light indicating readiness should light up around the start button so long as the document is situated properly.
Before pressing start, ensure that all the visible settings are selected according to your needs. For example, selecting whether to scan a 2-sided document into another 2-sided document, a 1-sided document into a 2-sided one, or a 2-sided document into a 1-sided one can be selected here. There is also the option to select between left-to-right or top-to-bottom. Left-to-right is the default and recommended option.
Once all of the settings are selected as needed, a recipient needs to be entered. The recipient can be selected as an email address to directly scan to email, a digital folder for simpler organization options, or even a flash drive for a more mobile approach. Once a recipient is entered, initiate the scan with the green 'Start' button.

Benefits of Scanning on a Kyocera TASKalfa Copier
Most copiers work similarly, but their control panels and usage differ between models. There are several notable benefits to using the scan feature on a Kyocera TASKalfa device.
User-Friendly Interface

The TASKalfa interface is very user-friendly when utilizing the scan feature.
Navigating through the available options becomes a simple affair and is easy to adjust to.

Handwriting Enhancement

Because handwriting on original documents can sometimes come out faded or difficult to read, Kyocera developed an option for a scan to pinpoint handwritten notes and enhance them.
Enhancement of handwritten notes can be emphasized with color changes.
This feature can also be utilized to remove handwritten notes from the scan.

Scan Multiple Receipts or Cards All At Once

The glass can support scanning multiple business cards, receipts, or similar size documents together, saving time and allowing for more organizational freedom.

Duplex Scanning

The document feeder (DP-7160/7170), an upgrade to the standard document feeder that comes with TASKalfa devices, is capable of scanning both sides of a 2-sided document in a single pass-through.
The duplex document feeder saves time and energy by allowing up to 320 items to be processed in one sitting.

Wide Range of Supported Formats

Scanned documents can be saved or sent as a PDF, XPS, TIFF, JPEG, and more.
There are many more amazing benefits to scanning with a Kyocera TASKalfa device. For more information, you can visit Kyocera's web page about other possible features.
The Final Say: Kyocera TASKalfa Scanning Abilities Are Top-of-the-Line
Hopefully the information above has helped you understand more about how robust and exceptional Kyocera TASKalfa scanning is and how to use more of its potential. If you have further questions regarding TASKalfa devices or are in need of a good copier in the Western, Central/Mid, and Southeastern Michigan area, feel free to give us a call at 800-346-6920. Staff at American Office Solutions are ready and willing to assist in meeting your copier needs.