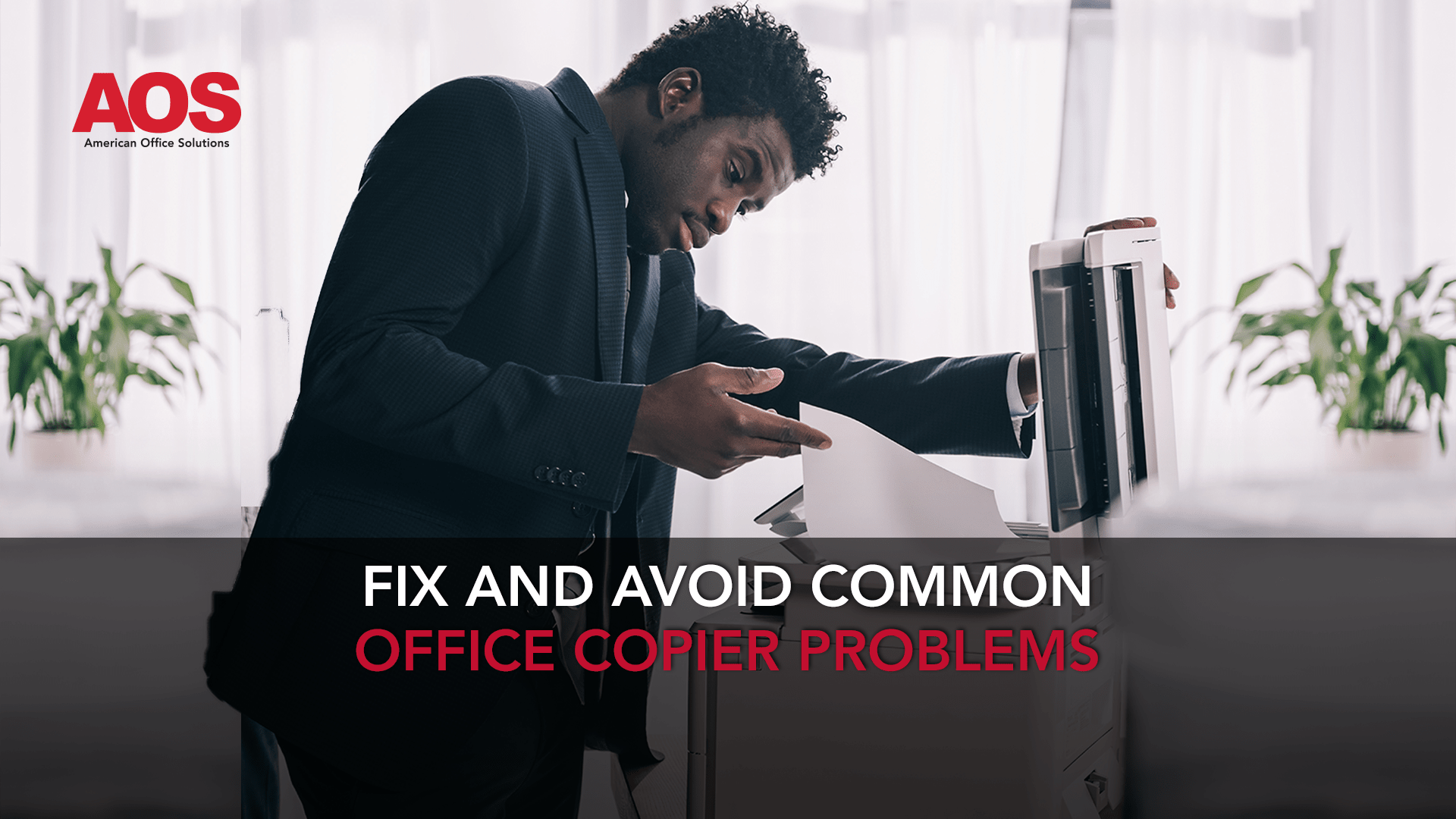 Have you ever watched the cult comedy "Office Space"? After dealing with countless paper jams, the main characters finally have had enough. They take the printer outside and beat it to a pulp.
It's a frustration that, unfortunately, most of us share and one you'd like to dodge in the future. That's why it's in your best interest to learn how to fix one and even avoid common office copier problems.
So, how can we fix and even avoid common office copier problems? Let's look at some ways you can finally put the frustration (and potential downtime) behind you.
Preventing and Avoiding Common Office Copier Problems

I'm happy to report some good news to you in terms of common office copier problems, and that is—you can actually avoid most of these issues. Let's start with paper jams and work our way down to misfeeds.
The "Oh, so Common and Dreaded" Paper Jams

I think it's safe to say that paper jams are among the most common problems we all dislike. One minute, we're happily making copies, and the next, we're trying to figure out how to fix a paper jam. Where did things go wrong?
While it seems like paper jams materialize out of thin air, that's not the case. Paper jams are likely due to a problem with the paper you use, incorrect settings, or issues with the machine's rollers. Let's take a closer look.
Office Copier Jams Stem From Paper Issues
Paper issues are one of the main reasons employees spend their days clearing paper jams. The problem often has to do with leaving the copy paper in the paper tray for too long.

The moisture from the air lands on the paper you use in your machine—making it hard for the individual pages to separate. There are two simple ways to fix this:
Take the paper out of the tray and fan it. Here's a video describing what we're talking about:

How to fan your copy paper

.
Throw out the paper and fill the tray with new paper. Although this is not an environmentally-friendly option, sometimes you can't avoid permanent moisture damage, especially if you live in humid conditions.
Feeding the copier with paper that has torn edges or staples can also cause a problem. Without smooth edges, copy paper can catch on to parts within the machine, creating a jam.
If you want to avoid paper jams, you also need to check the drawer guides on your copier or multifunction printer (MFP). When you load paper, the drawer guides should touch the paper without restricting it. A paper jam occurs when the guides on each side of the paper trays are too loose or too tight.
Reset or Adjust Your Office Copier Paper Settings

What if you've loaded your paper correctly but still are experiencing a jammed machine? In this instance, it's time to check the paper settings. The settings of your copier should change whenever you change paper stocks or sizes.
Worn-Out Copier Rollers

Your office copier has rollers—tasked with supplying the paper into the machine from the document feeder. As the rollers age, they become less effective, especially if your device prints and scans at high capacity or high printing volume.
Your copy paper might slip while the rollers feed it, leading to a paper jam. So how can you avoid this common office copier problem?
In most cases, you'll need to contact your copier provider for further assistance. If you're looking for a new dealer, be sure to read our article, How to Find the Best Office Copier Companies Near Me.
Worn-out or overly-used parts within your machine (such as the rollers) may require a service technician's work.
Wrinkled Pages are Never the Answer
You wouldn't dream of walking into the boardroom for a big presentation while wearing wrinkled clothes, right? Well, the same is true of wrinkled paper.
While you might think wrinkled pages is a paper problem, it's actually due to an issue with the fuser assemblies or feed rollers. Just like the issue we talked about above, wrinkled pages typically stem from the parts inside of your copier.
Anytime you're dealing with technical issues, it's best to have an office copier repair company handle it for you.
Spots, Dots, Lines and Streaks
Spots on the paper can also cause frustration and make your printed report and documents less than professional. This type of common office copier problem is a sign that you need to clean the platen or slit glass.

However, if you do notice damage, it's best to contact your service technician.
To avoid damaging your office copier glass when cleaning, make sure to research the best ways to clean it and the best products to use on your particular make and model.

Dirty glass can also cause lines on your copy paper. To solve this, try cleaning the glass and then try copying or scanning again.
Speaking of dirty glass, keep in mind that choosing a local copier provider instead of a manufacturer might actually mean your machines are being stored in cleaner areas.

In many cases, manufacturing warehouses have more residue particles surrounding their copiers—meaning these devices have to be cleaned more frequently.
If the lines are still there, there might be an issue with the drum blade. You guessed it! If you do suspect it's an issue with your drum blade, request a service call or visit from your local office copier provider.
Your Pages are too Light or too Dark
You may feel a bit like Goldilocks when printing. You don't want the page to look too dark or too light… you want it to be just right. Often, you can fix this problem by resetting the density levels. If that doesn't do the trick, make sure you aren't printing with the default draft setting.
If you don't have a problem with the settings, you might have an issue with the drum or toner. The best solution is to contact your office copier repair company for a long-term (and more reliable) solution.
User Mistreatment
Far too often, we fail to take care of our copiers and MFPs, causing them to stop working. Common mistakes include eating and drinking around the printer or failing to perform preventative maintenance.
Remember to be kind to your office copier, make sure you know how to use your office copy machine, and maintain a regular service schedule.
Paper Misfeeds
From loading the paper to adjusting the paper guides, you know you've done everything correctly. Still, the paper misfeeds when going into the machine.
Here's an easy tip: load the paper in a different drawer and try again. More than likely, your office copier will work just fine when you change drawers.
But don't ignore the problem forever. It's a great idea to place a service call in the meantime to have a trained professional take a look at the drawer or paper tray causing an issue.
The Final Say: How to Fix, Avoid and Take Care of Common Office Copier Problems
If you can't tell, office copiers are sensitive, just like humans! They need a little TLC just like we do. Not to mention, there's something to be said about partnering with an office copier company who can assist (and prevent) your problems as they occur,
You can avoid many of the standard office copier problems by changing how you interact with the machine. From loading your paper to ensuring that your settings are correct, your actions go a long way in caring for your printer.
AOS offers managed print services (MPS) that include remote monitoring, on-site services, and preventative maintenance. We are more than just a standard copier dealer. We are your partner, dedicated to helping you reduce costs, increase efficiency, and decrease potential downtime caused by your office technology. Contact us today to learn more about how we can strengthen your small business or organization and equip you with solutions that work now and in the future.