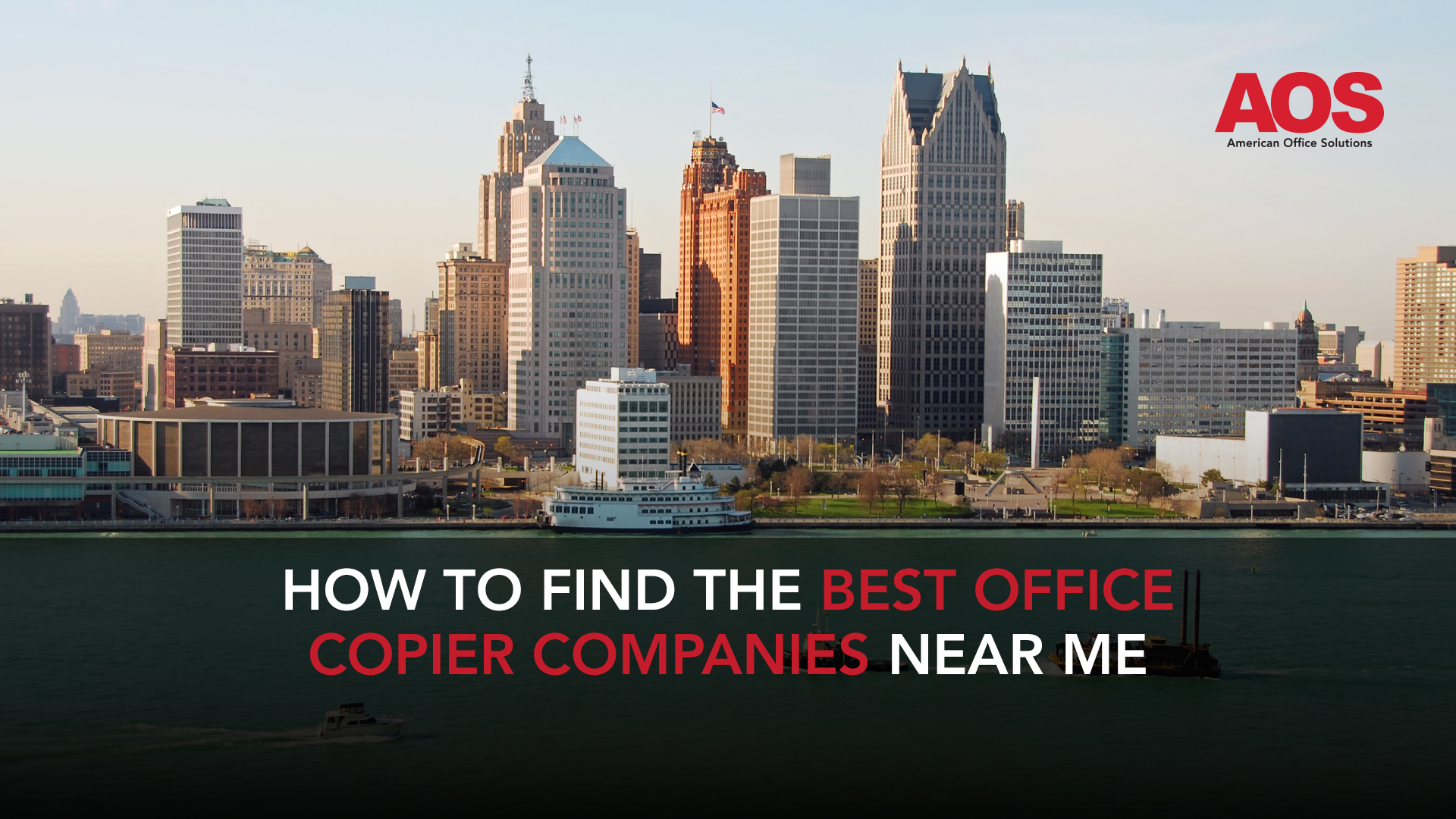 READ TIME: 4.5 MINS
Finding the best office copier companies near you involves more than a basic Google search. Yes, Google knows where you are located, and can find a number of dealers near you. But, you have to do the rest of the work for yourself.
You have to conduct some research before buying, leasing, or repairing an office copier for your organization.
Putting some time into the search is well worth it because finding the right company to partner with allows you to work with them year after year.
First, we'll look at the types of companies that provide office technology solutions, like office copiers and multifunction printers (MF
Ps). Then, you'll learn what to look for when choosing a copier company that suits the demands of your organization.
Related: 5 Features to Look for When Choosing a Copier or Printer.
Finding the Best Copier Companies Near Me: What Are My Options?
You have two main options when choosing an office copier company. You can either partner with:
A copier manufacturer, or
A local authorized copy machine dealer.
While both can provide you with office copiers, repairs, and support, they also have some key differences. Here are some of the ways they differ that you should keep in mind.
Office Copier Manufacturing Companies

Copy machine manufacturing companies have sales offices around the country, and you can purchase a copier or MFP from any of them. Manufacturers typically offer installation and servicing, as well.
Some of the more popular manufacturers in the copier industry include:
Kyocera
Sharp
Lexmark
Xerox
Konica Minolta
Ricoh
Brother
If you choose the route of purchasing from a manufacturer, you will have to decide the type of office copier you want before you begin shopping. Otherwise, you won't know which manufacturer to visit.

Unfortunately, determining the exact device your business and employees need isn't always an easy decision to make, especially if you aren't well-versed in copier machines and all of their features.
Authorized Copy Machine Dealers
When you search for "copier companies near me," you'll come across websites for local authorized copier dealers, such as a dealer like AOS.

While some local dealers only sell, install, and service one type of office copy machine, others have models from different brands available.

Make sure to keep an eye out for a provider who sells more than just one brand of office copiers—and how prestigious those brands are within the industry.
An experienced and highly-certified office copier provider means their consultants can help you select the one that's right for your small business.
The more brands to choose from results in more options for the business buyer when meeting their specific needs. This kind of accreditation ensures you're getting the best multifunction printer for your organization.
Conduct Your Research to Find the Best Office Copier Company
Now that you know the types of office copy machine companies, we're now ready to dig in a bit deeper and see some of the essential factors to consider.

It's critical to think about pricing, functionality, and a maintenance contract or service level agreement (SLA). You should also ask some additional questions to ensure the copier company is the right fit for you.
Pricing and Associated Costs
There's a myth in the copier world that says you can save money by buying an office copier straight from the manufacturer. But in reality, most local dealers typically pay the same wholesale price that manufacturers do.

Simultaneously, local dealers generally have lower overhead, allowing them to offer office copy machines to you, for less.
With that in mind, you're likely to get a better value if you buy or lease a machine from an authorized dealer. Still, you need to ask some questions before signing a contract.
Ask the sales representative how he or she is confident their company is providing the best price possible. Also, ask for a list of features of the machine. That way, you can obtain and compare bids from different companies on devices with the same features.
Related: 7 Benefits of Getting a Printer Lease for Your Business.
Review the Functionality and the Maintenance Contract
Copy machines must be serviced to run optimally. Without the right service team at your disposal, you can expect to be stuck in a sea of misfeeds and paper jams.
Companies that sell and lease copiers also offer maintenance contracts. Because a contract is an added expense and vital for your multifunction printer's health, you need to choose wisely.
Here are some questions you need to ask to ensure you choose one of the best copier companies near you.
What's the maintenance contract cost, how long does it last, and what does it cover?
What's the cost per copy? Also referred to as the "CPC."
Are there monthly printing volume limits?
How does the company reconcile your monthly volumes? How often?
Is there a charge for scanning?
Is there a warranty? What does it cover?
What is the company's response time once a service call is placed?
What's the fastest way to contact them when I need a service? By phone, email, text message, or fax?
Does the company have quality metrics on the service they provide to their current customers and are they willing to share?
How are their service technicians trained and certified? Do their technicians actively participate in continued education for the products they work on?
How do you ensure that you have the proper inventory for parts and supplies to maintain my printer or copier?
What other services can a local authorized dealer provide your business?
The Final Say: Finding the Best Office Copier Company Near You
As you can tell, there's a lot that goes into determining the best services for office technology solutions. Every business is different, and it's necessary to learn the exact copying and printing demands your business, customers, and clients need.
AOS helps customers cut costs by as much as 30 percent with our managed print services. We help clients save time, minimize unnecessary costs, and carry top-of-the-line products from Kyocera, Lexmark, and Sharp. We look forward to partnering with your business by providing the right devices and tools for your needs and budget. Reach out today to learn more about your options and how your business can continue to excel.