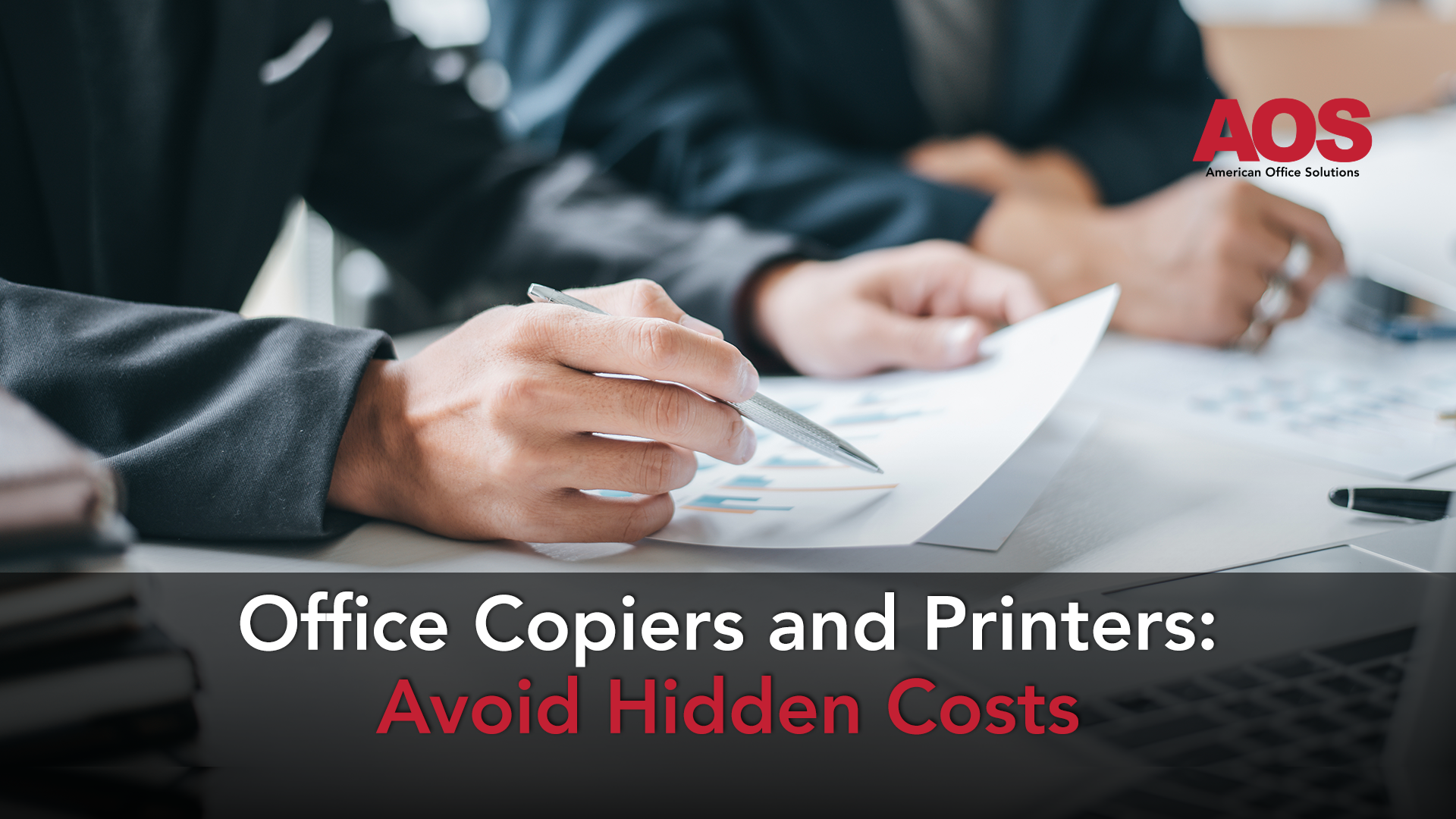 When leasing or purchasing an office copier or printer, it's critical to make sure your devices are taken care of by the provider or manufacturer for years on end. You would never purchase a new cell phone or even a car without knowing your service or warranty options, would you?
The same goes for office equipment for your organization. There's a lot that many of us don't know about our in-house technology solutions. And, when it comes to officer copiers and printers, there's a lot of hidden costs we don't always see.
That's right! Unfortunately, many office technology providers fail to tell you additional costs or fees that come with purchasing or leasing new equipment. But, how can you avoid the hidden costs associated with your office copiers and printers?
Since each company is slightly different and covers various services, it's up to you to understand the terms of your printer warranty or service level agreement (SLA).
Rest assured that by the end of this article, you'll have more knowledge to fall back on that supports the best purchasing decisions for your small business, now and in the future.
Avoiding Hidden Costs: Office Copiers and Printers For Your Organization
Before we dive in, I want to briefly explain the difference between a warranty you'd receive from a big-box retailer (such as Best Buy or Staples) versus your local copier provider.
Purchasing a copier or printer from the retail store down the street typically includes a standard one-year warranty on the equipment.
However, this particular warranty only covers the device itself. So if you're like most of us, wanting customer service, proactive maintenance, or troubleshooting support, you're out of luck.
When partnering with a local and authorized printer dealer like AOS, you'll receive a service and maintenance warranty within your contract. Some of these terms could include toner, training, recommended maintenance visits, and continued support for any issues.
A Warranty On The Product Itself
Although the manufacturer warranty only covers the device, it allows protection directly from the brand, like Kyocera, Sharp, or Lexmark.
When partnering with a local authorized dealer, you may receive a separate or additional warranty from what the actual manufacturer is offering. Or, the dealer might base their support based on the terms of the manufacturer's warranty.
Make sure to ask your local printer provider if your devices include a warranty and what that warranty entails from them and the manufacturer. This is one of the best ways to avoid hidden costs should your device break down or malfunction.
Related: How to Find the Best Office Copier Companies Near Me.
Supplies For Your Office Copy Machines And Printers
You know what happens if you use off-brand products or supplies for your copy machines. Printers and copiers are designed to function with consumables explicitly made for them—regardless of a warranty.
To get the most out of your devices, you must make sure you're giving your printers the correct ink and toners they require. If not, you'll face costly maintenance expenses and potential downtime, something none of us want.
Both manufacturers and local providers know their consumables are thoroughly tested for their products. You may notice other companies cut corners on the supplies they offer, resulting in providing you with inferior products. While you think you may be saving money, you're doing more damage than good.
So, what does this have to do with the warranty of your copier? Sometimes, your local dealer includes a certain number of supplies within your contract or agreement. Not only does this help keep your costs down, but it also ensures you're using the right consumables required by the manufacturer.
As the client, you can negotiate some of the contract terms. So, don't be afraid to ask about options for included or discounted supplies.
Routine Maintenance

Your local copier or printer provider typically requires the equipment to be maintained regularly. As part of your warranty program, you will need to subscribe to a routine maintenance program.
Additional Options, Upgrades, or Accessories
Additional options or upgrades are ones also included in a typical warranty. These upgrades may be in software or hardware and typically come with their own set of guarantees.
You can even purchase additional accessories with your copiers like a finisher/stapler, booklet folder, mail sorter, or hole punch. These add-ons usually come with their own set of warranties for each specific part.
Accessories can also be part of a bundled deal with the original purchase of equipment from your provider. Take some time to read these separate additions as they may differ from the actual device warranty.
A Warranty On Your Copier Drum
Your copier drum is probably the most critical when it comes to avoiding potential hidden costs. But why?
The copier drum is one of the most integral parts of a copier or multifunction printer (MFP). It is like a rolling stamp that statically charges toner and is placed on each page of the paper, creating texts or images.
The core material for most copier drums is either plastic or aluminum. When the core is continuously heated and cooled throughout the machine's lifetime, it cannot sustain the same shape and form.
Almost all copier companies have a limited warranty on their drums around 90 days or based on the number of impressions—whichever comes first.
If your copier drum has a warranty, make sure to read the fine print! This warranty may be prorated based on its use (number of impressions). For example, if your copier fails during the warranty period, the provider may only value it for the time left on the warranty for replacement.
The Final Say: Avoid Office Copier Hidden Costs
Although there's a lot to unpack in this article, you're off to a great start. The most important part of making a successful purchase is becoming aware of your options and how they vary from business to business.
You have a little wiggle room with your copier or printer warranty and the costs that come with a lease or purchase. So, make sure to partner with a company that understands your current challenges and provides the best solutions for your team.
At AOS, we are passionate about educating our readers and clients on the best office technology solutions. Whether you're a small non-profit organization or a large law firm, we're here to help. Make sure to contact one of our business technology consults to learn more about your technology warranties or any of the other services we offer.