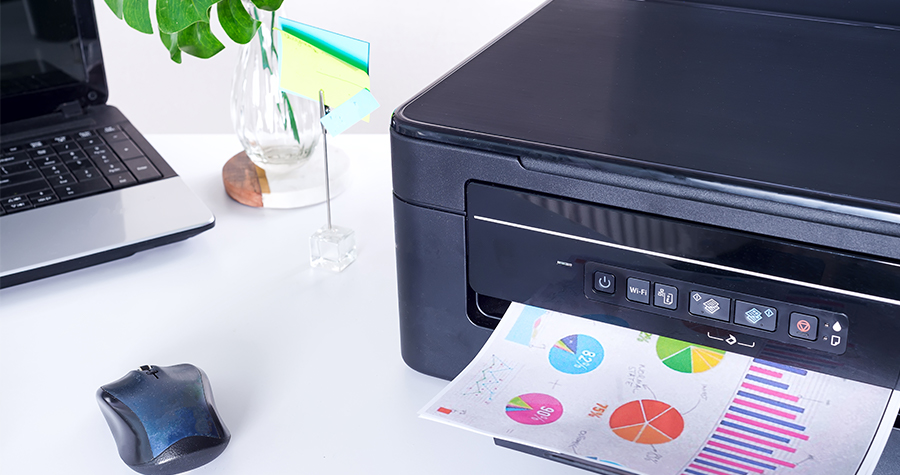 Printing hardware is a critical investment that even small businesses must make. In your quest to offset razor-thin margins, are you considering filling your office with equipment from your local big-box store?
While you might be able to save a few dollars in the short-term by going this route, the long-term expenses could cost you.
Today, we're sharing a few reasons why it pays to purchase or lease business-class copiers and printers instead.
1. High Ink and Toner Costs
Sure, you can find a low-budget printer at a steal.
But what happens when a few months go by and you need to replace the ink or toner cartridges? Suddenly, you're slapped with a sky-high bill and your once inexpensive equipment starts to look decidedly less so.
Ironically, some of the lowest-priced printers and copiers tend to require the most expensive ink and toner. In most cases, you'll find that a printer off the shelf will come with partially-filled starter cartridges to get you up and running. A smart move on the manufacturer's part, it's enough to get you through a week or so, until you're forced to buy a new set of standard-yield or high-yield cartridges and the real sticker shock sets in.
At that rate, it's nearly more economical to buy a brand-new machine every time you run out of ink! When you invest in a business-class printer or copier (or allow a third party to perform managed print services for you), you'll save big on this seemingly small expense that's anything but.
The best part? Thanks to improvements in software development, Managed Print Service providers can remotely monitor your ink and toner levels, automatically sending you more when you're low. Not only will you save on purchase costs, but you'll also never have to worry about running out ever again.
2. Lack of Features
Chances are, you'll need your printer to do more than simply print. The modern office requires printing, copying, scanning, faxing and other features to function at maximum efficiency. In addition, you might require more advanced, tech-savvy features including:
Saving to the cloud
Printing from mobile devices
Productivity app integration
Live data analytics
Web browser connectivity
Dual scanning
Advanced user authentication
Even the best-priced printer on the block could be useless to your organization if it doesn't deliver the capabilities your organization needs in order to stay competitive and keep pace with industry demands.
Does the one you're considering facilitate high-speed printing and scanning? Is the color panel large enough? Can you send a large fax or will it error out due to low memory?
Unless the equipment you install is capable of handling your everyday tasks as well as high-demand scenarios, you could wind up spending more time, money and energy than you expect.
Research shows that the average employee loses more than 45 minutes per day waiting on outdated technology to work. That equals nearly four hours per week. The cost of such downtime can be enormous, no matter the size of your business. Instead of cutting your costs now and multiplying them later, wouldn't it be wiser to find a printing and copying solution that's the right fit from the start?

3. Lower Reliability
You've got two hours to meet a massive deadline. You need your printer to transform into a workhorse, stat.
You need hundreds, if not thousands, of documents printed at top speed. You may even need them sorted, stapled and organized in a matter of minutes.
Is your standard printer or copier up to the challenge? If you have to think twice about the answer, it's likely "no".
If there's even an iota of a chance that your office equipment could conk out right at the moment when you need it the most, it's time for an upgrade. In most cases, out-of-the-box machines simply can't offer the reliability that commercial models can.
That's because only a business-class machine has the bandwidth required to keep up with your heaviest workplace demands. When you go with a store-bought alternative, you're purchasing the same machine that the average Joe puts in his home office. It might be able to handle small batches with ease, but it can't offer the same around-the-clock dependability and the eleventh hour isn't the time to discover that downfall.
4. More Complicated Repairs
If your printer or copier does decide to quit on you, who can you call? If you bought it from a big-name retailer like Staples or Sam's Club, you might have a limited warranty window in which you can call their in-store support team for customer assistance. Still, the chances of connecting with someone specifically trained on your exact make and model are slim to none.
Or, you could try to tackle the issue yourself, but the time and money it'll cost you could add up quickly.
5. Lower Quality Output
Your print ad looks fantastic on your computer screen. The colors are rich and the images are sharp. Then, you go to print it and everything changes.
Suddenly, your royal blue looks more like purple and your crimson comes out light pink. The images are fuzzy and hard to discern. What gives?
In most cases, it isn't anything you did wrong. Rather, your printer simply wasn't up to the task. While there are some consumer-grade laser printers that produce dynamic coloring, it can be next to impossible to maintain those rich tones page after page. At the same time, the printout quality of a standard inkjet printer can vary from model to model.
Why Business-Class Copiers and Printers?
Think about it.
You wouldn't invest even a few dollars in cheap software if you knew it would crash your employees' computers a few days later. Why, then, would you want to put valuable time, energy and capital toward a run-of-the-mill printer that offers low reliability, complicated support lines, minimal features and exorbitantly priced ink?
When you weigh your options and consider all of the costs, a business-class machine wins out every time.
Another benefit of going this route? When you buy or lease from a certified dealer, you can take advantage of Managed Print Services that take the printing burden off your shoulders. By partnering with some of the most trusted names in the industry, a Managed Print Services provider can bring you business-class copiers and printers that look sleek and perform like champions, with award-winning brands including:
Kyocera
Lexmark
Sharp
Zebra
Not only can Managed Print Services provide the mission-critical copiers, multifunction printers and toner supplies that your business needs, it also allows the option to track your usage and output levels for your organization.
Better Printers, Better Performance
We've seen time and time again that the right printers and copiers can change an entire workplace. Bringing productivity and cost-savings where before there were sluggish workflows and wasteful spending.
When you break away from the traditional path of buying this equipment from your standard office supply retailer, you realize the difference that a great machine truly makes. Whether it's faster speed, better color, easier maintenance or simply better cost of operation that you're after, a business-class copier or printer is the right choice.
Our Managed Print Services can transform your print environment, one page at a time. Contact us today to learn more about what we do and let's take this next step together.