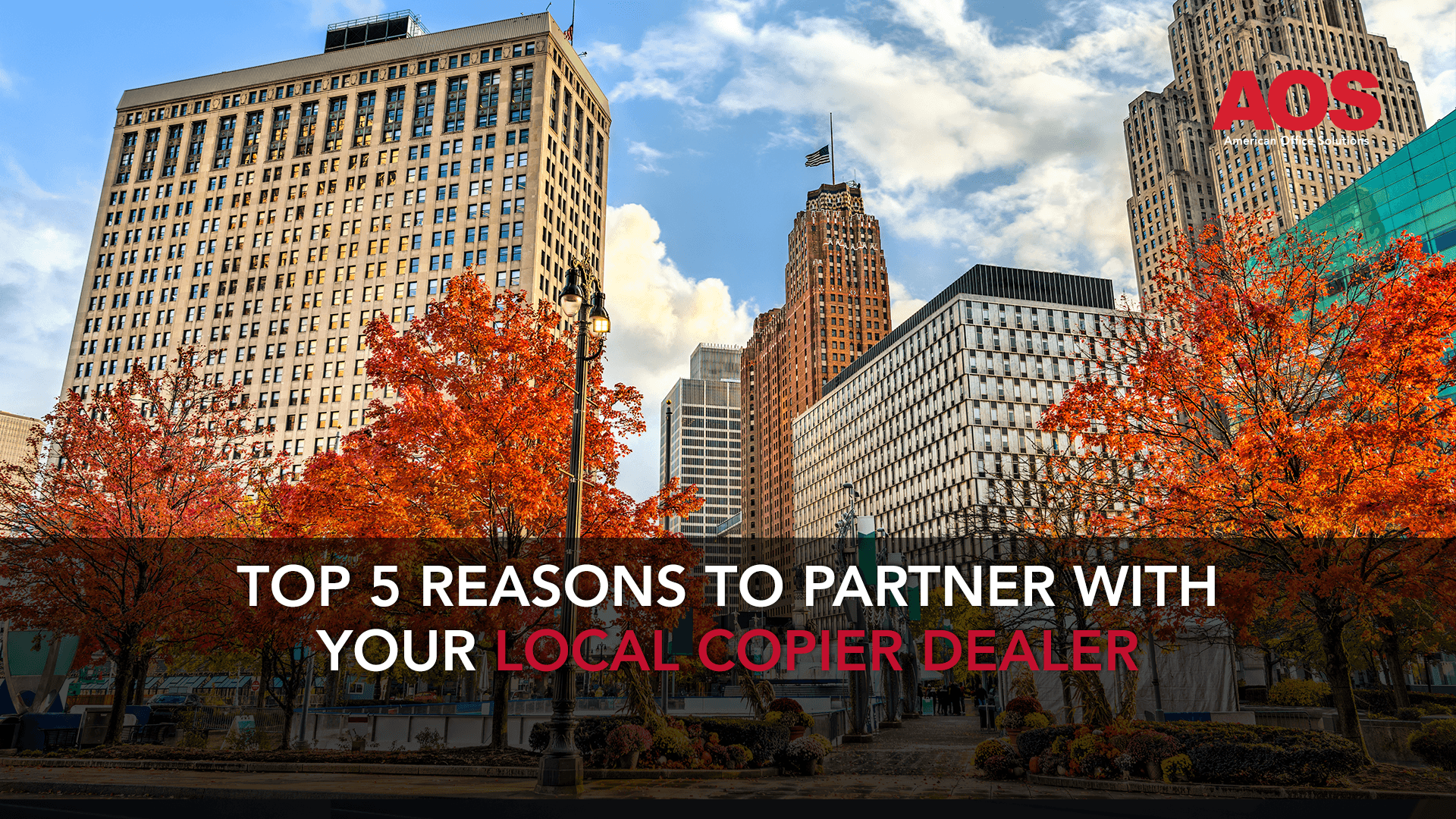 READ TIME: 5 mins.
As it is one of the most critical pieces of equipment in your office, you can't go long without an office copier. If you're in the market for one, you have an essential decision to make. Where should you buy it?
While that might seem like a difficult decision, it's easy when you look at the top five reasons to partner with your local office copier dealer.
These reasons go beyond the benefits of shopping local, which, as you know, helps the local economy. While this is an essential factor to keep in mind, there are a lot more benefits that many of us aren't aware of.
Let's dig in and take a closer look at the top reasons you need to buy your copier machine from a local dealer.
Reasons to Buy or Lease an Office Copier from Your Local Dealer

You have three main options when shopping for an office copier. You can buy it from the manufacturer, a local authorized copier dealer, or a repair shop.

If you choose a repair shop, you'll likely end up with a used or refurbished machine, which isn't ideal. Because of that, let's focus on manufacturers and authorized dealers.
You'll quickly see why local dealers are the right choice.
1. Local Dealers: It Starts with the Price
You have to keep your budget in mind when buying a copier machine. Because of that, you might think you should go directly to the manufacturer.
After all, the company that makes the copier offers the best price, right? Actually, not always. This is a common misconception.
All companies that sell copiers pay approximately the same wholesale price. That means the manufacturer, copier repair business, and local office copier dealers spend around the same amount of money on the machines.
Still, that doesn't mean that all companies sell office copiers for the same price. Due to low overhead, local authorized dealers often offer lower prices than manufacturers do.
Your local dealer can provide you pricing quotes for different copiers and features and help you find something that fits into your budget.
2. Quality of Service

As you've probably experienced over the years, you know that copiers can break down from time to time. Because of that, the quality of service is critical when choosing a copier company.

There's a myth that copier manufacturers offer the best service possible because they made the product. However, all technicians receive ample training so that you won't receive better service from a manufacturer. In fact, local authorized dealers stand out regarding the quality of service.
By the way, local dealers often sell and service more than one line of product, requiring technicians to hold multiple certifications—helping provide the best level of knowledge available.
First, you have to consider the location of your representative. You might be located near a manufacturer's showroom, but that's a long way from headquarters. If you have an issue, your call will likely be transferred to headquarters.
Then, the team has to decide what to do. It might take 72 hours or longer for the company to service your copier. On the other hand, your local dealer is located near your office. The company can respond quickly, limiting your downtime.
Your local dealer can even diagnose and troubleshoot some problems over the phone, speeding up the service even more. For instance, if you need to know how to fix a paper jam, a qualified and experienced technician can guide you through it over the phone.
If the technician has to visit you on-site, they will already understand the problem and bring the proper office equipment to fix it.
Manufacturers typically don't try to troubleshoot or diagnose problems over the phone. Instead, the call centers are staffed with customer service representatives who have to look everything up in their database to fix your problems.
Instead of troubleshooting, they will dispatch a technician to the office. The technician will likely come in blind without any knowledge of the problem. That slows down the diagnosis, and there's a good chance the technician won't have the right replacement equipment to fix the problem.
3. Experienced Account Managers
Local authorized dealers generally have long-lasting employees. These employees build strong relationships with the clients they serve—and these connections give them insight into each client's unique business goals.
When you combine strong relationships with experience, it's easy to understand how local authorized dealers find the best solutions for their clients.
From choosing the best multifunction printer to helping you cut costs, you will benefit from access to an experienced account manager who is invested in your success.
4. Customized Solutions
If you go to a manufacturer, you'll have to buy that brand of product. That means you might not get what is best for your business. Local authorized dealers often carry products from multiple manufacturers, though, and will help you pick the right machine for your needs.
The right company will evaluate your needs and then create a customized solution specifically for your business—it's a level of service you don't typically get from a manufacturer.
5. Local Billing Support
You pay special attention to your invoices, and if you see something you don't understand, you want to reach out and talk to someone.
If you buy your copier machine from a manufacturer, your call will be routed to headquarters. The first person might not know the answer to your question, so you could end up making the rounds before finally getting any help.
Fortunately, when you use a local authorized dealer, you don't have to worry about that. You will speak to a local billing professional who will go over your bill and fix any errors if applicable.
You know you can reach out to the local company at any time and will receive the best service. This takes some stress off your shoulders.
The Final Say: Come Out a Winner by Choosing a Local Authorized Dealer

Partnering with a local authorized office copier dealer makes sense for your business. From the pricing to the local billing support, you will get the type of service you need when you stick with a local company.
Make a list of the top questions important to your business and interview your local manufacturers and copier dealers to make your own comparison. You'll be surprised by what you find. A local authorized dealer will most likely fit your needs.
Our core business line is selling, leasing, maintaining, and servicing office copy machines at AOS. We pride ourselves on our ability to service our clients. Give us a chance to show you first-hand by contacting one of our business technology consultants today. We are here to provide you technology solutions that work for your business, employees, and clients.