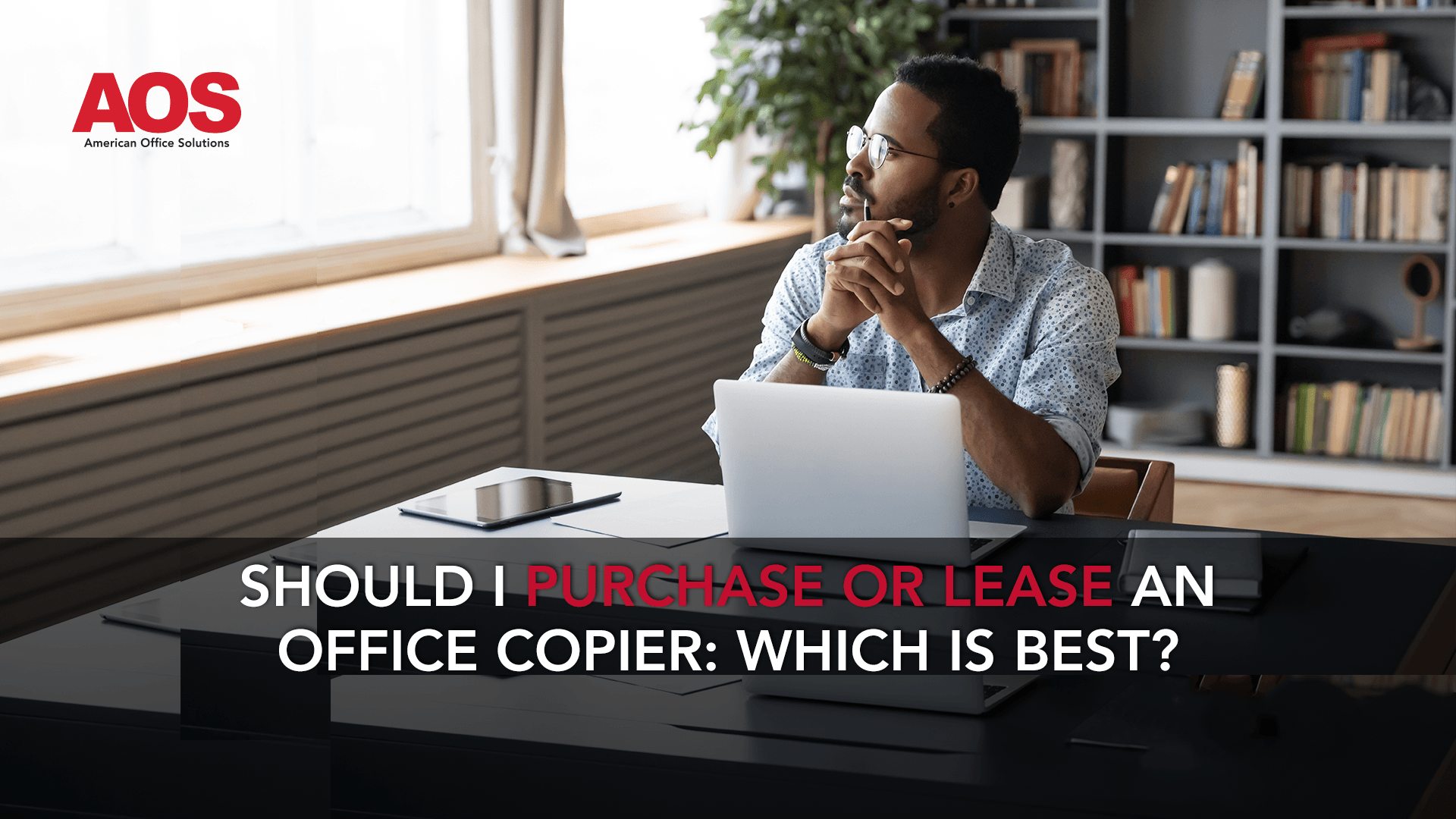 You've found the perfect office copier, and you can't wait to use it. It will make your office much more productive and efficient, allowing you to reach your business goals. There's just one thing standing in your way, though. You aren't sure if purchasing or leasing an office copier for your business or organization is best.
If you asked that question a few years ago, about half of the respondents would tell you to lease, and the other half would say you should buy it. These days, most people are on "team lease." Find out why, by looking at the benefits of both.
Benefits of Leasing an Office Copier

Many decision-makers prefer leasing over buying due to the benefits. Let's go over the top benefits of leasing office copiers.
Flexible Cash Flow

You never know when your next business opportunity will spring up. You'll need cash on hand to take advantage of it, which is one reason why so many companies lease copiers.
Unlike buying a copier, you don't have to pay a lump sum. Instead, you finance the lease and other costs, such as equipment setup, installation, and service contracts. Everything is rolled into a small monthly payment, giving you flexibility regarding your cash flow.
Get The Best Product on the Market

It's impossible to run a successful business without considering your budget. Your budget might mean you need to make tough decisions when buying office equipment.
For instance, if you buy a multifunction printer (MFP), last year's technology might be all you can afford. Leasing, on the other hand, allows you to get the latest and greatest office copy machine.
It's easy to afford the best office copiers when you only have to make small monthly payments.
Better Terms than a Conventional Loan

Some companies choose to get a conventional loan from a bank to finance an office copier. However, conventional loans generally require down payments and have higher monthly payments.
These loans can also tie up your company's credit lines and might come with variable interest rates. Leases don't have down payments, and the monthly payments are small and aren't tied to your credit line. Also, the interest rate is fixed, so your overall cost won't increase.
Opportunity to Own the Office Copier

Some people are hesitant to sign a lease agreement because they think they'll lose the copier at the end of it. However, you can include an option to buy at the end of your lease agreement.
You can then upgrade to new technology to replace it while still using the older model.
Easy Upgrades

Are you the type of person who always likes to have the latest technology? That's an excellent reason to lease.
Once your lease agreement is set, you can upgrade your equipment and have the company add it to the original lease. You can keep the same monthly payment and get better equipment. That's not possible if you buy a copier as you would have to shell out more money to get upgrades.
Benefits of Purchasing an Office Copier
While most people lease, there are some benefits to purchasing a copier, as well. Let's take a look at the advantages so you can decide if you should lease or buy a multifunction printer or copier.
Avoid Finance Fees and Interest Charges

When you buy an office copier outright, you don't have to pay interest fees or finance charges. That makes it a good option if you have the capital on hand to make a purchase without hurting your cash flow.
Enjoy the Autonomy of Ownership
Ownership does come with its privileges. You aren't beholden to a leasing company, so you don't have to return the multifunction printer or buy anything else from the company.

Also, many people take better care of the copiers they own.
What to Consider Before Leasing Your Office Copier

If you've decided to lease your next office copier, you need to do some homework before signing on the dotted line. Doing some research will help you locate the best copy machine companies in Michigan.
The Leasing Company

There are lots of leasing companies available, including local authorized dealers. Local dealers generally provide customized programs for clients, and they usually offer the best deals, as well.
Lease Terms

While most leases run between 3-5 years, it's possible to enter an agreement that lasts 24 months. Some companies offer short-term rentals on their products, so be sure to ask about this if it's something you're interested in.
Leasing a copy machine is similar to leasing a car. The terms you choose will impact the monthly payment and interest rate, so get the details before signing a contract.
Overall Cost

Your local authorized dealer can break down the cost for you, so you'll know how much the copier would cost if you bought it outright along with how much you'll pay if you enter into a lease. Your interest rate will significantly impact the overall cost.
The Lease Buyout
Although some companies offer a lease buyout, it's typically not in your best interest. In terms of operational costs, it's a better idea (financially) to upgrade to a new device due to lower service costs.
Special Considerations

Before entering into a lease, find out about particular or special conditions. For example, some leasing companies allow you to roll upgrades into the existing lease agreement, while others make you buy out the lease and start a new one.
Fortunately, local authorized dealers have some wiggle room and are often happy to accommodate your unique needs.


The Final Say on Purchasing vs. Leasing an Office Copier

While leasing is sometimes more popular than buying these days, both are viable options. It's essential to do your research beforehand and focus on the key points that are most important to your small business and employees.
More times than not, leasing your next office copier is the more popular option, as it provides lower operating costs and fewer hours spent facing downtime.
At AOS, we sell and lease office copiers, and can help you choose which one makes sense for your business. With a full range of resources for companies of all sizes, we can help you reach your business goals and increase productivity. Reach out to us today so that we can talk about managed print solutions for your business. Let us help your organization continue on its path of growth and success.