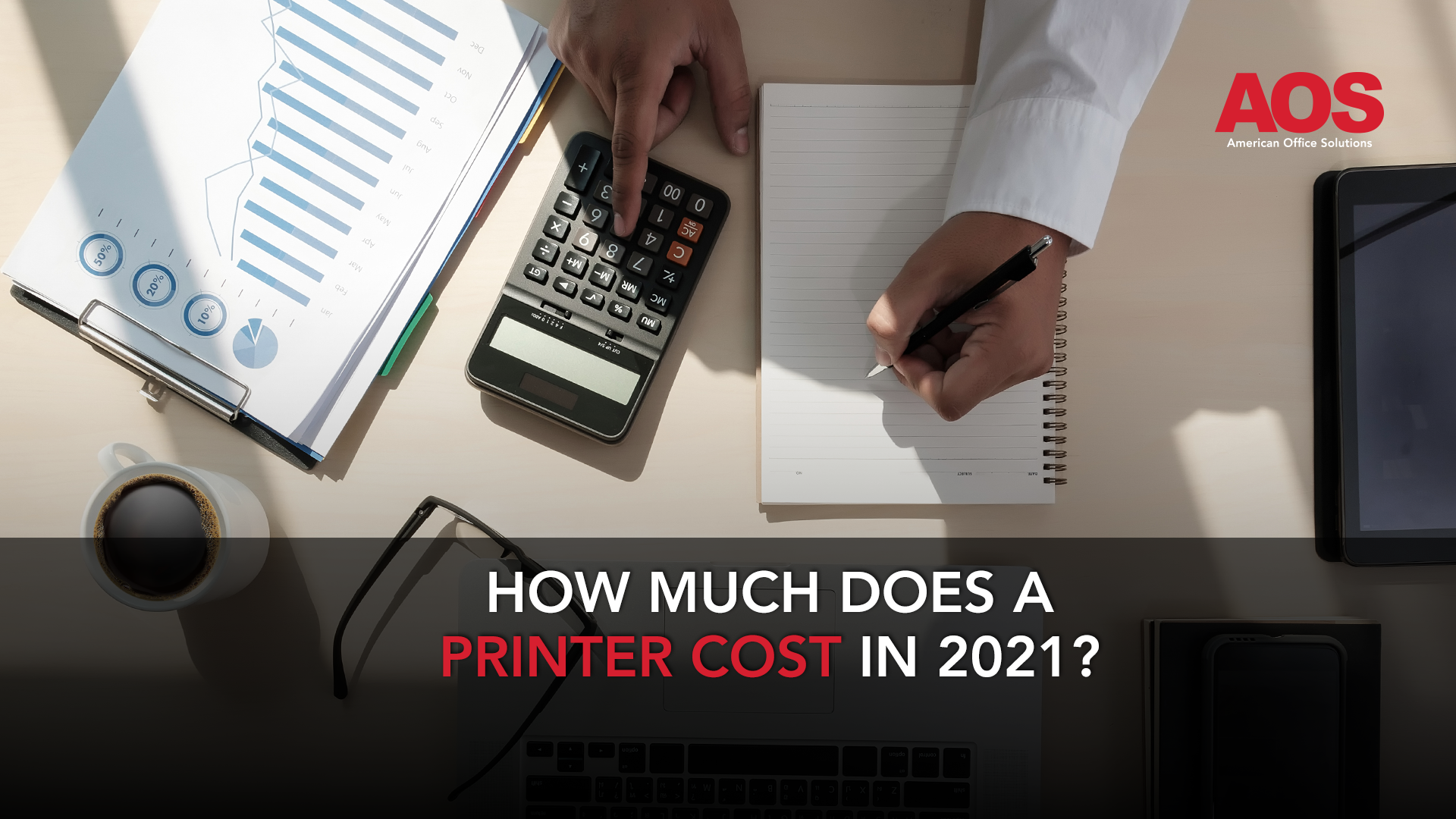 A new year means new opportunities, right? This could mean new business acquisitions, adding new products to your product-lines, or even purchasing new office technology to your offices.
However, we're still dealing with a lot of uncertainty regarding what's rolling over from 2020. The good news is that upgrading your office printer or copier can improve workflow, reduce downtime, and even provide potential savings on your printing needs.
But, while we're on the topic of money, some of us wonder what office equipment they're able to upgrade this year, whether it be through leasing or purchasing. How much does a printer cost in 2021, and how can you fit this into your budget?
Well, well, well, you certainly came to the right place! I'm breaking this down for you in a simple way so that you have a better idea of what it'll cost your business to get rid of that old clunky printer in the corner and upgrade to a more advanced (and even remote-worker-friendly) device.
Let's dig in!
The Cost Of A Printer In 2021
The cost of any new office technology solution is always top of mind for almost all of us when determining if we can afford a new device. But, the cost of a new printer in 2021 requires a little more thought than you may think.
We determine the cost of an office copier or printer based on your specific office needs. To start, consider some of these questions:
Are you supporting large or small workgroups? Do each of your employees require a desktop printer, or can you have a few shared printers throughout your office?

Based on your current printer features, which ones do you use and which can you go without?

Do you need advanced features

, like finishing options or wireless cloud connectivity that supports employees and customers from home?
Instead of searching for an exact price point or range, it's better first to evaluate and understand your overall printing demands. Then, you'll have a much easier time narrowing down a healthy price point for the features and options your organization requires while also ensuring you're staying within the parameters of your budget.

Printer Costs: Learn Your Options
Having options is always a good thing, and with printers in 2021, you have just that! There are a couple of different types of printers in terms of functionally upfront that it's important to note
A Printer

A Multifunction Printer (MFP) or "All-in-one" device
Multifunction printers (MFPs) evolved to fill a need since there was a gap between single-function desktop printers and copy machines. The copier industry noticed there was a demand for an "in-between" option.

The requirement for a smaller version of a copier that could offer similar functionality (specifically, copying, scanning, and faxing) as a standard size copy machine is what many businesses want.
Black & White Desktop Printers
The first option you have when looking at printer costs in 2021 is a basic black and white desktop printer. As a reference, we're going to look at the Kyocera ECOSYS P3055dn model.
This printer is an excellent option for employees who may require an individual printer at their desk, whether at home or in the office. The device is small and compact but also versatile in its performance.
A standard black and white desktop printer, like the P3055dn, is an economical option for many organizations and can accommodate various printing jobs. To learn more about this device, click here.
Color Desktop Printers
Next up on our list when evaluating printer costs in 2021 is color desktop printers. It's worth mentioning that it's essential to partner with an office technology company that offers products from more than one manufacturer as we do.
At AOS, we sell and lease copiers and printers from some of the industry's top-notch manufacturers, like Kyocera, Sharp, and Lexmark. Doing so allows us to give our clients choices, as the needs of all our clients vary.
For example, the Lexmark C4150 is an excellent option for a color laser and desktop printer. This kind of device allows for affordable in-house color production, high-speed functionality and keeps your sensitive data secure.
To learn more about the Lexmark C4150, click the link here.
Black & White MFPs
If you think you may need a more advanced device for your business needs, a black and white MFP may be calling your name!
The Kyocera ECOSYS M3655idn is an excellent MFP you'll want to consider. This multifunction printer is dynamic for workgroups of various sizes. The great news about this device is that even though it can accommodate high printing demands, the running costs are noticeably lower.
Not to mention, an MFP like this one also has a 7-inch full-color touch panel providing ease of use for all users. Read more about it here.
Color MFPs
Last on our list is color MFPs, and the Lexmark XC4140 is one of the best options to look into. This A4 multifunction device prints in color up to 40 pages per minute (ppm). You'll really enjoy this device because you'll spend less time ordering supplies as this MFP has such a high-yield toner capacity.
A color MFP's features and characteristics like the XC4140 are essential for companies needing high production with minimal wait times. To learn more about this color MFP, read about it here.
Your Next Steps: Choosing A Printer In 2021
Now that you have a better idea of the costs associated with different printers, now it's time to find a printer, or possibly, a printer provider.
The partnership you have with your office technology provider is essential, and you must be with a company that can continually assist your printing and copying needs.
Your next step is to find a qualified and knowledgeable technology provider. If you need help doing so, read our article, How to Find the Best Office Copier Companies Near Me.
At AOS, we are dedicated to helping our clients and readers make the best purchasing decisions for their business or organization. Whether you need a small desktop printer or an advanced MFP, we have the resources and knowledge you need to make the best decision for your employees. Now is a great time to reach out to us to learn more about how we can help you continue on your path of growth and success.