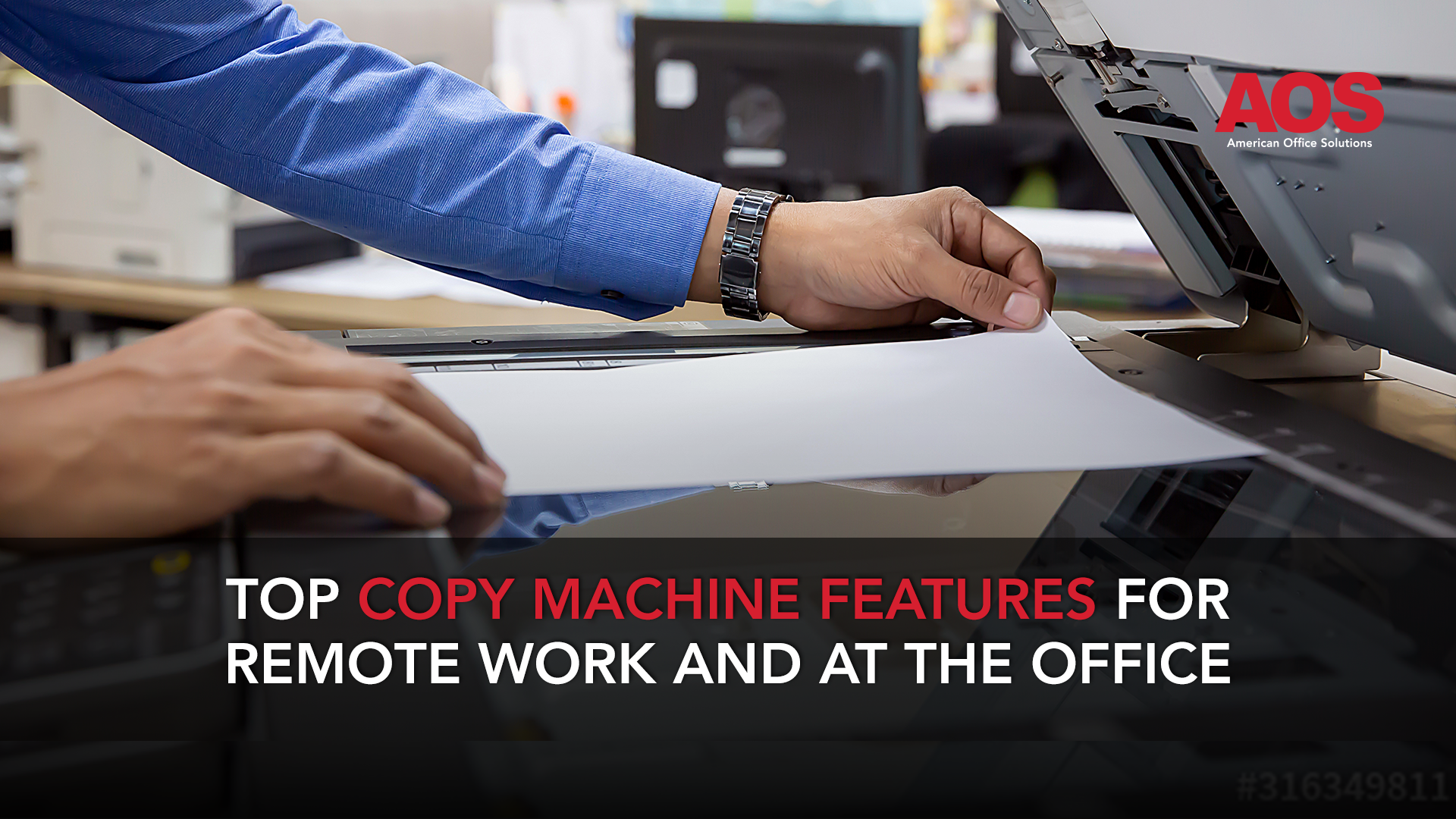 READ TIME: 5.5 MINS
Are you one of the 56 percent of remote workers that aren't allowed to bring equipment home from the office? If so, that means you need a copy machine to help you complete your work. Or, maybe you're trying to find technology solutions that support remote work as well as when you transition back to the office.
It's hard to predict our office environment in the coming months and even weeks during this time of uncertainty. It's necessary to learn the top copy machine features for remote work and at the office because of our current events.
Whether you're working from home (WFH) or commuting into work each day, you need versatile tools that support your needs no matter what.
Top Copy Machine Features for All Work Environments
You have three options when purchasing or leasing an office copy machine. You can get the device from:
A big-box retailer
The copier or printer manufacturer
A local authorized dealer, like AOS
Big box retailers can't typically provide the service and support your employees need, especially proactive maintenance and quick resolutions. Not to mention, you're also on the hook for paying for expensive toner too. When choosing a copier manufacturer, the selection is limited as they only carry their brand.
Many small businesses (SMBs) choose to partner with a local authorized dealer for their copying and printing needs because of these constraints.
When you choose a local authorized dealer, you can voice the specific features and services you and your employees need from your copier or printer.
Once doing so, your copier provider has an easier time finding the right solution for your organization. Let's look at some of the essential features you need when working from home and at the office.
Choose an Office Copier With Wireless Printing
Even if you work in a small home office, wireless printing is a must. When you have wireless printing, you have more flexibility. You can decide to work in the other room for a day and then print over your wireless network.
The same goes if you choose to work from a different location in your office, besides your desk, such as a conference room.
Not to mention, a lot of copiers now can send documents from your home office to your actual office through mobile wireless printing.
This incredible feature is one of the best ways to stay connected, even if you and your team members are going back and forth from home to work during the week.
Think Beyond Making Copies When Choosing a Printer or Copy Machine

If you're working remotely, you likely need more than just a single function printer. A multifunction printer (MFP) that prints, scans, copies, and faxes is an excellent alternative. An MFP provides access to everything you need under your roof.
That means you won't have to worry about running back and forth to the office—you can take care of all of your document needs at home.
There's even better news here! If you transition back to the office, a small desktop MFP is simple to move from home to work, depending on your schedule or COVID-19 protocols.
Consider the Paper Tray Capacity

Paper tray capacity is often overlooked, but it's crucial when choosing a copy machine for your remote workspace or office. If your paper tray can't handle much paper, you'll spend as much time loading the copier as you do the printing.
When engaging in remote work, you need a multifunction printer that holds at least 250 sheets of paper. That will allow you to get lots of work done before you have to reload the tray.
A Device With a Fast Response Time

As a remote employee or in-house, you probably don't print hundreds of pages a day. You might go for hours or even days without using your printer. But as you probably know, when a printer is idle, it needs to warm up before you can use it.
Some copy machines take several minutes to warm up, creating frustration and potential downtime if you're in a hurry. Make sure to choose a copy machine that can warm up in a matter of seconds, so it's ready when you need it.
Evaluate the Print Speed

You should also consider the print speed when choosing a copy machine. The best home office printers generally print at least 22 pages per minute (ppm), allowing you to quickly handle large projects.
You can also find copiers that print much faster if needed. To get the right print speed for your demands, you can talk about your printing needs with your local authorized dealer so you'll receive expert advice on the best print speed for you.
Related: Top 5 Reasons to Partner with Your Local Office Copier Dealer.
Make Security a Priority

Security is vital when you work from home. Cybercrimes are at an all-time high right now, with everyone connecting to their home wi-fi networks that aren't as secure as we think. As a remote worker, you must choose an office copier that provides enhanced security.
Your printer or copier should have unique features that prevent unauthorized users from gaining access. It should also encrypt the data that's on your hard drive too. These security features will protect your company records, information, and employee data.
Choose an Option That Includes a Service Agreement

Consider getting a service level agreement (SLA) with your multifunction printer or copier. With an SLA or contract, the copier provider then handles your device's service, maintenance, repairs, and even supplies (such as toner).
Depending on the provider and the contract, you can even roll the agreement's cost in the purchase or lease price. Doing so prevents you from spending additional funds if you need to service or repair your printer.
You do need to remember that not all service agreements are the same. Choose a company with fast response times and remote diagnostics. The technicians should also have all the necessary parts in their vehicles to cut down on service and repair times.
Make Sure the Office Copier Contract Includes Remote Services

Before you buy an office copier, you should see if you'll have access to remote services. This includes remote setup and proactive monitoring. You can't afford your multifunction printer to go down for an extended period, so this feature is notably critical.
With remote monitoring, the service team can diagnose problems before causing your office copy machine to break down. As long as you have a service contract, a technician can come out to your home or office to quickly make the repairs.
The Final Say: Top Copy Machine Features for Remote Work and at the Office

With so many office copier options, you have choices when picking one that meets your specific demands. The trick is to buy or lease an office copier with all the features you need without extras that you won't use. That way, you won't overpay for your device, and you'll get exactly what you need at work or home.
It's easy to get what you need when you partner with a knowledgeable company like AOS. We sell and lease printers and copiers that suit any office environment. We even provide managed print services that help reduce costs while improving efficiency and productivity. Make sure to contact us today to learn your options and increase productivity throughout your entire organization.