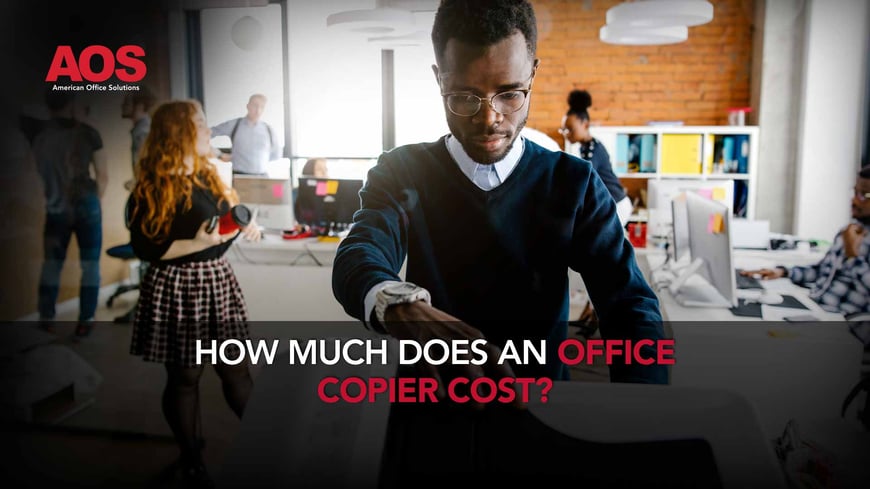 READ TIME: 5.5 MINS
The initial cost and add-on features of purchasing an office copier might discourage you from going for it. When considering buying or leasing new equipment for your workplace, spending a ton of money outright is never an easy pill to swallow.
Technology continues to evolve, and at times, it's hard to keep up. So, what are your options? What devices do you and your employees need? And how much does an office copier cost?
These questions come up all the time—so if you're wondering the same thing, know you're not alone! The great thing about a technology purchase for your business is that you have options. And, having options is a good thing...right?
Different types of copiers and printers are designed for different types of businesses. It's all about finding the one that best suits your demands and business needs.
Blindly deciding on a budget is a mistake that, unfortunately, many businesses make. So, it's essential to do your research beforehand, assess your current pain points, and figure out what office copier features are most important for your company's growth.
The good news for you is that we've got you covered! We're diving into the pricing and costs associated with a new office copier and how to make sure your business makes the best purchasing decision.
As a side note, we know that investing in new technology is a big deal, and we're here to help. We understand the struggles that come with deciding on a new (and potentially expensive) product for your office. But, our dedicated team of professionals is here to help guide you. Let us be your trusted source—so, reach out to us to learn more about how we can provide some of the best solutions for you now and in the future.
Ok, let's jump in!

What's The Cost of An Office Copier: Pricing Explained
Before we get into the cost of different office copiers, I think it's important to briefly mention what an office copier is and how these devices can make your job a little easier.
An office copier (aka copier, photocopier, copy machine, and multifunction printer) is a piece of office equipment designed to copy, scan, print, and create electronic documents from paper originals to distribute.
Despite what many might think, office or commercial copiers are still very much needed for various day-to-day activities in the workplace, regardless of industry or business-size.
During these crazy COVID-19 times, some of your employees might have switched to remote working. However, there's still a demand for copiers. Even if that means these devices are now sitting on your kitchen table instead of your desk at the office. It's all about adapting!
How Do You Determine Which Office Copier to Buy?
Purchasing a copy machine is similar to buying a computer. You're presented with different prices and variations—ranging from smartphones, laptops, tablets, etc. It's hard to figure out which device you need and which one is worth paying for.
The same goes for an office copier. You could purchase them outright or through a lease. In any case, you also have to agree upon a contract and service legal agreement between you and the technology provider.
Before purchasing anything, make sure to become familiar with the terms of the agreement and the warranty. By doing so, you have a full understanding of what's included in your services, such as the parts or supplies that are (or aren't) covered. You'll also gain a better understanding of anything that could potentially void your warranty, which is essential to know as well.
Copiers come in various sizes and at different prices. They're also designed and purchased for many other purposes.
Depending on the type of business, or the reason for the need for a new office copier, your business must decide which one is best for you. There are many different manufacturers and models with varying features, add-ons, and technology capabilities.
Office Copiers and Features: Here's Your Options

Black & White (B&W) and Color Printers: $10-$45 / month

Workers who work alone, or just want an individual printer for their office space typically uses this first type of device. You can get a B&W printer of 47 ppm (pages per minute) in this price range, or color printers with a 27 ppm output.
Black and White Multifunction Printer (MFP) for Desktop: $20-$40 / month

In need of a device with a small footprint that can print, copy, scan, and one that even includes a fax machine? There exists a bouquet of options at very pocket-friendly prices. This multifunction copier is ideal for users who are looking to get a copier for low volume use.
Color Desktop MFP: $24-$52 / month

Similarly, a color desktop printer is perfect for private users or groups. These printers work at a speed of 32 ppm in color. More often than not, color printers at this range are capable of wireless networking and printing too.
Business Class MFP/Copier: $50-$300 / month

The business class MFPs are by far the most popular multifunction printers used by businesses. Because of their multiple capabilities as a scanner and other advanced aspects of the document workload and flow, they can handle a massive printing volume. As expected, they are compatible with most business apps, mobile device apps, and printing from

scanning and uploading to the cloud

.
High-Volume Copy Machines: $300 and up / month

In contrast to those mentioned above, for big businesses and offices, this one's for you! Although you can expect to pay more than the others, these copiers offer more functionality, speed, and output quality.
Your office real estate goes a long way in determining which machine purchase. A compromise between volume and cost may have to be considered. You're more likely to go with the one that meets your needs while taking note of potential limitations.
Many of these office copy machines are also very much compatible with business applications. You can scan to the cloud or email, print from any location, with a multitude of software applications, among other life easing features.
Additional Options and Features
Paper Trays
There is a good chance that the copiers you buy will have various add-ons, including paper trays. Additional paper trays give room for more input options and permit double standard paper capacity, allowing longer uninterrupted operation.
Output Trays
Output trays are larger trays that allow you to walk away as large print jobs are running.
Card Readers
Card readers prevent unauthorized users access with swipe or RFID cards and can provide you full control and reporting by department or individual costs. This feature is especially handy for those working in the medical or legal field that needs to protect client or patient data.
Finishing Options
After completing a task, you may be compelled to use folding, trimming, stapling options for multiple pages. You may also want to make booklets or create tri-folded materials. Check to see the manufacturer's requirements to compare devices and see all of their other options.
Final Thoughts On Office Copier Cost

In the end, what businesses want is a good value for their money. Leasing a copier could be what makes that happen. Getting an excellent lease agreement doesn't have to be cumbersome, so make sure to reach out to us for a comprehensive lease offer on the best office copiers for your business.
At AOS, we are dedicated to providing you with the tools and resources you need to further your business's progression. We've been in this business for a while now, and have learned a lot along the way—so let us show you! Our business technology consultants are eager to understand your current needs and find solutions that work now and in the future. We're here to help you keep your business on its path of growth and success.