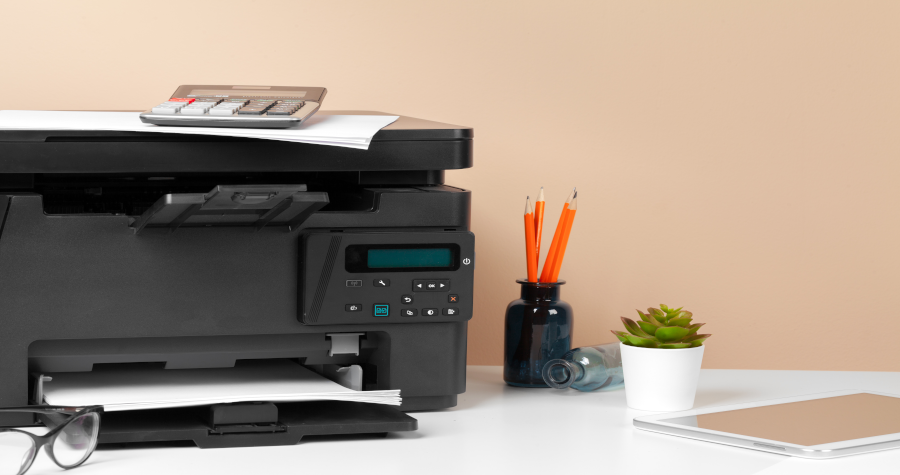 Do you know how much you're spending on workplace printing?
The average office worker goes through 10,000 sheets of copy paper within a year. For an organization like yours that could mean thousands of dollars spent each year on just one employee's printing. Imagine how much that adds up to when you consider your entire team. In our example today, we'll see how one organization discovered that they were spending over $5,000 per year on ink alone and how they used that information to find a better print management solution for their office.
The Importance of Cost Per Page
You need to determine what it costs each time that a document is printed in order to calculate your overall printing cost and that's exactly what your Cost Per Page tells you. This is the average cost of your printer's ink each time you make a print or copy.
If you're serious about drilling down to find the accurate cost of your current printer, then you need to calculate your Cost Per Page. Knowing how much you're spending each time you purchase an ink or toner cartridge, as well as that cartridge's total yield, are essential parts to determining the average CPP.
Page Yield and How it Determines Printer Cost
The term Page Yield generally refers to the number of pages that can be printed from a toner or ink cartridge. International Organization for Standardization (ISO) standards dictate that this number should be based on the max number of pages at 5% coverage (15-18 lines of text on a page) that your cartridge prints.
For example, an HP ENVY 7855 All-in-One Multifunction Printer uses a black 64XL high yield ink cartridge. The 64XL ink cartridge has a listed yield of 600 pages. The yield on this cartridge shows that the manufacturer has tested it to print a max of 600 pages with 5% print coverage.
This yield is critical information when figuring out how much you're spending in print & copy costs for your organization since it can be used to determine what the current Cost Per Page (CPP) is.
Calculating Cost Per Page
Cost Per Page = Toner Cost / Toner Yield
We help organizations calculate this cost whenever we begin the proposal process at AOS. Let's look at an organization that was using that same HP ENVY 7855 Multifunction Printers before AOS came in and showed them how much they were really spending when it was broken down into their Cost Per Page. We asked what they were spending on each ink cartridge and used that information to give them the true Cost Per Page of the machine. Here's how it was calculated, the 64XL black ink cartridges were purchased for $42 each with a listed yield of 600 pages. By using the Cost Per Page formula of $42 (Toner Cost) / 600 (Toner Yield) we determined that their cost was $0.07 per page at 5% page coverage.
This office was going through a few paper reams per week on average causing the overall costs to add up significantly. At three reams of paper per week, the office actually had a monthly print volume of 6,000 pages, costing them an average of $420 per month, just in black ink! Not to mention the decreased productivity and added equipment costs that come from self-maintaining a low volume device that will need to be replaced every 2-3 years.

Determining When it's Time to Consider a Managed Print Provider
Once the Cost Per Page is calculated, you can take it a step further to see if the organization can save money by switching to a Managed Print Service provider.
When it comes to Managed Print Services, there will similarly be a Cost Per Page price set by the provider. This is the price that you will be charged for each print, copy and incoming fax page. The major difference is that a Managed Print Service Cost Per Page not only supplies your ink or toner; with a service agreement, they'll also cover service, labor, parts and maintenance.
With a cost of $0.07 per page spent on black printer ink alone and a managed print proposal coming in at a cost of $0.009 per page with the added equipment lease cost of $60 per month, there's still considerable cost-savings by switching to Managed Print Service; while, also getting a brand new copier! Let's look at this example a bit closer.
Current Cost:
$0.07 X 6,000 = $420
(Cost Per Page) X (Monthly Volume) = (Monthly Ink Cost)
Proposed Cost:
($0.009 X 6,000 = $54) + $60 = $114
(Cost Per Page) X (Monthly Volume) + (New Equipment Cost) = (Total Monthly Cost)
Leasing a brand new office copier with an all-inclusive service agreement actually ends up saving the organization $306 a month in comparison to the prices that they were paying for ink alone! In the long run, it makes more sense to get updated office equipment that costs less than a cent per page to maintain than it does to continue using a laser printer with mediocre print quality and a higher cost per page.
Summary
We find this situation all too often with organizations that don't have a clear understanding of page yield or their true ink costs. This comparison is the perfect example of the importance of accurately calculating your print and copy expenses when preparing budgets for the next fiscal year.
If you're still unsure about calculating this cost on your own. Try out our free Ink & Toner Cost Calculator excel to see what your copier or printer is really costing you.