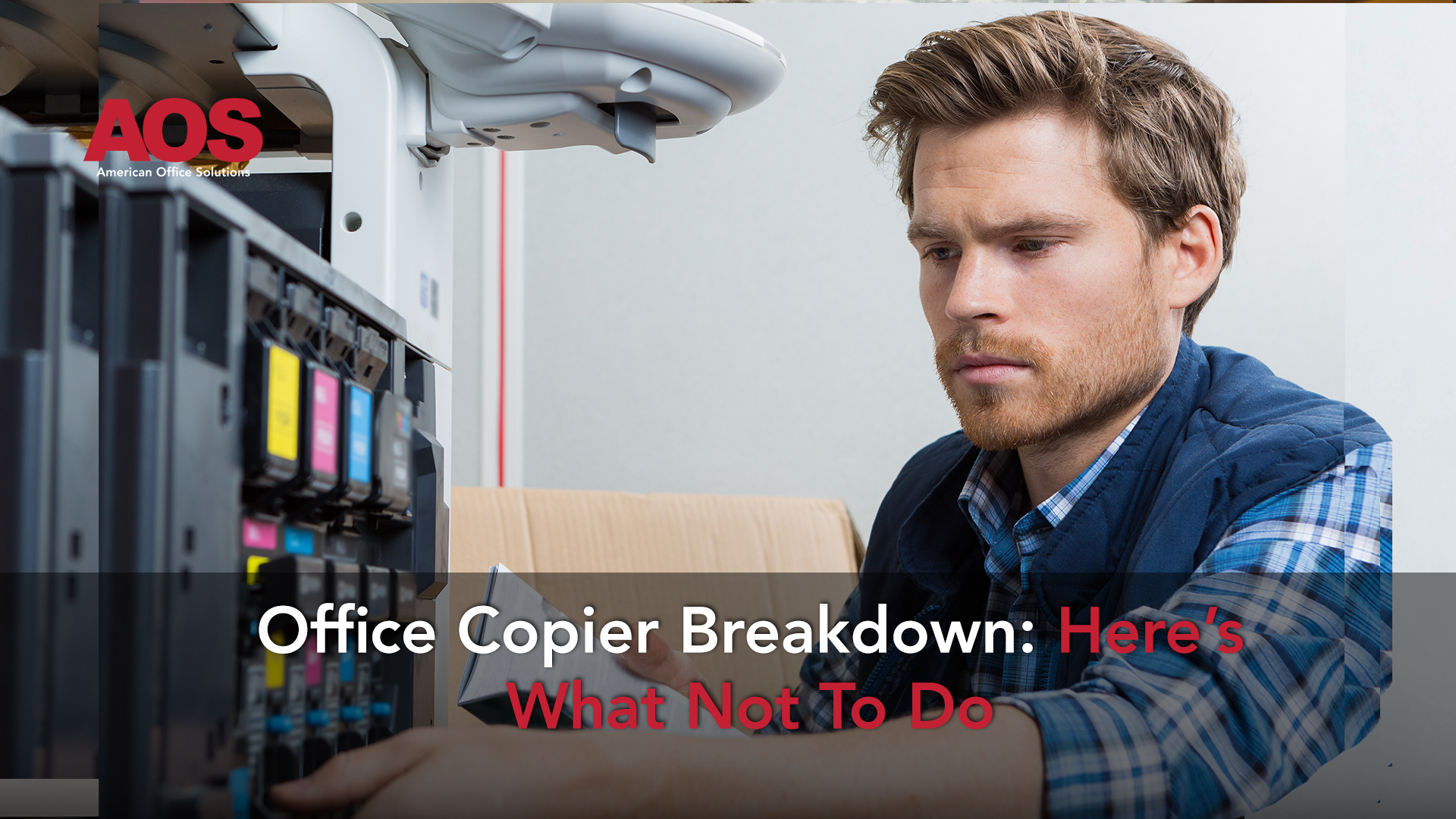 An office copier plays a vital role in the success of many of our businesses. Whether printing a marketing brochure or an entire sales pitch— we rely on copiers and printers to churn as many copies as we need.
Because of how much we depend on them, it's vital to repair the damaged copiers in time to prevent further inconvenience or any potential downtime.
At times, it can be tempting to repair the breakdowns on your own. However, it's highly recommended to involve an expert, like AOS, if the problem seems significant or continues coming up no matter what you do to prevent it.
And since you can't always predict when your copier will break down, it's vital to understand how you can handle the breakdowns to prevent further damages.
We're discussing the common copier problems, tips to follow, and the mistakes that you should avoid in the event of a copier breakdown.
Related Article: 10 Tips to Keep Your Office Printer in Tip-Top Shape.
Common Office Copier Issues
Below are the common types of breakdowns that happen when using an office copier:
Paper Jam
Paper jams can happen for a number of reasons including when the machine is slow to pull paper. You can quickly solve the issue by pulling the paper out gently and slowly.
Lines on Paper
Seeing lines on your pages typically happens when there are foreign substances on the paper or the glass. You can wipe off the slit glass to get rid of any dirt on them.
Wrinkled Pages
Wrinkled pages may look minor, but they might affect the professionalism and presentation of your work. The wrinkles happen when there are jammed papers or when there is moisture on the paper trays. You can call an experienced technician if the problem persists.
Too Light or Too Dark Copies
Mainly, this problem results from unbalanced density controls in the copier. You can reset the density controls to solve the issue or change the toner.
Cartridge and Toner Problems
Cartridge and toner problems happen when the photocopier settings are not well done. A low, malfunctioning toner can also cause the problem. You can solve the issue in two main ways: the first is to adjust your copier's settings, and the second is to consult a specialist for a comprehensive inspection.
Common Causes of Frequent Copier Breakdowns
Here are possible reasons why you may be experiencing the above issues too frequently:
You don't observe regular maintenance, or the copier is due for the regular checkups.
Your copier is outdated.
You are using the wrong machine size and type.
Your office copier is overheating.
There's too much dust on the copier.
Common breakdowns may also happen when your team is not well-trained. Always ensure that your workers know how to use the copier machine, a good managed print provider provides unlimited training for your staff.
Three Mistakes to Avoid When Your Office Copier Breaks Down
One good thing about common office copier problems is that they are typically easy to solve. But again, some mistakes can be costly, especially if you are doing trial and error to fix them.
Here are some potentially expensive mistakes that you should avoid when the copier breaks down.
Mistake 1: Forcing the Copier to Continue Working After a Breakdown
A common mistake is to continue pushing the office copier to produce more copies when evidently, there is an issue.
You may cause more problems to the device when you keep forcing it to produce more copies. Instead, you should first determine why the copier is not functioning well by checking if all the cables are still intact.
Mistake 2: Unplugging the Machine the Right Way
Sometimes, the thought to unplug the power cable may come first when your copier starts to malfunction. But this is not always a great solution. If the copier is still connected to the power socket and it's not working, the chances are high the problem is internal and not power-related.
Remember that the multifunction printers (MFPs) and copiers have hard drives, just like computers. The sudden shutdown can damage the hard drives or cause adverse effects on the copier's hardware.
When you shut down the copier correctly you give the hardware enough time to shut down without any issues.
So you should first switch off the power button if it's still working. After that, you can go ahead and disconnect the copier from the power source.
Mistake 3: Fixing the Issue When You Are Not Trained
As mentioned earlier, there's no harm in fixing a paper jam on your own. However, you should avoid the more extensive repair processes, which require you to disconnect the entire parts of the copier if you are not experienced.
Some copiers have more than 208 volts running in them and require careful handling. The best solution is to call an experienced technician to inspect the device and recommend the ideal solution.
So, What Should You Do When A Copier Breaks Down?
The first solution is to check the power connection. Someone may have interfered with the power cable unknowingly. Ensure that the cable is still intact. Here are other possible remedies that you can observe to the serious breakdowns:
Check the date of purchase of the copier: If the issue is significant, your manufacturer or local dealer can attend to the problem using the warranty. So you will need to confirm if the warranty is still effective.
Call an

experienced technician

: Unless it's a paper jam or the above discussed common problems, you will need a helping hand of a technician. Ensure that the technician is well experienced.
The Final Say: Schedule for Maintenance and Service Calls
An office copier requires regular servicing and maintenance to avoid the breakdown frustrations and confirm that every part is still intact.
For this reason, you may need to schedule a regular servicing appointment to verify if everything is okay. By doing so, you can minimize the common copier issues, reduce the repair costs and save more time for productive small business activities.
Don't allow a broken office copy machine to frustrate you and cost you more than it should. The most cost effective way to take care of your device is by purchasing a support agreement. The team at AOS would love to provide you with more information on how it can be an economical solution for taking care of your copiers or printers. So, contact us today to talk to our consultants. We will show you how our office technology solutions can help your organization continue on its path of growth and success.