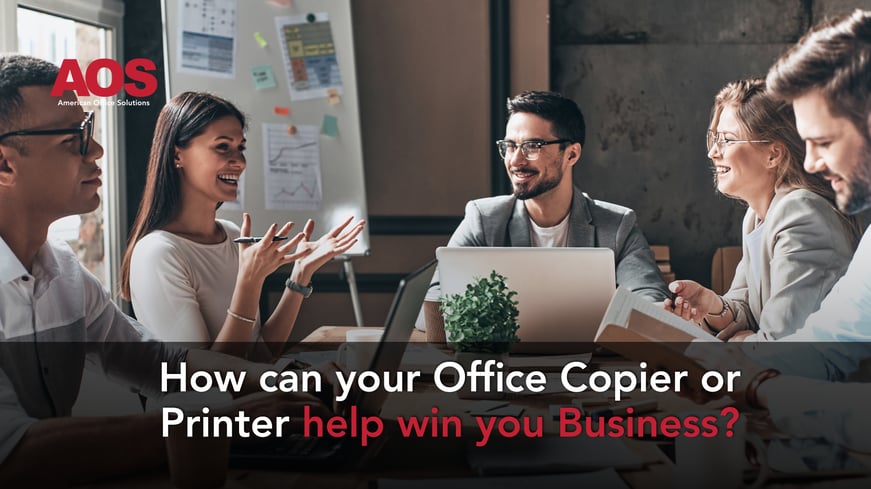 Running a successful business means you need to attract new clients continually. You probably have a marketing plan in place to bring in new business, but what about your in-house technology devices like your office copier?
Believe it or not, your office copier or printer can help you win business, allowing you to reach your goals. You're probably surprised to read that. But, much of your business is digital now, so you might think the printer has gone the way of the dinosaur.
In reality, your multifunction printer (MFP) is more important than ever before, and we're here to give you the ins and outs of why you should consider buying or leasing an office copier instead of outsourcing your printing or using an office supply retailer.
You'll be surprised by all the benefits that come with having an office copy machine at your place of business.
How Can Your Office Copier Win You Business?
Some companies have chosen to outsource their printing needs. These companies have quickly realized they've made a mistake.Choosing to outsource your printing can hurt your relationship with your clients and make it difficult to attract new ones.
From improving client satisfaction to boosting your finances, buying or leasing a copier or MFP makes sense. Let's take a closer look at the main reasons to consider purchasing or leasing your output systems.
Increase Client Satisfaction
If you want to grow your business, it's essential to focus on client satisfaction. Satisfied clients stick with your company and recommend your business to other local businesses, giving your organization a considerable boost.
It's easy to keep your clients satisfied when you have a well-working and functioning MFP or office copier. With a printer in your office, you can create documents, signature forms, and more on-demand at an economical price point.
Your clients won't have to wait for you to run out to print something so that they can wrap up transactions much faster. We all expect instant service these days, and with an office copier onsite, you can deliver without any worries.
Improve Marketing Campaigns
Your office copier can even play a vital role in your company's marketing campaigns. When you have an MFP at your disposal, you can print marketing materials right in the office for a fraction of the cost of outsource printing.
Then, you can disperse the materials to get your name and brand out in your local market. This is much more effective than ordering marketing materials that might not arrive in time, and doing so can cause you to miss opportunities and fail to attract new business.
Instead, have an office copy machine on site, ready to print your materials at a moment's notice.
Show Your Clients You Prioritize Security
Clients expect businesses to make security a priority, and you can do just that with a copier or printer. An MFP includes a fax machine that allows you to send and receive data securely.
Your clients are more likely to trust you if you have such a device. You can also choose a multifunction printer with other security options to protect data scanned, stored, printed, and more.
This commitment to security will help you build trust with your client base. Once your clients trust you, it will be much easier to maintain the relationship. They know you won't let them down, so they will continue to use your products and services.
Digitize Your Documents
You probably have both digital and paper documents. While paper documents are essential, it's hard to find what you need in a timely fashion. This can be a problem if a client comes in and needs a document quickly. You can provide much faster service once the documents are digitized, and an MFP can help.
Your employees can scan the documents into the system, making them easily searchable. Then, if a client needs something, you can deliver it quickly. Your clients will be happy with you and want to stay with your business for the long haul.
At the same time, organizations that don't offer this service will lose business, and you'll have the chance to scoop up some of the fleeing clients.
Stay Financially Sound
When you own or lease an office copy machine, you will reduce costs and find it easier to stay on budget. That, in turn, will make it easier to attract clients.
First, owning or leasing a copy machine drastically reduces cost-per-copy compared to outsourcing your printing. Production print facilities charge so much per copy to cover the cost of ink, paper, and the machine's wear and tear. Then, of course, they add extra to the price so they can turn a profit.
When you buy or lease a multifunction printer, you can enter into an agreement that includes supplies and the machine itself. When you break down the cost-per-copy, you'll find this comes at huge savings.
Second, you'll know what you'll spend on printing and copying costs before you enter into an agreement. There won't be any surprises, making it easy to budget.
On the other hand, if you outsource your printing, it is more difficult to track the budget. You could have a busy month where employees must run back and forth to the production printer. That could cause you to go over your budget, which will hurt your bottom line.
The Final Say: Buying or Leasing an Office Copier Makes Sense
Having an office copier in-house will benefit your organization in more ways than one. You will win over your client base and even attract new ones.
You can also cut costs, making your business more financially sound. With so many benefits, it's clear this is a wise choice for your organization.
AOS sells and leases office copy machines from top manufacturers. We also provide managed print services, so you won't have to worry about a thing when you use us. Contact us today to learn more about our services and how we can help you reach your goals. We will go over your business needs and create a solution just for you.