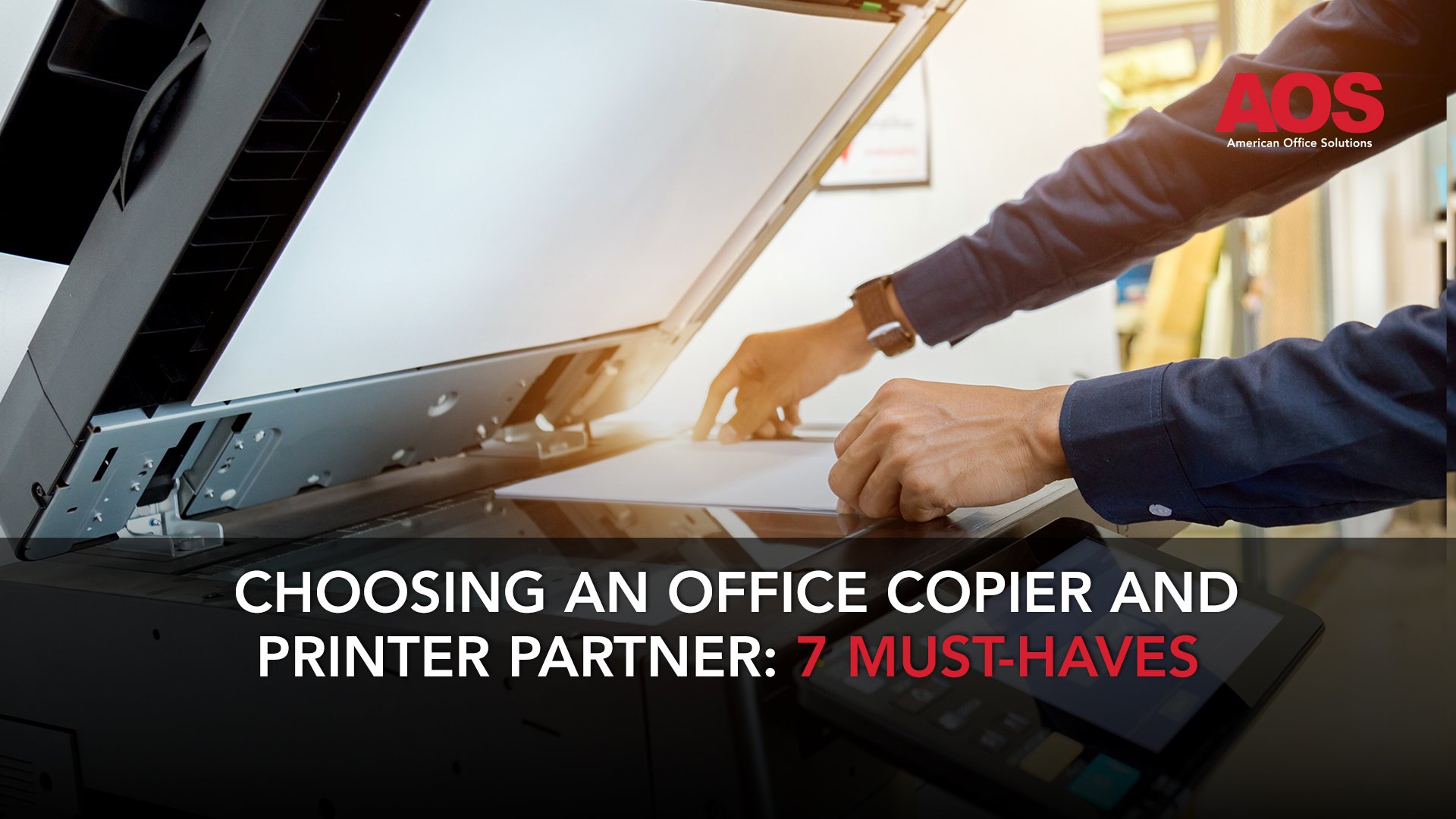 An office copier company or provider does more than just sell and lease copiers. The right company will also act as a partner, providing you with everything you need to ensure your devices are running as they should.
But what should you look for in a provider? We've got seven must-haves to consider when choosing an office copier and printer partner for your business.
If you find a company that checks all the boxes we discuss below, you can rest assured that you'll receive the service and products you need.
Choosing An Office Copier and Printer Partner: What to Look For?

Partnering with a local authorized dealer when buying or leasing a copier is an excellent option for many small businesses (SMBs). Regardless of the company you choose, keep these seven must-haves in mind.
When you find a company that meets the criteria, you'll feel more confident in your decision and know your office technology products are solutions for you and your employees.
1. Reliable and Knowledgeable Support

When choosing an office copier and printer partner, select a company that provides knowledgeable and reliable support.
Consider a company that offers remote monitoring and troubleshooting, so the technicians can quickly fix problems without visiting your office. If the service technician needs to make an on-site visit, they need to have the necessary tools, equipment, and parts in order to reprogram error messages and address other problems while they're there.
With the right company at your disposal, you can limit your downtime and increase productivity. That means you can spend less time worrying about your copy machine and more time using it.
2. A Company That Can Fix Multiple Problems

It's also wise to choose a company staffed with technicians who know how to fix multiple problems, even difficult ones. You don't want to find yourself in a situation where technicians have to call for backup whenever servicing your office printer or copier for your business.
The technician who visits your office should know how to fix each issue without calling for help. The technician should also resolve all the problems in a single visit instead of making several service calls. This is referred to as first-call efficiency and it is a good idea to find out what your potential service provider performs at, for this key benchmark.
Otherwise, your company's productivity and efficiency will take a hit. Fortunately, you won't have to worry about that when you partner with a top office copier repair company, like AOS.
3. Fast Response Times

A dedicated office copier and printer partner will be available when needed. That's why fast response times are so important.
The best copier companies will contact you within a half-hour (or less) of placing a service request, and per the industry standard, should be at your office in less than three hours.
The top companies don't just say they'll try to be there with a four-hour window, either. It's what they monitor and part of their guarantee. You know that when you contact such a company, the technician will be there within the promised timeframe, ready to fix your copier or multifunction printer (MFP).
4. Personable and Professional Service Technicians

You probably aren't in the best mood when your office copier breaks down. However, when you partner with the right company, you'll perk up when the technician pays a visit.
The best office copy machine companies employ personable and professional service technicians. You'll feel at ease as soon as the technician walks in with a smile, ready to help. You'll feel even better when you realize the technician knows how to fix the copier problem.
Happy employees provide more than excellent customer service—it's a sign that they work for a great company that values customer loyalty.
5. Provides Regular Maintenance

Your office copier has a lot in common with your car. Just like your vehicle, you shouldn't wait for something to break before servicing it. Routine maintenance reduces the risk of breakdowns and allows your machine to run more efficiently.
The best office copier companies include routine maintenance through their service level agreements (SLAs) or contracts. When providing these services, the technician will also check your toner and other supplies.
If you are running low, the service tech will switch it out for you, so you don't have to take the time to place an order.
6. Multiple Points of Access to Service

Your copier or MFP partner should also provide you with multiple points of access (email, phone, SMS, etc.) to reach their service and support team, and even an online portal to manage your account. You can access the online portal when you need to place a service call, order supplies, and more.
This is so much easier than having to pick up the phone and call every time you need something. Also, unlike an answering service, the online portal is available at all times of the day or night, so you can place orders or track parts whenever you want.
7. Takes Time to Go Over the Agreement

When you find a company that meets the six other requirements, you'll be ready to sign on the dotted line. There's one other requirement, though, and it might be the most important.
You need to select a company that will take the time to go over the service level agreement with you. While some companies try to rush people to sign, the best companies give you ample time to read the contract, ask questions, and get answers.
Go through the contract line by line, ensuring that you fully understand the agreement. Ask questions if needed, and don't sign until you and the provider are on the same page.
You will then know what to expect when you enter a contract with the office copy machine company, allowing you to understand the services within the agreement.
The Final Say: The Must-Haves When Choosing an Office Copier Partner


Choosing the right office copier and printer partner will help your company become more effective and efficient. The right company has it all, from reliable and knowledgeable support to transparency regarding the agreement.
AOS checks all the boxes when it comes to an office copy machine company. Our managed print services include remote monitoring and regular maintenance, and our skilled and transparent staff is always available to help. Contact us today to learn how our solutions can help you reach your business goals. We will go over your needs and create a plan just for you.