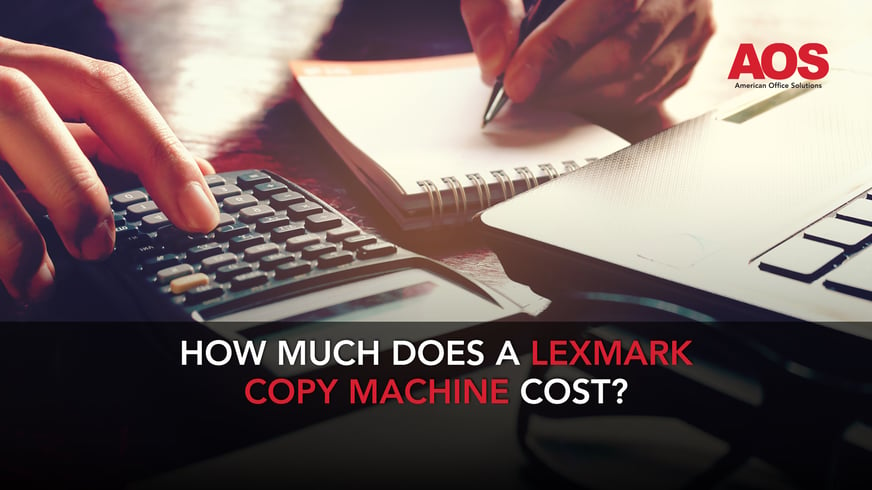 READ TIME: 5 MINS
Imagine calling the local appliance store and asking how much a refrigerator costs. The salesperson would likely tell you it depends on the brand, model, and features you choose.
If you're interested in all the bells and whistles like a giant touch screen, you'll pay more than you would for a tiny dorm room refrigerator.
The same is true when asking how much a Lexmark copy machine costs. The company's lineup includes various price points, depending on the specific needs of your organization.
Analyzing these devices' pricing can be confusing at first glance, so let's dig in and look at how much you can expect to spend on a Lexmark copy machine.
How Much Does a Lexmark Copy Machine Cost? Pricing Based on Your Needs
When you are shopping for an office copier, it's always important to consider your workgroup's size. Lexmark has options for small, medium-sized, and large workgroups.
The average range in price for most Lexmark copy machines is between $12-$400 (as a lease price) per month.
A multifunctional printer (MFP) or office copier for a small workgroup is, in some cases, less expensive than one for a mid-size or large workgroup. But again, it's all about the specific features or additional add-ons your business requires.

Check out the options for each workgroup to get a better idea of how much your office copy machine will cost.
Related: How Much Does an Office Copier Cost? Here's The Breakdown.
Printers and MFPs for Small Workgroups
Lexmark has a line of copiers and MFPs for small workgroups of up to ten people. These machines can print around 26-42 ppm (pages per minute), and work best for groups that print up to 3,000 pages per month.

You can find these office copiers and multifunction printers capable of printing in both color and black and white. Because these printers are for small workgroups, they are designed to fit into small spaces.
An example of an MFP for a small workgroup is one of Lexmar's new color models just released, the XC4143. This device prints at 40 pages per minute (ppm) and ranges in lease price between $12-$150.
Printers and MFPs for Medium Workgroups

If you oversee a team of up to 20 users, you can purchase one of the copiers or MFPs for medium-sized workgroups. These monochrome and color printers provide faster print speeds that range from 35-50 pages per minute and can handle 3,000-6,000 pages per month.

These printers have productivity apps and can sit on existing workspaces if you want to save room in your office or home office.

You can also configure these office copiers to stand on the floor if you prefer. Many people choose to place the copiers on the floor in an area where everyone can easily access them.

For reference, the Lexmark XC6163DE is a great MFP for a medium-sized work group and ranges in lease price between $80-$250.
Printers and MFPs for Large Workgroups
If you have a large team of at least 20 people or a large office that needs more than one machine, you'll benefit from one of the Lexmark office copiers or MFPs for large workgroups.

With speeds ranging from 55-70 pages per minute, you can easily print projects, make copies, and even assemble reports.

These machines are workhorses and can print more than 6,000 pages per month. Plus, you can get a multifunction printer with tons of extra features to increase productivity—making copying and printing your documents easier than ever.

The XC8163 MFP for large work groups is a great option to consider that ranges in lease price between $100-$400.

Additional Functions and Add-ons for Lexmark Copy Machines
Lexmark's office copy machines utilize the latest technology to deliver results. Some of the technology comes standard, while other options can be added on.

When choosing a managed print solution, it's easy to get all the features you and your employees need. Finding a credible and experienced office technology provider, like AOS, helps you assess your current needs and creates a customized solution for your organization.

Keep in mind; your office copier provider is your partner who you should depend on every step during your buyer's journey to ensure all of your questions get answered.
Speaking of a copier provider, let us help you find one. Read our article to learn more, What To Consider: Who are the Best Copy Machine Companies in Michigan?
Copy Machine Security

Lexmark copiers include full-spectrum security built-ins to safeguard you and your client's business information. This security system protects information, whether on the document, the printer, or anything sent over the network.

You also have the option of adding additional security features, including the Lexmark Secure Document Monitor and Secure Print Release.
Lexmark's Embedded Solutions and Cloud Solutions Framework
The Embedded Solutions Framework and Cloud Solutions Framework allow you to use software solutions for your small business. This can include a scan center, forms and favorites, and more.

You can even use these features to automatically scan, enlarge, and print both sides of insurance cards, licenses, and identification cards.
Choosing Lexmark Means a High Yield for Toner
Some printers have high yield toner available. For some of the more powerful Lexmark models, high yield toner can print 16,000 color pages and 25,000 pages in black and white before needing replacement.

This is ideal for high usage environments that burn through printing and copying jobs or even commercial printing.
e-Task Touch-Screen Interface
Lexmark's intuitive interface makes it easy for everyone in your organization to use its multifunction printers. If you choose an office printer with a touch screen, you can use it to perform different functions, such as selecting pages within a document or changing the print job settings.

The touch-screen panel is a total hit because it looks and acts so much like a tablet that most of us intuitively know how to use it without any preliminary training.
Making Life Easier with Mobile Printing
If you work in a busy office environment, printing needs to be as easy as possible, right? Along with printing from your desktop or laptop, you need the ability to print from mobile devices. Especially with so many of us always on the go.
Some Lexmark copy machines include mobile printing. Depending on your specific mobile device, mobile printing for Lexmark copiers and printers are handled differently. It's important to check with your managed print provider to learn the best solution for you and your employees.
For those of you using Google Cloud Printing, adjustments will need to be made before 2021; as Google is ending their printing service with Lexmark. Read more about it here, Everything You Need to Know About the End of Google Cloud Printing.
Environmental Highlights
Choosing an environmentally-friendly device for your office is always a good idea. Depending on which printer you buy or lease, you might have access to environmental features as well.

Some machines include power-saving modes, advanced toner that uses less energy, and additional toner and paper saving options. Some multifunction printers are even 100 percent compatible with recycled paper, so you can go the extra mile and protect the environment. How nice is that?
The Final Say: The Cost of a Lexmark Copy Machine
Choosing an office copier is a big decision that goes beyond selecting a machine based on your workgroup size. You need to consider additional features from the toner you use to other time-saving solutions, such as mobile printing options.
Fortunately, this is not a decision you have to make on your own. AOS specializes in creating managed print solutions for workgroups for all sizes. Whether you need a small Lexmark copy machine for your desk or something that can churn out hundreds of pages a day, we can create the solution for you. Reach out to one of our business technology consultants and learn how your needs can meet your budget. Let us guide you through the process, so your business continues on its path of growth and success.