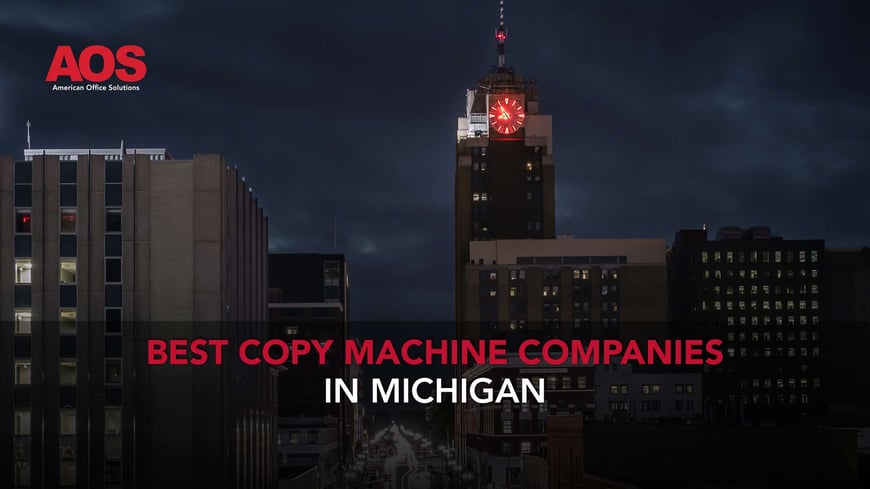 READ TIME: 5 MINS.
A copy machine is one of the essential pieces of office equipment your business needs. Although our technology world continues to advance each day, the demand for a standard office copier or multifunction printer (MFP) remains high for almost every business out there.
But, what happens when it's time for an office copier upgrade? Or even worse, when your machine breaks down in the middle of copying and assembling a critical project? If you don't currently have a reliable copier provider, where do you turn? Who are the best copy machine companies in Michigan?
Well, good news for you, you've already made the first step and landed yourself at the right spot! We've got answers when it comes to finding the best copier company in Michigan.
However, before you decide which copy machine company is best, you've got to do a little assessment of your current issues.
If you aren't sure how to identify some of the copier issues you're noticing, read our article, Top 3 Printer and Copier Issues That Cause Downtime.
Knowing and understanding the problems you're currently facing is one of the best ways to ensure you're getting the best and specific service your business and employees need. Not to mention, some of your day-to-day frustrations could dissolve, simply by purchasing or leasing a better copy machine.
It's all about who you partner with. Your copy machine provider should not just be a repair company. It's a partnership, designed to assess your current technology struggles, create a roadmap of solutions, and provide continual support throughout the contract's entirety.
The Best Copy Machine Companies in Michigan: What Do I Look For?
As you search online for the top-rated copier companies in Michigan, maybe you're asking some questions:

What specific factors determine if a copy machine company is experienced, certified, and reputable?




Do I need a brand new office copier or just an expert who can fix the problems?




Will I be trapped in another contract if I decide to partner with a new copier company?




What type of support do I need from my copier provider so that I don't have to worry about downtime if my machines malfunction?
If some of those questions haven't yet crossed your mind, now is a great time to consider them. After asking these preliminary questions, there may be other points to consider notably:
Your Preferences: Are you interested in a copy machine company closely located to your office locations (or even remote or home offices)?
Your Standards: How important is it to receive exceptional customer service?
Your Time: Does the copier company fix your issue within one visit of them coming out to your business?
Your preferences, standards, and time are all points of consideration that you have the right to learn about when it comes to the best copier providers. Remember, you and your employees deserve excellent professional service and qualified experts.
By the way, it may seem like we're beating around the bush a little when it comes to giving you some of our picks for copier companies. But, rest assured!
Our goal is to provide you with valuable knowledge of what makes a great copier company. The more breakdown and understanding we give to you on a copier partnership, the better purchasing decision you'll make.
Making healthy purchasing decisions (especially when it comes to office technology) not only saves you time and money, but it makes you and your team members happy—and who doesn't want that?
Key Considerations: Manufacturer vs. Local Authorized Dealer
You've got a couple of options when choosing a partner for your office technology solutions and needs: a manufacturer or a local authorized dealer. A manufacturer (typically a large business) is one way to go, especially if you aren't overly concerned or worried about time, money, and local support.
A manufacturer means they are the direct source to your copy machine and typically troubleshoot or run quick diagnostic tests, locate the right parts, and fix your issues.
However, there are a few things you should look out for when going to the manufacturer. Sometimes, the manufacturer hires a third-party repair company responsible for all of their office copy machine repairs covering a specific location or territory.
Although this option could be more economical for their business, it could also mean they aren't watching the third party's service performance or closely monitoring customer feedback. As you could imagine, a flawed process like this could quickly become a problem.
If you've purchased a low-end copy machine model or are not a regular customer, you may be considered a "small fish" to the manufacturer. This may not get you the attention you need and deserve.
Like AOS, a local authorized dealer focuses on customer service and support because this is what feeds their business and keeps it running. Local authorized dealers usually have great relationships with copy machine manufacturers, so they typically have an inventory of parts. For example, we are authorized dealers of three popular and well-known manufacturers: Kyocera, Sharp, and Lexmark.
A great local authorized dealer's staff is well-trained on a range of devices, so the repairs are usually quick and effective—minimizing as much downtime as possible.
Another great point to consider about a local authorized dealer is the requirements they must meet that deems them qualified to work on your office copier. These requirements could be purchasing volumes, support resources, training requirements, and customer service levels.
Here's a related article on copier features, such as security features, additional printing, and scanning requirements, paper capacity, and black and white or color copiers: 5 Features to Look for When Choosing a Copier or Printer
Local Authorized Copy Machine Companies in Michigan
We believe in options. The more options you have, the more control you have in the products and services that effectively run your small business. For this reason, we're happy to give you some great options (besides us) of local authorized office copier dealers in Michigan.
1. Toshiba Direct is a subsidiary of Toshiba TEC Corporation who has offices across the U.S. and Latin America.

2. Marco is a technology services provider in Dearborn, MI. Marco has recently expanded and serves more than 32,000 customers nationally.
3. Visual Edge Technology focuses on office technology and IT solutions, and has been in business for the last 20 years.

4. Millennium Business Systems has been operating since 1997 and offers new and legacy office equipment, network and computer support, printing services, etc.
The Final Say: Best Copy Machine Companies in Michigan
As you can tell, there's a lot that goes into choosing the best copy machine company and what specific factors that are important to consider. But, don't feel discouraged or overwhelmed by the number of different providers out there.
Take some time to do your research and narrow down a few of your preferred contenders. Asking the right questions and explaining your printing and copying needs to each company creates a healthy dialogue between you and your potential partner. If you have concerns about a provider or how they do things, don't be afraid to ask.
Remember, you're in control of your business decisions and deserve to find the best and most reliable partnership out there.
We understand that finding the right partner isn't the simplest of tasks, especially when you've got so many other things on your plate. That's what we're here to help! If you'd like to learn more about finding the right copy machine company for your business, or interested in learning more about AOS, reach out to us today. Let us support your business as it continues on its path of growth and success.