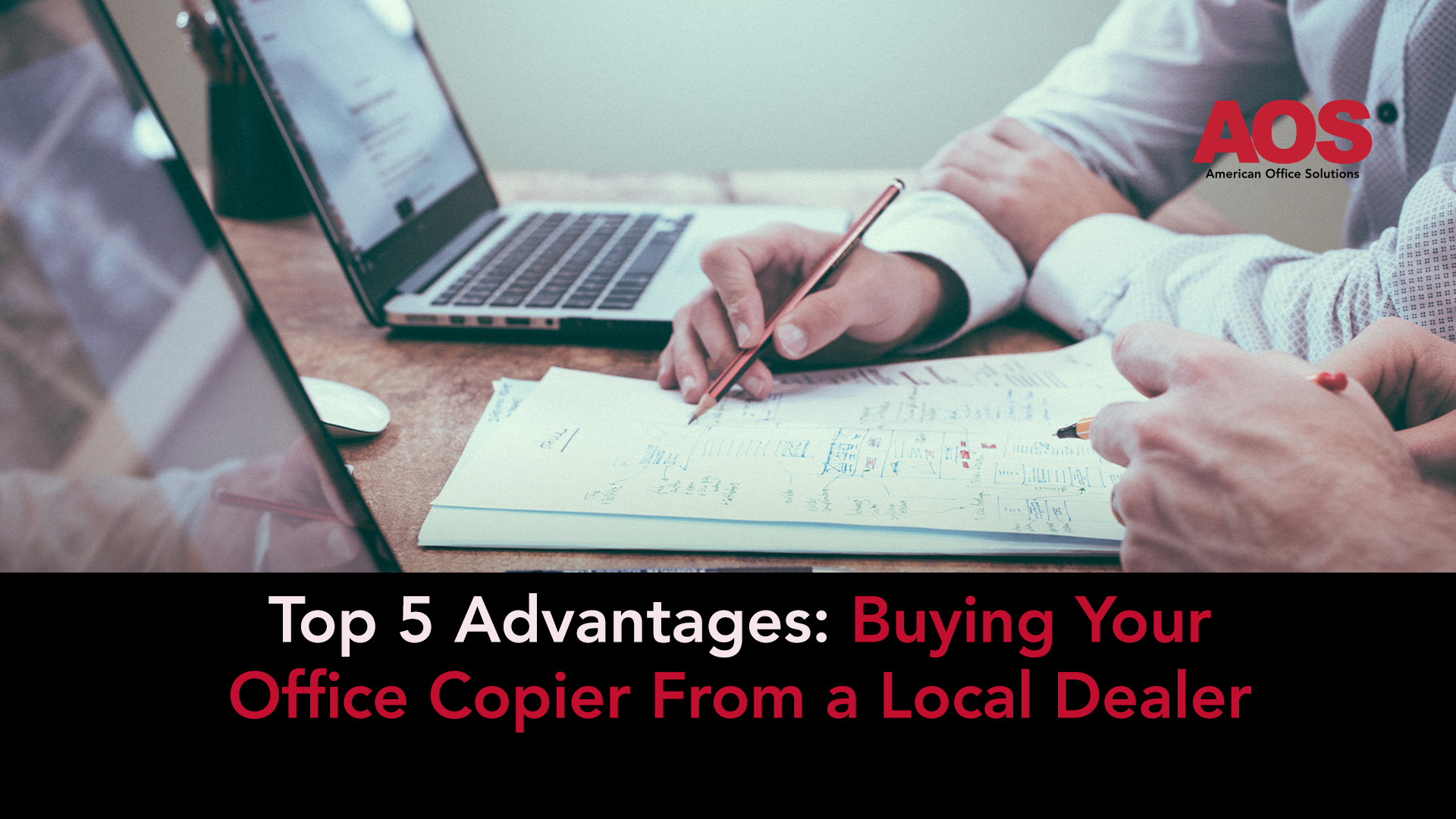 It's time to buy a new copier, and now, you have to decide between a manufacturer-owned or local dealer. We're going over the top five advantages of buying your office copier from a local dealer.
After reading this article, you'll have a much easier time deciding which direction to take. Then, you will be ready to move forward and buy a new copier.
Reasons to Buy From a Local Dealer
Many people think that choosing a local dealer means they will pay more for the machine. However, office copy machines generally cost the same whether you buy them from a local authorized dealer or a manufacturer-owned company.
While the pricing is around the same, there are some other key differences. These differences set local dealers apart and make them the clear choice for buying a copier.
1. Excellent Customer Service From a Local Dealer
Manufacturer-owned dealers often operate with few staff members to save costs. These dealers also tend to have a high turnover rate, so you could end up talking to someone new each time you reach out. That's not the way to build a relationship with a company.
On the other hand, local office copier dealers usually have low turnover rates, so you'll speak to someone experienced each time you call. You will also get to talk to the same people when you reach out, so you won't have to worry about updating people about your account and needs. Then, over time, you will build relationships with the staff.
Also, you can expect a quick resolution to your issues when you use a local company. This is especially important if you have a billing issue.
If you use a manufacturer-owned dealership, your support request might get kicked around from office to office without a resolution. You might have to escalate your claim repeatedly to finally get a solution.
You won't have this issue when you use a local copier dealer. A local dealer, like AOS, provides fast support for all matters, including billing. When you call, you will reach the correct department and get a quick resolution. Using a local dealer is the stress-free way to buy a multifunction printer.
Related Article: Who are the Best Copy Machine Companies—Manufacturers or Local Dealers?
2. Customized Service
When you walk into a manufacturer-owned dealership, the salesperson might try to sell you the most expensive copier available, regardless of your needs. However, a local dealer typically takes a different approach.
Local office copier dealers are skilled at customizing solutions for clients. Instead of getting you to spend as much money as possible, they look for ways to provide an efficient and affordable service.
You won't be asked to pay for services that you don't need. Instead, you will get a machine that can handle your needs while staying within your budget. Customer service is a priority for local dealers, so they do everything they can to provide the best solution possible for each client.
3. Fast Maintenance and Repairs
Because manufacturer-owned dealers are often understaffed, it can take a long time for them to handle office copier repairs. When they finally do come out, you might discover that your contract only covers the bare minimum and you could end up paying out of pocket to get the repairs you need.
If you go the route of a manufacturer-owned dealer, unexpected repairs could cause you to go well over your monthly budget.
A local dealer can provide a faster turnaround for maintenance and repairs. You can get a service agreement that will cover all of your needs, so you won't have to worry about any surprises when the technician comes out. It's much easier to keep your office running while sticking to a budget when choosing a local company.
4. Ample Options From a Local Copier Dealer
If you go to a manufacturer-owned dealer, you won't get much variety. The dealer will have one brand available, making it hard to find what you want out of a machine.
On the other hand, a local dealer will have offerings from various manufacturers, such as Kyocera, Lexmark, and Sharp. By having more options, you can easily find what you need for your small business. You won't be limited, so you can expect a machine that will boost your productivity while handling all your copying and printing needs.
5. Support the Local Economy With a Local Dealer
Using a local authorized copier dealer is an excellent way to support the local economy. According to research, $68 of every $100 spent at a local business remains in the local economy. Only $43 out of $100 remains in the local economy if you use a national company.
Local companies use the local banks and other services. Sticking with a local company is one way to support your local economy while also getting better service.
The Final Say: A Local Dealer Is the Way to Go
Pricing is around the same for local dealers and manufacturer-owned companies. However, you get so much more value from a local dealer. The customer service is on point, and you get more options when choosing a copier or printer.
You can also get a customized solution when you use a local dealer. When you consider that shopping locally boosts the local economy, it's easy to see why so many people prefer local dealers.
If you are currently using a manufacturer-owned company, learn how to switch office copier providers. Then, you can take steps to enjoy all of these benefits. If you aren't currently in agreement, you don't have to make any extra efforts. Instead, you can contact a local dealer and buy a copy machine.
AOS sells and leases office copiers. Our local company can customize a solution for you. We also offer first-rate service, customer support, and build relationships with our clients. Contact us today to learn more about our managed print services and how our solutions can support your growing organization.