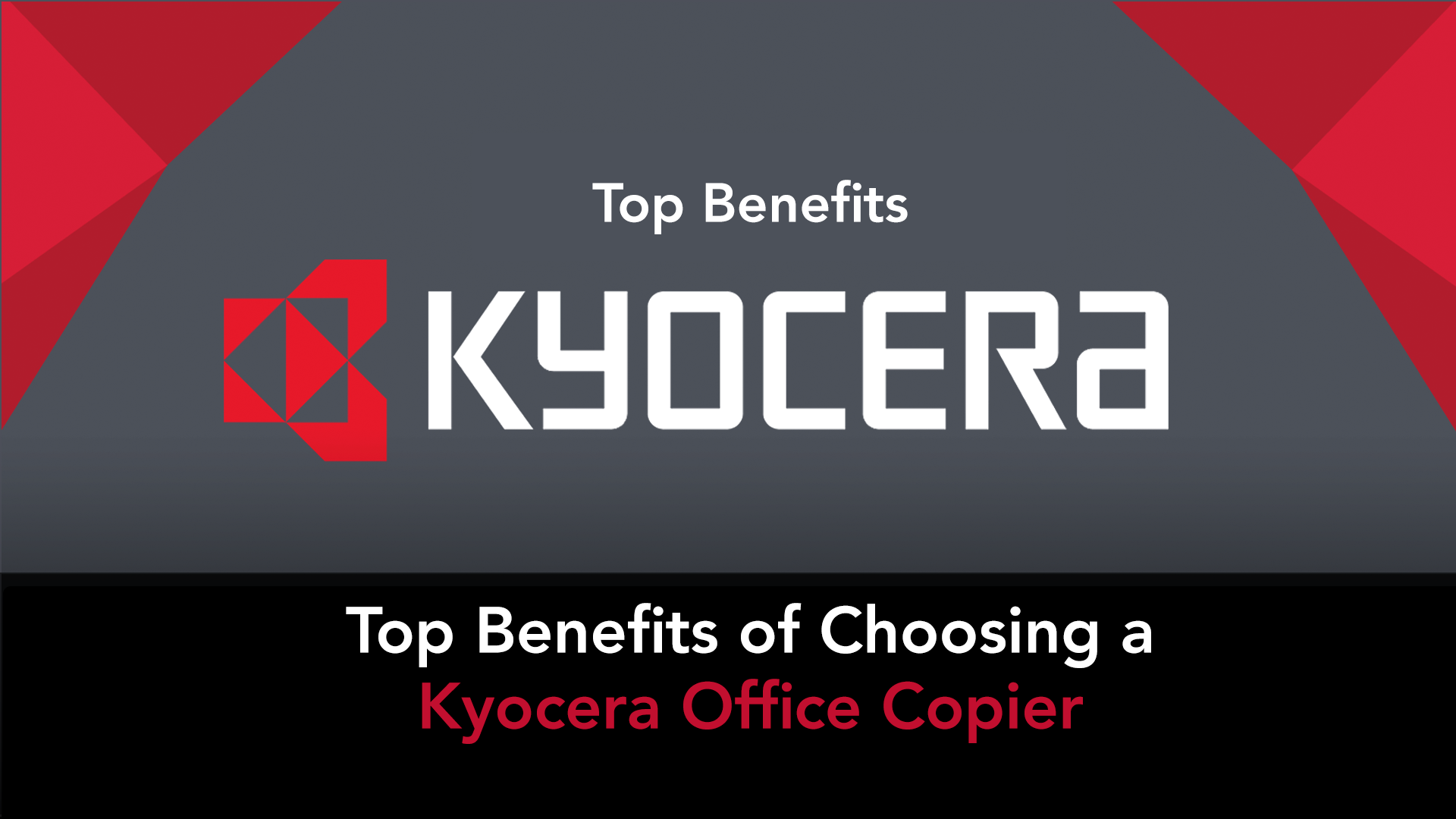 When thinking about office copiers, names like Sharp and Xerox are probably some of the first to come to mind, right? Although those brands are definitely major players in the market, Kyocera is just as notable as the others!
If you think Kyocera isn't as well known as the others, we're here to tell you otherwise. Kyocera office copiers and printers are one of the best manufacturers around. In fact, it beats out the competition in several categories.
Related Article: Sharp vs. Kyocera: What's The Best Office Copy Machine?
If you're wondering what I'm talking about, now is a great time to check out the top benefits of choosing a Kyocera office copier. Then, you'll realize why it has a loyal following in offices around the world. You'll also realize that you need to add one of these machines to your office sooner rather than later!
Benefits of Choosing a Kyocera Office Copier
Before looking at the benefits Kyocera office copiers offer, let's first go over the company's background. Kyocera might not be as much of a household name as Sharp and others, but it's been in the office technology industry for around six decades.
When Kyocera first opened its doors, it produced industrial ceramic products. Around 20 years ago, it started making printers and office copiers and became an instant sensation.
You might wonder how a company that specialized in industrial ceramic products ended up producing office copiers. The two are actually more connected than you might think. In fact, Kyocera incorporates ceramics into its office copiers, taking us to the first item on the list.
Kyocera Ceramic Drums Reduce Cost of Ownership
If you peer inside most laser printers, you'll find an imaging cartridge containing the toner, developer, and drum. You can't just replace the toner when using a machine with an imaging cartridge. The entire cartridge has to be replaced, meaning you'll have to purchase a developer and drum each time you get a new toner.
Most business owners don't give that much thought because that's simply the way office copiers work. However, Kyocera has changed that.
Kyocera's ceramic drums are separate from the cartridge and toner. Instead of changing the drum with the cartridge, it'll last the lifetime of the printer.
Kyocera also includes ceramic particles in the toner. These particles clean the drums when printing and copying, so you won't have to service them as often. That will save you time and money, which are both critical when shopping for a multifunction printer.
Kyocera Is A Leader in Reliability
When buying an office copier, you want something reliable. A reliable printer is less prone to misfeeds and breakdowns, meaning it will meet your office's performance demands. Again, Kyocera stands out in this regard.
Keypoint Intelligence repeatedly recognizes Kyocera when announcing its Buyers' Lab Picks. Other brands also share recognition, but while those names change, Kyocera stays on top. Part of that reason is it's one of the best, if not the best, regarding reliability. Some of the awards Kyocera has won include, but are not limited to:
Waste Reduction
Reduction of storage requirements.
Service cost savings
Simple and clean replacement process.
Minimal downtime, as evidenced by the tested devices completing 1,875,000 impressions with no service interruptions
Excellent reliability, with tested devices completing testing with a misfeed rate of 1 per every 133,929 impressions
If you want to limit service calls and maximize performance (which sounds appealing to just about all of us), it makes sense to go with Kyocera. These office copiers are designed to perform with little maintenance, making them ideal for offices worldwide.
Environmentally-Friendly Products
Kyocera has even manufactured a unique line of environmentally friendly MFPs. If you get an office copier from Kyocera, you'll have a machine with a low environmental impact and operating cost. That's a huge win for businesses.
Kyocera conserves resources with KYOCERA's eco-friendly system and its innovative waste toner container design. Instead of replacing the full waste toner container with a new one, you repurpose an empty black toner container as its replacement. The TASKalfa 6053ci & TASKalfa 6003i Series and their predecessor series all feature the Toner Locking System, furthering Kyocera's commitment to minimizing our impact on the environment.
Kyocera designs each machine in the lineup to use a minimal number of consumables. Fewer consumables lead to low operating costs and little maintenance. You can even recycle consumables after using them, lessening the environmental impact even more.
An environmentally-friendly office copier does more than help you protect the planet and save money. It can also help you with your customer base.
As you know, the business world is more competitive than ever, and each company needs to find a way to stand out. At the same time, customers are becoming increasingly focused on the environment. By showing your customer base that you're doing your part, you can get ahead of the competition.
You've Got Tons of Options!
It's also worth mentioning that there's a Kyocera office copier for every need. From Kyocera mini copiers for small print volumes to machines that can manage large print volumes and provide extras to boost efficiency, it's easy to find a multifunction printer that delivers what you need.
Related Article: Top 4 Kyocera Copiers For Busy Offices in 2021.
The Final Say: Let a Local Dealer Find the Best Kyocera Copier for Your Company
Because Kyocera has such a robust lineup of machines, it's essential to use a local copier dealer that can review your needs and match you to the right device. Then, you can get all the features and functions you want without overpaying.
AOS has more than five decades of experience helping companies find the best office copiers for their needs. We can help you choose a Kyocera that's reliable and efficient while also including features to boost productivity and performance. Make sure to contact us today so we can discuss your printing and copying needs. We're here to help your organization continue on its path of growth and success.