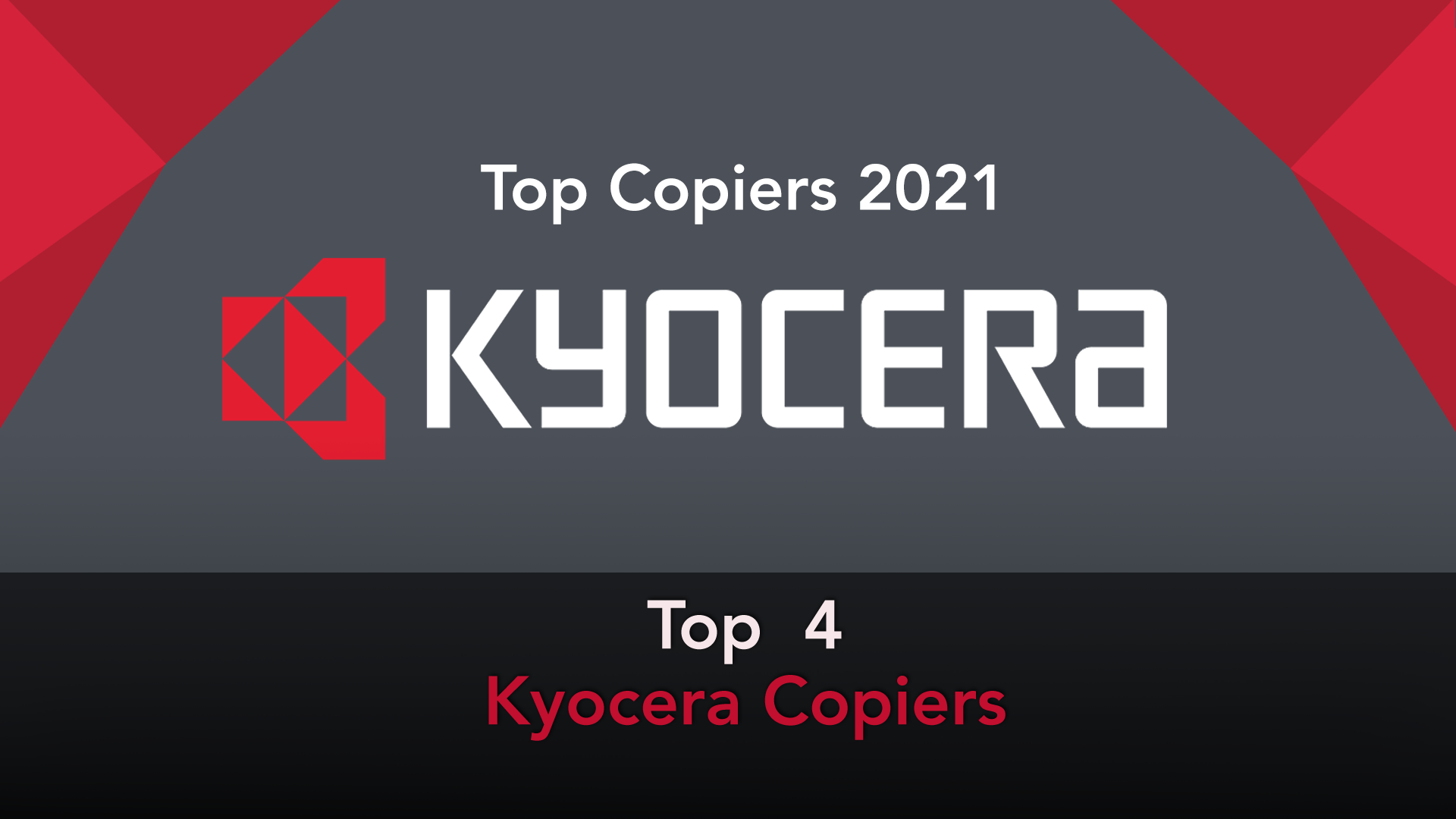 Copier technology has evolved a great deal over the years, with modern copiers featuring more efficient features for faster workflows at the office. If you are on the market for an ideal copier for your office, Kyocera copiers are a perfect choice.
Kyocera is an award-winning brand preferred by many organizations globally. Like other brands, Kyocera has a range of copiers that come with unique advantages and specifications to suit your office needs.
Related Article: How Much Does a Kyocera Copy Machine Cost?
In this article, we've narrowed down the four best Kyocera co
piers ideal for a busy office environment. Let's dive in!
1. Kyocera TASKalfa 4003i
For large organizations that have large workgroups, the Kyocera TASKalfa 4003i is an excellent choice. The appliance has a higher than average hard drive and memory for more storage and faster processing.
The machine delivers black and white outputs that meet high output needs. You can use it for a considerable time without any misfeeds or service calls, thanks to its flawless performance.
The machine maintains high-quality images both in print and copy modes. You can also use access codes if you want to restrict some print, copy usage, and scan so that the user or group can track them.
We like the Quick Print tab function that helps streamline complex workflows by switching between PostScript and PCL drivers for various job types. This feature gives Kyocera copiers an edge over other copiers, where you have to go through different properties to switch drivers.
2. Kyocera TASKalfa 3553ci
The Kyocera TASKalfa 3553ci comes with highly durable components that will deliver reliable and efficient operations. As a result, the copier is a good choice for busy office environments since it has high capabilities to meet the demands of high workflows. This appliance gives you maximum flexibility and sufficient production levels.
Additionally, the Kyocera TASKalfa 3553ci copier is a highly reliable A3 color multifunction printer (MFP). The copier has a high productivity level that can manage up to 35 color or black and white pages per minute efficiently, making it a perfect fit for busy workgroups and businesses with advanced usability, customizable solutions, and functionality.
Additionally, the HyPAS solution platform delivers powerful customization for the different copies you want in an organization. You still also get sharp and clear texts and fine lines of 1200 ×1200 dpi printing.
3. Kyocera TASKalfa 5053ci
The Kyocera TASKalfa 5053ci is one of the most influential and versatile devices you can add to your office. You can rely on this machine to deliver high image quality and speed for your business needs.
This printing machine comes with an automatic document feeder that gives you the capability to scan multiple documents at once. The Kyocera TASKalfa 5053ci supports paper weights of up to 300 gsm and can also print diverse paper types from cardstock, bond paper, envelopes, and plain paper.
You can also use the Hypas solution platform if you want more customization to suit your diverse business needs. It also comes with a wireless interface to scan or print from your mobile device.
4. Kyocera TASKalfa 6053ci
The Kyocera TASKalfa 6053ci is a good fit for busy work environments that place huge demands on their printers. This device is popular among businesses since it optimizes workflows and reduces downtime thanks to the speedy color MFP.
You can print 60 pages per minute and 55 ppm color (A4), and the device maintains consistency.
The Kyocera TASKalfa 6053ci is also easy to set up due to the simple and user-friendly touch panel. Notably, the device can scan and also reuse hard copy documents. It can print on recyclable paper, labels, envelopes, cardstocks, plain paper, and more.
You can conveniently use the wireless interface to print and scan since it has Kyocera mobile print capabilities. The advanced color technology means that you will get high-quality document images.
Lease a Kyocera Copier for Your Office
Kyocera document solutions is a top choice for any business that wants a reliable, sustainable, and cost-efficient copier to meet their vast demands. Therefore, you can feel confident to choose among the above four Kyocera models for your company.
If you need more details, AOS is your go-to company for your office equipment. Contact our team today for more information about how we can help your business continue on its path of growth and success.