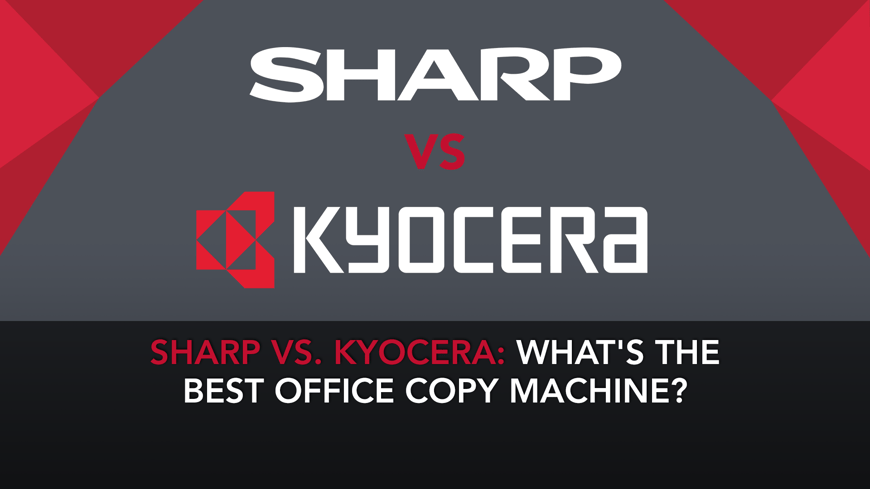 Read Time: 5.5 mins.

It's hard to get a definitive answer to the question, "What's the best office copy machine: Sharp or Kyocera?" Sharp enthusiasts recommend their favorite brand, while Kyocera loyalists claim it's the only office copier you'll ever need.
While the two sides battle against each other, you may be stuck in the middle, trying to figure out which one is the right for your business or organization.
However, our answer to this question is not actually one or the other. Both Sharp and Kyocera are very well-known brands that deliver top-of-the-line products. And to let you in on a little secret, we know a lot about both of these brands and equipment because we sell and service both.
Related: Frequently Asked Questions About Copiers and Printers.
Instead of asking around and comparing the two products on your own, we'll help you decide which one makes the most sense.
First, though, let's get in our virtual time machine and see how both companies turned into significant players in the office copier industry.
Sharp vs. Kyocera: Here's The Breakdown
Brand awareness is such a huge thing nowadays, and we think it's essential for you to learn how these companies started and how far they've come. It's time for a little history lesson!
Sharp Corporation — From Belt Buckles to Office Copier Machines

Sharp Corporation's roots can be traced back to 1912 when Tokuji Hayakawa invented the "Tokubijo" belt buckle. The company continued innovating and produced Japan's first crystal radio in 1925.
When the 1950s hit, Sharp released the first Japanese manufactured TV. Its TVs were in mass production by the 1960s, and soon, Sharp added microwave ovens to its inventory.
Sharp opened a manufacturing facility in the United States in 1979 and became known as one of the top manufacturers of microwaves and televisions.
Never one to stop innovating, Sharp added another "first" to its resume in the 1990s with the release of the thinnest fax machine. It continued to add products and is now known for its lineup of consumer and office electronics, including multifunction printers.
Even though it's expanded its offerings, Sharp remains true to its roots by continuing to innovate.
Kyocera — From a Parts Supplier to an Industry Leader

Founded in 1934 as Kyoto Ceramic Company, Kyocera made a name for itself by manufacturing ceramic insulators for TV picture tubes. It quickly expanded its offerings to industrial ceramics, electronic components, copiers, and more.
Kyocera's critical acquisition of Mita Industrial Company in 2000 allowed the company to change directions and become a significant player in the photocopier business.
Like Sharp, Kyocera is known as an innovator and added ceramic drums to its office copier machines. To this day, the use of ceramics sets Kyocera apart and is one reason it is a leader in multifunction printers—-and even ceramic particles can be found in their toner (to clean).
Sharp vs. Kyocera: What Are The Key Differences?

You might be surprised to learn that Sharp and Kyocera share a lot in common. The two are so similar that it can be challenging to choose one over the other.
There are, however, some key differences you can explore. A great benefit of reading this article is that you'll be more equipped to either buy or lease an office copier after learning these differences.
And remember, we fully stand behind both of these brands and the advancing products they continue to make. We have the first-hand experience to confidently say that both Sharp and Kyocera are office technology solutions and not just the standard copier company.
Application Security And Your Copy Machine

Right now, you're focused on office copiers, but let's switch gears for a second and talk about smartphones.
You're probably on team iPhone or team Android. If you love your Android, you enjoy the benefits of an open-source operating system and a developer-friendly app store. However, if you're on team iPhone, you point out that open source isn't nearly as secure, and you don't have to worry about downloading applications that contain malware.
You might not have access to as many apps, but you prefer using a closed-source platform because it's safe and consistent. Keep that in mind when looking at application security for these copiers.
Sharp's Open Systems Architecture (OSA) is an open, web-based platform available to countless developers. It's a lot like Google Play for Android phones. You can browse apps to enhance your business and install them.
Kyocera's Hybrid Platform for Advanced Solutions (HyPAS) is a combination of an open- and closed-source program. Developers can use the web-based open architecture program to create apps. If you're using your office copy machine for sensitive items, you will utilize Java-based applications to ensure compliance. Otherwise, you can use web-based apps.
Keyboard Access

When you use your office copy machine to scan, store, or distribute documents, you often have to enter metadata. As this becomes more common, manufacturers have begun offering keyboards as an option for clients.
Sharp stands out by including full retractable keyboards on their advanced series models. These keyboards are easier to type on than touchscreens, and storage isn't a hassle.
However, the display screens on many Kyocera devices are large and display beautiful colored messages. It's pretty simple to type on these panels if you're using the copier to scan and send documents through email. Not to mention, the display's software and navigation is very user-friendly.
Hardware Servicing

Let's face it, you can't completely avoid service calls when using an office copy machine, but you can cut down on them with both Kyocera and Sharp products.
Kyocera printers contain ceramic drums that are so durable they can last the life of the machine, so you don't have to replace them as frequently as other products. Also, the Kyocera toner contains ceramic particles. These particles clean the drums while in use, reducing the need for servicing.
Sharp also offers a toner recycling program by providing boxes (that includes a return label) that can be used to put used toner cartridges into. Once the box is full, you can ship them to Sharp to be properly recycled. Learn more about their environmental efforts here.
Sustainability

Sustainability has become critical for businesses. Companies want to lower their carbon footprints, and they can when choosing the right office copier. Sharp has several environmental initiatives in place, including collecting, reusing, and recycling MFPs and toners.
Kyocera is also an environmentally great choice. For instance, its office copier paper is shipped without Styrofoam packing materials. The toner and cartridges and bottles are recyclable, too. You don't have to drop them off or ship them to Kyocera when the toner is out. Instead, easily throw it in the recycle bin when it's at the end of its lifespan.
By the way, Kyocera's black toner container becomes the overflow bottle on color copiers. This is such a game changer that so many users love, and speaks to Kyocera's sustainability efforts.
The Final Say: Sharp vs. Kyocera...They Both Win!

Both Sharp and Kyocera create efficient and high-quality devices. From small desktop printers to large multifunctioning output systems—the choice is up to you.
If you're still having trouble choosing your office copier machine, AOS is here to help. We offer a full range of resources that will help you optimize your large or small business. With our help, you can choose managed print services that cut costs while improving productivity. Reach out to us today, so we can help you select a solution.