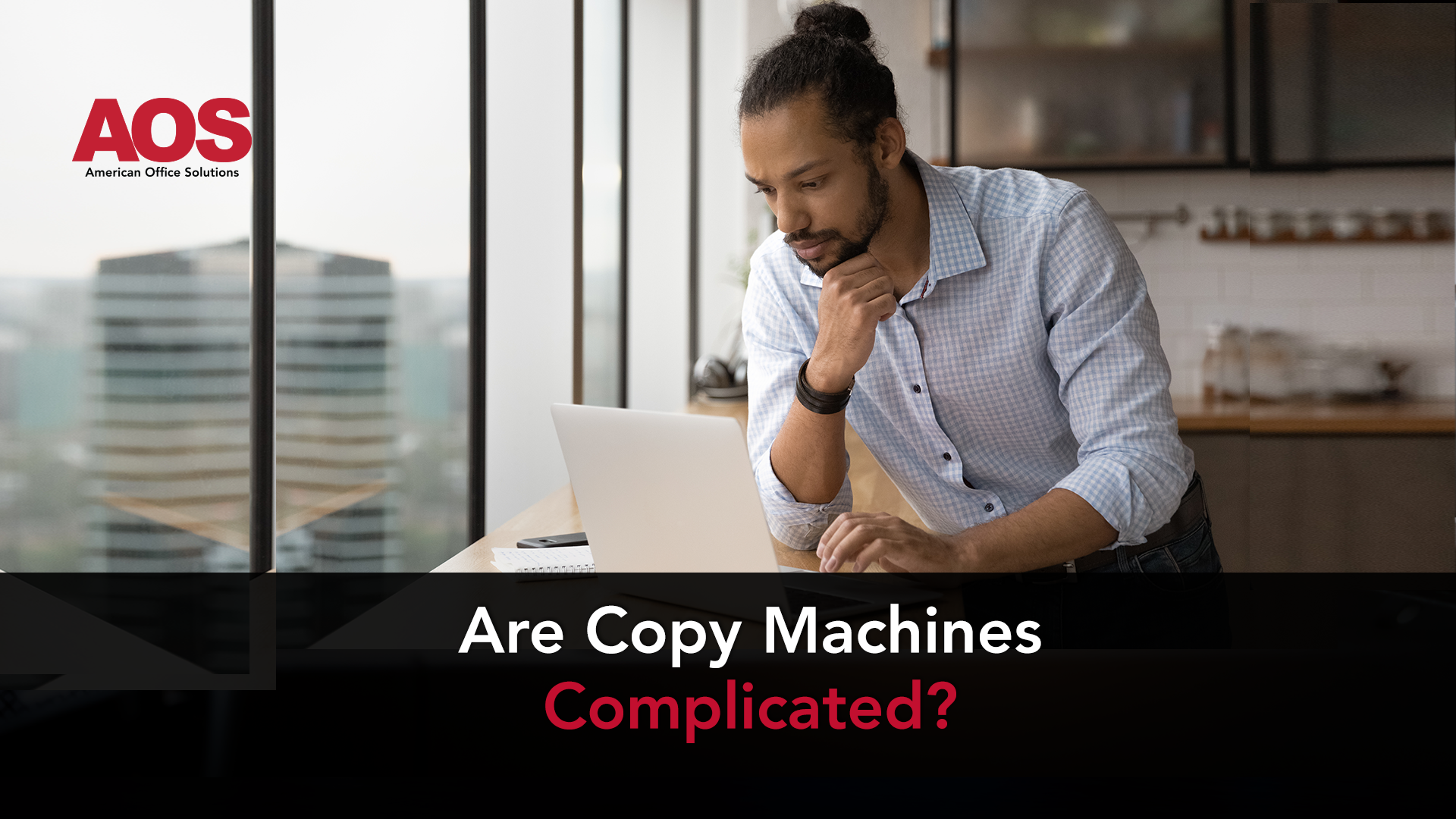 Read Time: 5 mins.

Are you thinking about upgrading your office copier but are worried that machines are too complicated? Copiers used to be challenging to use, but that's no longer the case thanks to recent innovations.
Now, multifunction printers (MFPs) and copy machines are simple to operate, making them ideal for all workplaces.
Let's go over some new features that simplify the purchasing or leasing process.
Reasons Office Copy Machines Are So Easy to Use
Multifunction printers have made major strides in numerous categories, including the user interface, mobile device access, and remote options, to name a few. Check out the features in detail to see why it's a great time to buy a new copier.


Intuitive Interfaces
Back in the old days, office copiers had a ton of hard-to-understand buttons. These buttons weren't always clearly labeled, and if they were, the labels didn't always make sense.
That made it hard to do anything more than basic functions. Even those basic functions could be quite a chore.
Fortunately, office copier brands have changed the interfaces for the machines. Now, you can access intuitive touchscreens and clearly labeled buttons. If you know what you want to do, your copier will walk you through the process. It's as easy as using an app on your phone.


Mobile Access
You also used to have to do everything from the printer or computer back in the old days, but that's also changed. Now, manufacturers have made devices easy to use by including built-in Wi-Fi and access to mobile apps.
With these features, you can choose documents to print from your phone or tablet and send them to the copier wirelessly. It's hard to beat the ease of use you get when walking around the office and printing from your phone.


Work From Anywhere
Some copy machines offer cloud-based printing services. This means that you don't even have to be in the office to print documents. Instead, you can upload them to the cloud and release them to the office copier.
This feature is incredibly simple to use and will help you maintain productivity and efficiency when working remotely. As more companies consider moving to a remote workforce, this feature is becoming increasingly important.
This type of cloud service can make the transition to a remote or part-time in-person workforce as seamless as possible.


Get Everything in One Machine
You're likely limited when it comes to office space. Thus, you don't have room for separate printers, fax machines, and copiers. Fortunately, that's no longer necessary.
Multifunction printers can do it all. You can use the same machine to print, fax, scan, and add files to digital storage systems. While this might sound complicated, it actually makes it easier to get your work done.
You can send all the jobs to the same machine and use the easy controls to choose the function. It's so much easier than racing around the office, going from one device to the next.



Managed Print Services Keep Office Copy Machines Running Optimally
One reason people are so scared of new copy machines has to do with the day-to-day management. Fortunately, there have been innovations in this area as well.
When you get an office printer from a local authorized dealer, you can include managed print services in your contract. Then, the company will use remote monitoring to check for issues and provide support.
Additionally, the company will monitor supply usage and replenish consumables as needed. Basically, you can enjoy all the features included in the multifunction printer without worrying about upkeep.


Security Is a Priority
You also might be worried about getting a new printer due to potential security breaches. You know that once a hacker makes it into the system, it'll be hard to get your printer back up and running.
Plus, you could lose customers due to the breach, which is another primary concern. Fears like that can make you think that copy machines are anything but easy to use.
Fortunately, manufacturers have increased security options in recent years. Take Sharp multifunction printers, for example. The machines include Sharp's Security Suite of features.
Along with the standard security features, you can add a Data Security Kit and more if you wish. You won't have to worry about anyone accessing your system and stealing or corrupting data with the right features.
If you aren't sure which features you need, speak to an authorized copier dealer, like AOS. The dealer can help you choose the right machine and features and set everything up for you. It doesn't get much easier than that.


Increase Control With a New Office Copier
When you think of older office copiers, you likely picture a free-for-all, where everyone has access. It's hard to manage and control your printing environment when people can do anything they want.
Fortunately, new printers often come with features that allow users to create rules and control access.
For instance, you can choose who can use printers, as well as who can print in color. This can save you money, and it's easy to set up. In fact, your service provider can help you get it all together if you wish.
After it's set up, you'll appreciate how easy it is to stay on top of your printing workflow.


Simple Training
If you're still concerned about the ease of use, your authorized printer dealer can train you and your employees so you'll know how to use all the functions. That way, you won't miss out on anything your printer offers.
You'll find that after a short training session, you'll be ready to dive in and use the printer to improve productivity and efficiency in your office.
Plus, you can contact the printer service provider anytime you have a question or need additional help. This is especially true when you go with a local company. Then you'll receive top-notch service and support anytime you need it.


The Final Say: Office Copy Machines Are Simple to Use
Multifunction printers are simple to use and provide valuable services for businesses. Even though they're pretty straightforward, it's still a good idea to partner with a local dealer. Then, you can have someone by your side to help with any printer-related issues.
AOS sells and leases copiers from Lexmark, Kyocera, and Sharp. We also offer managed print services and training, so you won't be on your own when you go with us. Reach out to us today to discuss your needs. We can help you find the right printer for your office and then provide the support you need.