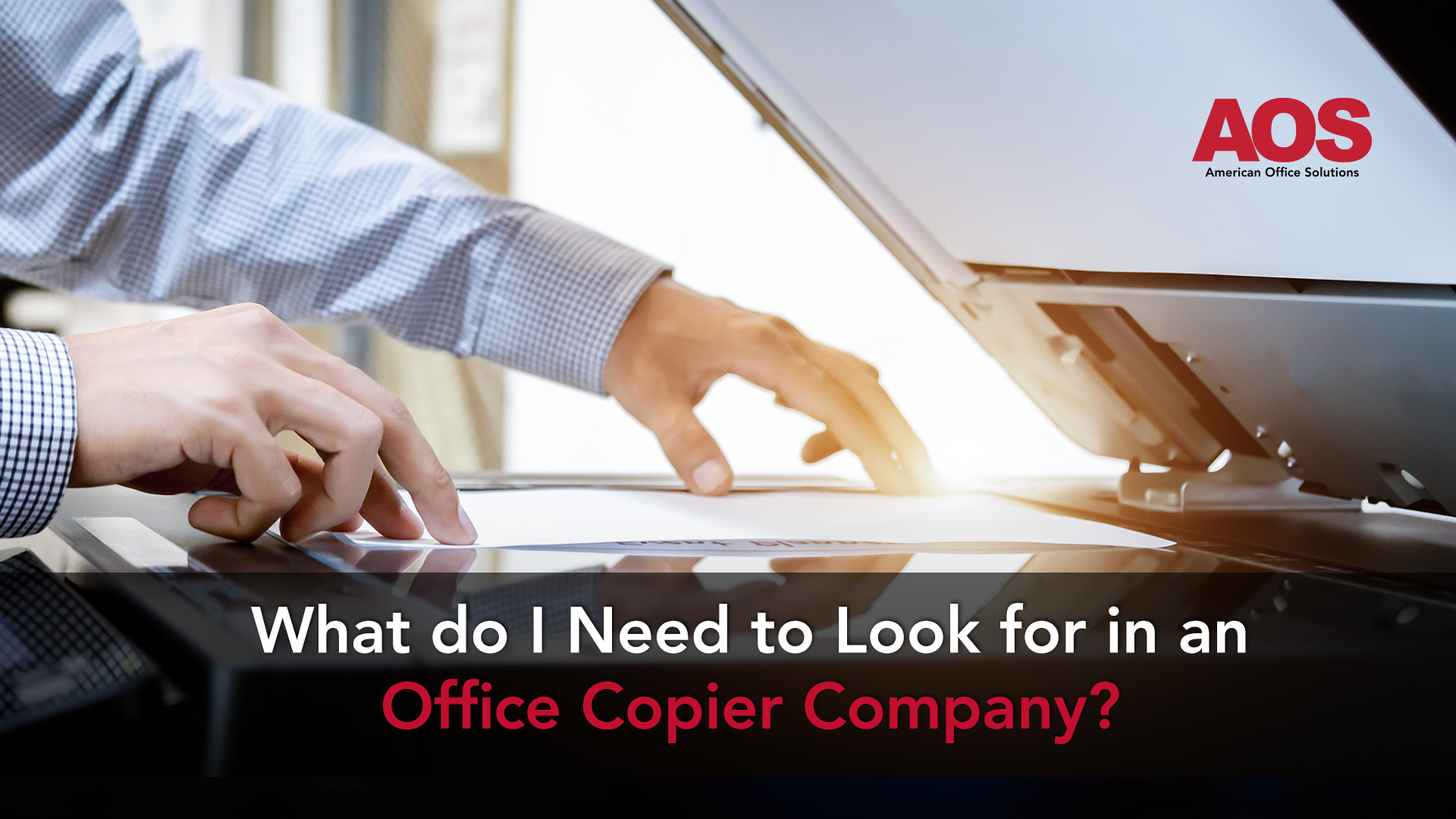 Read Time: 5 min.
From creating documents for customers to providing hard copies through protecting against data loss, your copier plays a vital role in running a productive and efficient business.
The supplier you choose for your printer is just as important as the machine itself, though. With that in mind, you can't help but wonder, "What do I need to look for in an office copier company?"
Check out what to consider before committing to a provider.


Factors to Consider When Choosing an Office Copier Company
Choosing the right company is essential, whether buying or leasing a machine. In both cases, you want to find a partner instead of a simple retailer. Find out what factors go into finding a partner.


Start By Finding an Authorized Dealer
You have a few options for buying or leasing an office copier. First, you can go directly to the copier manufacturer, but that means you'll only get to choose from one type of machine.
Second, you can select a middleman. This type of company sells and leases copiers and then hands you over to the actual dealer. Then, the dealer sets everything up and makes sure the multifunction printer runs as it should.
Finally, there are authorized dealers. The companies in this group are authorized to sell, lease, set up, and service the machines.
By choosing a local authorized dealer, you can work with the same company throughout the entire process. That means you can avoid roadblocks and even enjoy cost savings during the life of the machine. Keep that in mind when selecting an office copier company.


Check the Company's Location
You want to select a copier company that's located close to your small business. That way, the technicians won't have to travel far to service the multifunction printer (MFP) or copier.
Ensure,the company can provide in-person, fast customer service in your area. You can do this by checking the office location and the service area. Some companies have offices throughout West, Central, and Southeast Michigan, allowing them to service most of the state easily.


Consider the Service Response Time
Some dealers put service calls on the backburner. They'll get to you when they get to you, so you're left without an office copy machine. That can hurt your business, so check service response times before partnering with an office copier company.
You can find a company that responds in less than three hours, allowing you to resolve your problem quickly. Additionally, you can partner with a company that offers remote monitoring to address some problems. This will help you resolve issues even faster.


Find Out If the Office Copier Company Fixes Issues Quickly
A fast response time is great, but how fast does the company fix machines? You want to choose a company with access to replacement parts and supplies. Additionally, you need to know that you won't have to suffer a lot of downtimes if your machine has a complicated problem that can't be quickly diagnosed and fixed.
Make sure the company offers a service swap device for you to use to limit downtime. That way, you can keep up with the workflow while the technicians figure out what's going on with your MFP.


Look at the Brands of Office Copiers
While manufacturers only offer one brand of copier, dealers give customers access to numerous copier brands, such as Kyocera, Lexmark, and Sharp. Make sure the company offers copiers from the top manufacturers since the parts are much easier to come by.
That means you can shorten your repair time. As a bonus, having access to various manufacturers means it'll be easy for you to find something with the features and tools you want.


Look for Extras
Right now, buying or leasing an office copier is your priority. However, you should also consider additional services you can get from the company. Some companies take it to the next level by offering document solutions and software to clients.
Plus, you can find a company that also provides managed print services. Then, you won't have to worry about running out of toner, missing a repair, or dealing with another issue. A managed print service provider ensures that your office runs smoothly, so you don't have to stress about copier machines and printing.


Make Sure It Comes With a Maintenance Contract
Even the best copiers require maintenance and repairs. If you buy a machine without a maintenance contract, you'll be on the hook each time something comes up. It's hard to budget when you don't know what the future holds.
Fortunately, you can protect your finances by getting a maintenance contract when buying or leasing your copier.
A good maintenance contract includes labor, materials, part replacements, and preventative maintenance. Plus, you'll get your toner and ink through the contract, so you won't have to worry about spending extra money.
You'll find it's much easier and more affordable to manage your printing needs when you have a contract in place.


See If the Company Offers Training
Back in the old days, office equipment, like printers and copiers were simple to use. You just had to hit the "print" or "copy" button to get the machine to complete the task at hand. Now, multifunction printers have all kinds of features. The features are a breeze to use once you familiarize yourself with them but can be challenging if you have never used them before.
Make sure your provider offers training when buying or leasing the product. Some companies include training as part of the maintenance contract. That way, everyone on your team will know how to use all the features as soon as you get the machine. Then, you can get the full benefits of the new printer.


Supply Delivery
You don't want to have to run to the copier dealer each time you need toner. This is a waste of time, whether you run a small office or a major corporation. You have to make sure the maintenance agreement includes toner delivery.
The service provider can monitor your toner offsite and deliver it before you run out. Then, you can avoid business interruptions.


The Final Say: AOS Is the Right Choice for Your Office Printing Needs
AOS has serves West, Central, and Southeast Michigan. We sell and lease copiers and provide managed print services, maintenance contracts, and more. We respond to service requests in less than four hours and our number one goal is to provide top tier client care. As a true partner, we strive to ensure that your office is efficient and effective, taking the hassle out of your print environment. Contact us today to discuss your needs and get a free quote.