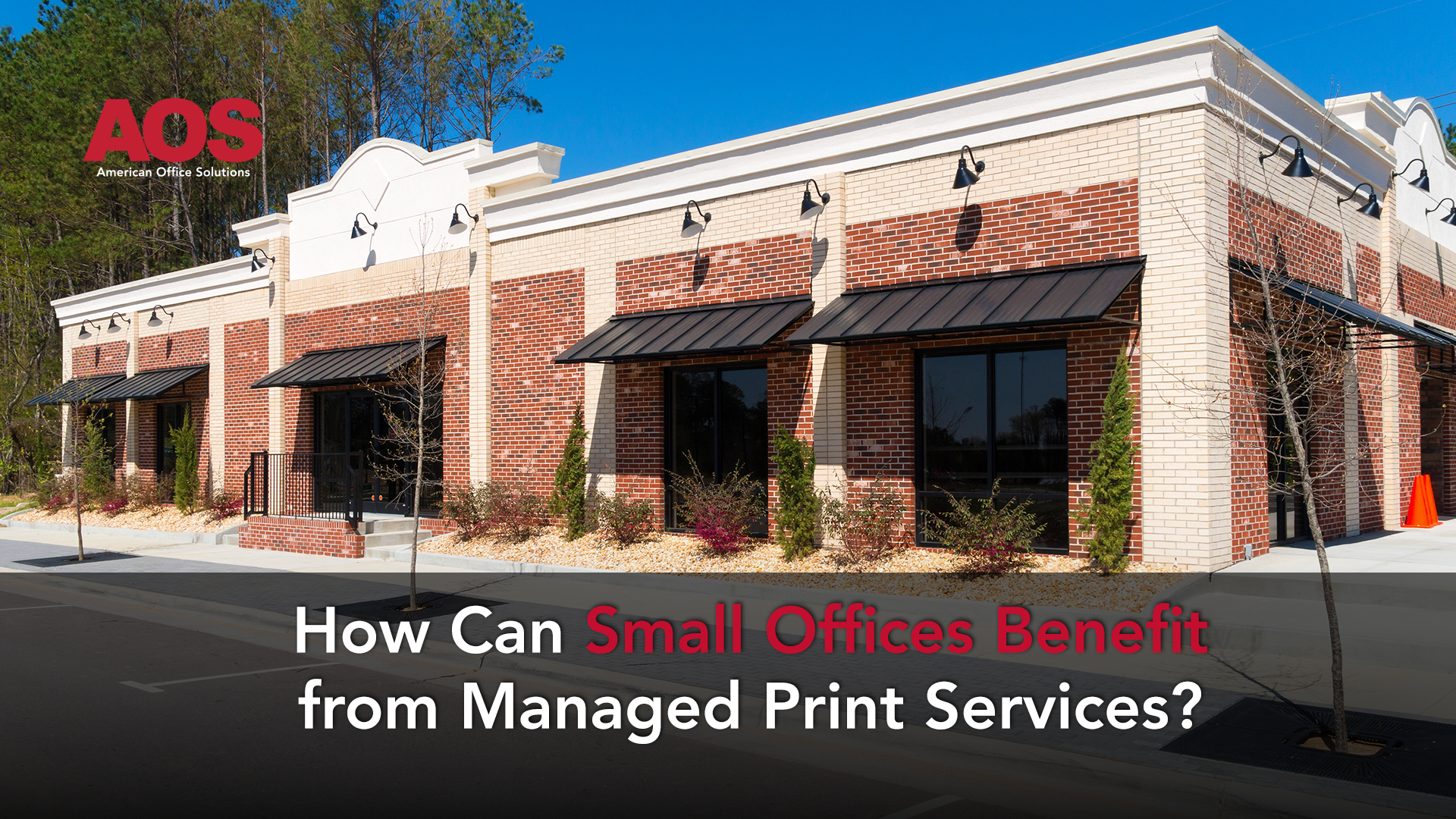 Read Time: 4.5 mins.
Have you noticed that some of your competitors outsource their document handling and printing services? Outsourcing is becoming increasingly popular for businesses of all sizes, leaving you wondering if it's right for your company.
Find out how small offices can benefit from managed print services (MPS) to determine if it's a good fit for your office.


Top Ways Managed Print Services Benefit Small Offices
Small offices enjoy numerous benefits when utilizing managed print services, but there are some major ones that stand out. Make sure to go over the benefits and consult with a local authorized dealer to learn more.


Consumers Prefer Paper, and MPS Can Deliver
With the emergence of the internet, some small business owners believed paper to become a thing of the past. They assumed that their customers would prefer to get invoices and other materials in digital form, but that's not been the case.
FedEx Office surveyed consumers, and the results were eye-opening. Out of the consumers surveyed, more than 90 percent stated that they want the option to receive printed materials.
Plus, close to half the survey's respondents said the very idea of losing access to tangible materials makes them annoyed and stressed. That's not how you want your customer base to feel.
The survey shows the importance of having a reliable printing option always available for your customers. That's just what you'll get with managed print services. If you want to keep your customers happy and avoid making them annoyed or stressed, these services are a must.


Managed Print Services Help Small Offices Improve Security
You don't want your documents to get into the wrong hands. Whether you work in a secure business or want to safeguard customer information, managed print services can help. Your service provider can use software to ensure that documents are always secure.
Also, the provider can wipe documents off the machines as needed. Security is vital regardless of your industry and customer base, so consider using managed print services. Then you can avoid a costly data breach that can harm your company's reputation.


Free up Employees to Handle Other Tasks With MPS
Small offices that manage their equipment sometimes have trouble staying efficient. Employees have to check toner and paper levels and look for any printer-related problems. That, in turn, makes it hard for them to focus on work.
Also, since they aren't printer experts, it's easy for them to miss signs that something's wrong. That means your office could run out of toner or end up with a broken-down printer at an inopportune time.
Your employees won't have to monitor the machines or supplies with managed print services. Instead, you'll outsource this task to a team of experts. Then your service provider can use remote monitoring to check your system and supplies and stop by the office as needed.
That means you won't have to worry about losing productivity or suffering from a major malfunction.



MPS Makes Budgeting a Breeze
Managed print services make it so much easier for small offices to budget. Maintenance and supplies are part of the contract, so you won't have to try to figure out how much you'll spend on toner for the year or scrounge up the funds for an expensive repair.
Every dollar counts when running a small business, so it's nice to know what to expect regarding your printing budget from one year to the next. It can even help you free up some money in your budget to use in other areas.


Managed Print Services Help Small Businesses Reduce Waste
As a small business owner or decision-maker, you know the importance of reducing waste. The more your company wastes, the more money you end up spending. That cuts into profits and can even cause your small business to go into the red.
Fortunately, managed print services help small offices reduce waste by ensuring that the machines run efficiently at all times. As a result, your machines won't burn through paper and toner.
You can even use the service to control who can print or use the color options. Again, this can help you reduce consumption, saving your small business a bundle of money. Then you can pour those funds back into your business or even consider an expansion.


Reduce Your Carbon Footprint With MPS
Small business owners are constantly looking for ways to reduce their environmental impact. It's part of doing their part to be good citizens, and it can also help them stand out from the competition.
If you switch to managed print services, you'll take an important step to reach this goal. Your service provider can help you reduce the consumption of consumables, paper, and electricity.
That, in turn, will allow you to lower your impact on the environment. As a bonus, when you reduce your environmental impact, you can also lower your printing budget. That's yet another way you can save money with these services.


MPS Make Scaling up a Breeze
If you handle your own printing needs, your small business might not grow. It's hard to scale up when you're in charge of buying and managing printers and other office supplies.
Fortunately, managed print services make it easy to scale up. Your printing provider will constantly monitor your needs and help you add products or upgrades if needed.
That means you can easily transition from a small to a medium-sized business if needed. If you want to grow your company, managed print services can help.


The Final Say: Managed Print Services Can Improve Your Business
With these benefits, it's easy to understand why managed print services are becoming more and more popular with companies of all sizes.
You can learn more about the benefits and get a quote by contacting AOS. We have been in the printer and copier industry for decades and strive to help companies reach their goals. Instead of simply providing a service, we will work as your partner, prioritizing your needs while ensuring efficiency.