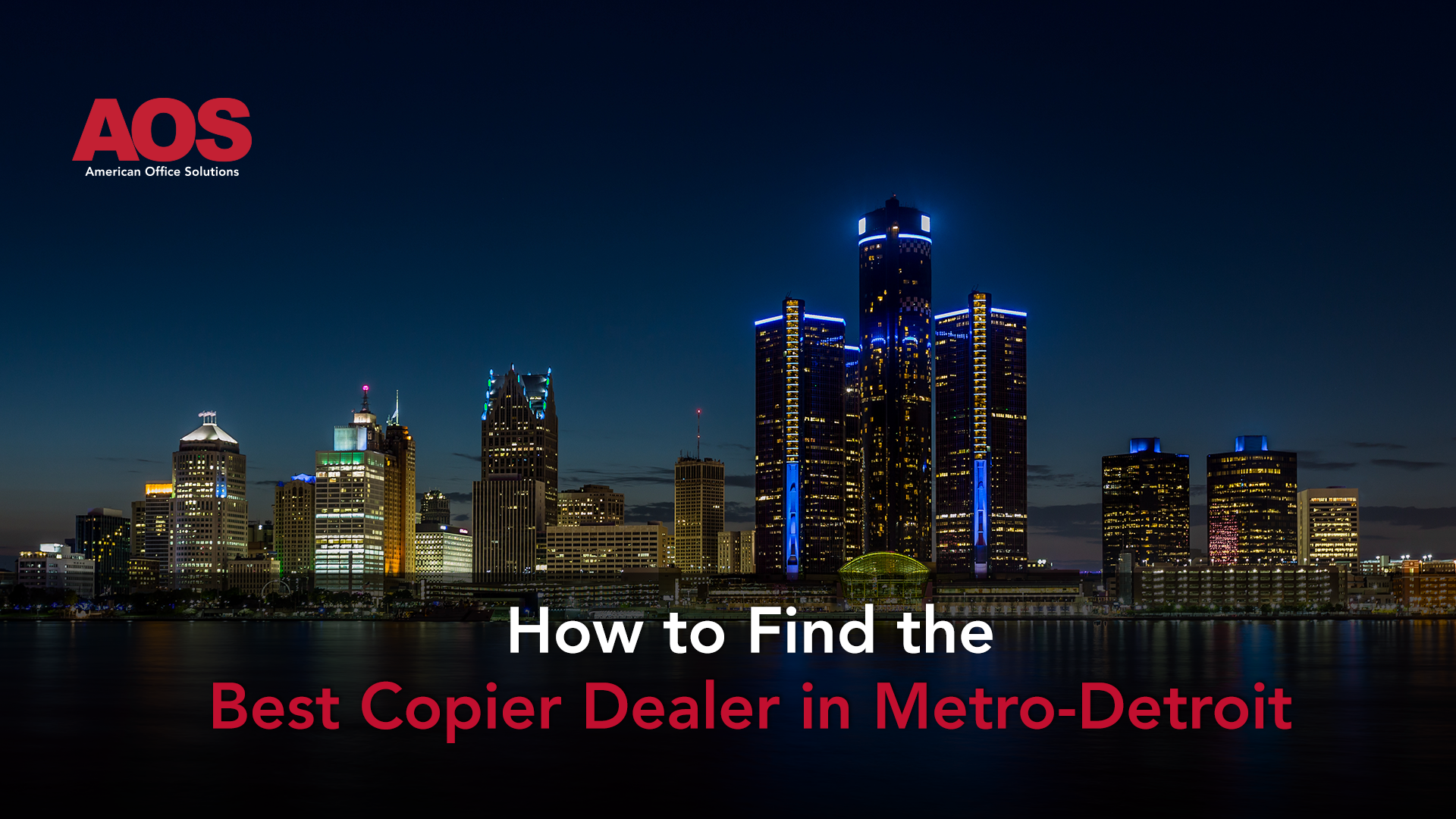 Buying or leasing a copier is a big decision, and you want to choose the best company for the job. As you likely know, the copier dealer you choose will serve as a partner, ensuring that your company is productive and efficient.
Thus, you need to determine the best copier dealer in the Metro-Detroit area, and go with that company. Find out how to locate the top provider in your region.
Types of Copier Companies: How to Choose the Best
There are two main types of copier companies in Metro-Detroit: manufacturers and authorized dealers. In your quest to find the best copier dealer in the Metro-Detroit area, start with authorized dealers. You can get a better deal and enter a true partnership with a local dealer.
Check out some ways dealers provide top-notch contracts and services.
Local Authorized Dealers Offer Competitive Pricing
Manufacturers often deal with high overhead costs, meaning you usually have to pay top dollar. On top of that, they don't have much flexibility when selling or leasing office equipment, so it can be hard to find something within your budget.
Fortunately, local authorized copier dealers have less overhead and more flexibility. That allows them to pass on some savings to their customers. If you want to get a good deal, start by obtaining a quote from a local dealer.
Local Dealers Offer More Than Copiers and Printers
Manufacturers tend to sell and lease multifunction printers (MFPs) without providing any extras. They just want to move as much equipment as possible and aren't concerned with how you use it.
However, authorized dealers are positioned to provide support to their customers. That means they offer services, such as security, managed print services, and web design. You'll get so much more than a copy machine if you go with such a company.
Get Local Support From the Best Copier Dealer in the Metro-Detroit Area
If you buy or lease a copier from the manufacturer, you might reach someone across the country or world when calling in for support. On the other hand, you'll speak to someone in your local area when seeking support from an authorized dealer.
That person will represent a local company that understands the importance of keeping customers happy. You can expect a local company to do whatever it takes to make you happy and hold onto your business. You are unlikely to get the same level of support from a manufacturer.

Finding the Best Copier Dealer in the Metro-Detroit Area
After finding an authorized dealer, you need to vet the company to ensure it's a good fit. Go over some things to consider before signing a contract.
Is It an Established Business?
First, check out how long the copier dealer has been in business. If it's just starting, the technicians and staff might not have the experience necessary to serve your needs. On the other hand, companies with decades of experience have proven themselves to clients over and over again.
Does It Have the Necessary Resources?
Next, you need to consider the company's resources before signing a contract. You want to have great support staff to answer questions and respond to service calls.

Second, find out if the company stocks equipment needed for repairs. That way, the copier dealer won't have to place orders for parts before repairing your machine.
How Fast Can You Expect the Company to Respond to Issues?
You want to choose a company that will quickly handle your support requests. After all, you need to get your machine up and running to manage a productive and efficient office. Some companies respond within 24 hours, while others respond in just a few hours. The shorter the response time, the better the service, so keep this in mind.
Does the Staff Undergo Ongoing Training?
Next, it's vital to find out what kind of training the copier dealer provides its technicians. Technology is constantly evolving, so a well-trained staff is critical. You can ensure that the copier dealer is committing to training by selecting a PROs Elite 100 Dealer. Companies have to put the time and resources into training and service to earn the distinction.
Will the Copier Dealer Be a True Partner?
Finally, it's essential to ensure that the copier dealer provides more than just printers and copiers. It's best to choose a company that will support your business in various ways. For instance, if the copier dealer offers managed print services, you won't have to worry about staying on top of your printing needs. Other services like security software, web design, and document management can also be valuable to your company.
The Final Say: The Best Copier Dealer in Metro-Detroit
AOS has served the Metro-Detroit area since 1969 and has earned the distinction as a PROs Elite 100 Dealer. We go beyond selling and leasing copiers and also offer services to support our customers. That includes managed print services, document management and web design. Our average response time for service calls is 2.8 hours, and we guarantee that all calls will be addressed within four hours. Contact us today to discuss your needs. We can help you find a business solution to become more productive and efficient in your office.