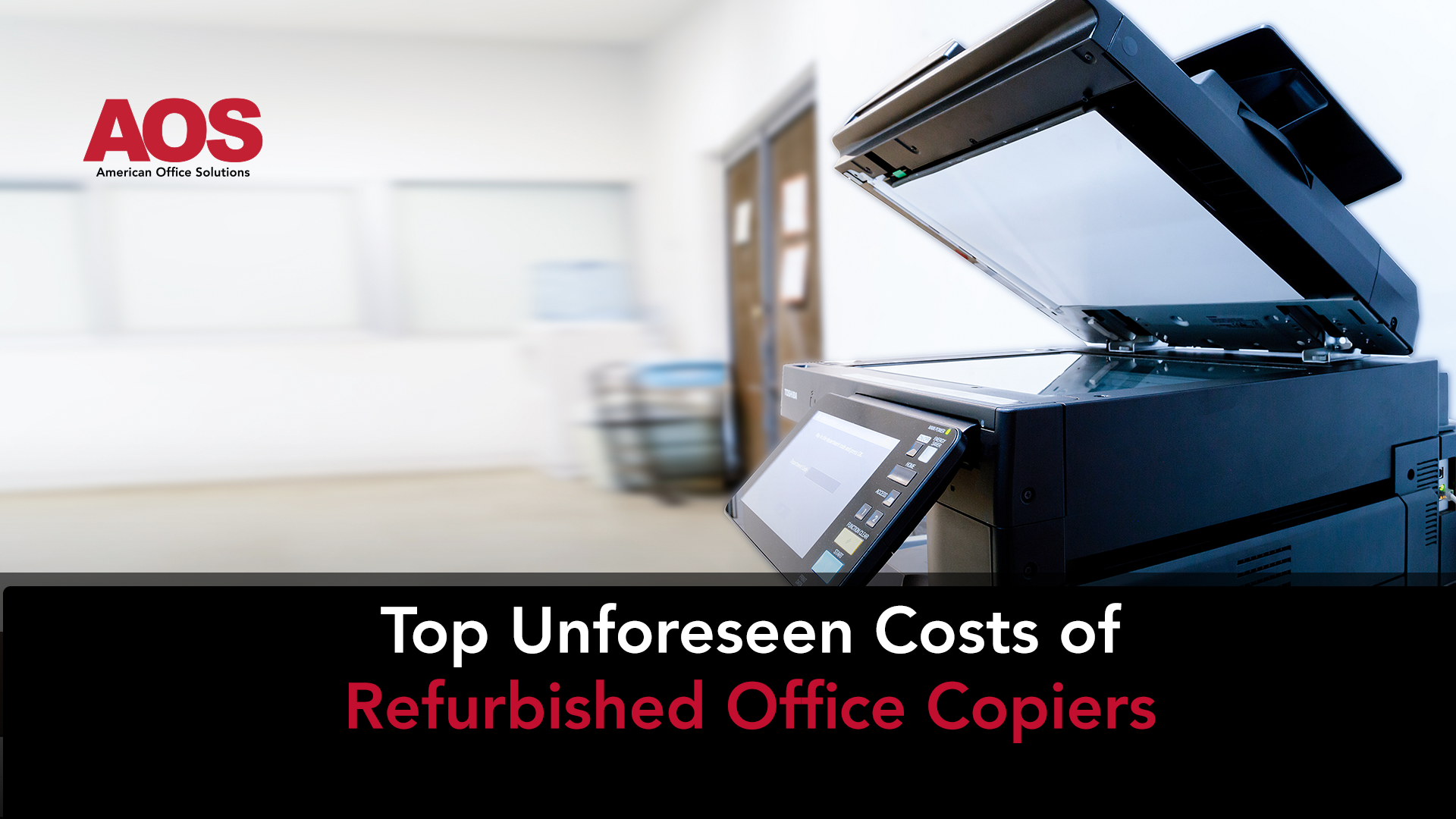 If you want to save money on your next office copier, you might be considering buying or leasing a refurbished machine. Because these office copiers have been in service for a while, they may cost less than new machines.
Because budget is always a top concern for most of us, it's important to go over the top unforeseen costs of refurbished office copiers. Knowing the costs up front will help you plan ahead.
Top Unforeseen Costs of a Refurbished Office Copier
When shopping for an office copier, you need to consider the cost of the maintenance agreement, warranty, supplies, upgrades, copier removal, and more. Let's look at these in greater detail, along with how you can lower the cost of each.
Refurbished Office Copier Maintenance Agreement
When purchasing an office copier from a local dealer like us, you'll add a maintenance agreement which is well worth the investment.
A maintenance agreement can cover the cost of toner, maintenance, service, repairs, and more. That means the service provider will keep your copier running for a small monthly fee, and you won't get an additional bill for repairs or maintenance.
You can save quite a bit of money by entering a maintenance agreement, and you'll enjoy the added benefit of having an office copier that works day after day. That kind of reliability is what you want when purchasing a multifunction printer.
Parts or Supplies
If you don't have a service or support agreement with your refurbished copier you will also need to consider the cost of supplies when buying any office copier. You have two options for handling supplies:
You can buy the supplies as needed. While this might sound good on the surface, it can cause quite a headache. You need to time your orders right, so you don't go without consumables for days or weeks. That's hard to do if you aren't experienced in supply management.
You run the risk of buying low-quality toner. It's not unusual for companies to purchase the cheapest toner they can find, only to find out the quality is so poor that they can't even use it. You could even end up with a toner that doesn't fit your machine. If it doesn't fit, you'll end up wasting your money, and you'll still be without toner.

Not to mention, you might accidentally

purchase supplies from toner pirates

. Toner pirates call companies and ask for the serial number on their office copiers. Then, they say they have an amazing deal on toner. Using convincing sales tactics, they get companies to agree to the sale. Then, a box of toner arrives a bit later with an invoice. The invoice is much higher than expected, and the toner is of poor quality. In most unfortunate situations, the toner pirates demand that the companies pay the invoice.
Related Article: Toner Pirates: What Are They and How To Avoid The Scams.
These are some reasons to be wary of buying toner yourself. Fortunately, you can save time and money by adding managed print services to your agreement when purchasing a refurbished office copier.
A well-qualified copier dealer should monitor your consumable usage and deliver products as needed. These products will be high-quality, so you won't be stuck with a closet full of toner that expires before you can use it. Plus, it's much easier to fit it in your budget when you make small monthly payments instead of spending lots of money on consumables as needed.
Upgrading To A Certified Office Copier
When you are shopping for refurbished office copiers, you'll notice certified and non-certified options. You might want to save money by choosing a non-certified MFP—but that's a mistake.
Certified refurbished office copiers have to meet the rigorous demands of the manufacturer's certification process. That means you can expect better performance from these machines. It might cost more upfront, but buying a certified office copier can save you tons of money throughout owning the device.
Office Copier Removal
You also need to consider the cost of removing the office copier from your business at the end of service. You have two options for going about this. You can pay a company to remove or recycle the machine, or you can add the cost of removal into your service agreement.
When you make it part of your service agreement, the company can handle everything, from removing the data to picking up the copier. You can even coordinate the removal with the installation of your new machine to minimize downtime.
Device Upgrades
You should also consider the cost of upgrades when buying a refurbished copier machine. You can get a good idea of how long the office copier will last by looking at the internal counter. The counter shows you how many pages the machine has printed.
Depending on the device, it also might include toner usage and other information. After reviewing the data, you'll have a basic idea of how long the copier will provide a high-quality and efficient service.
If it's near the end of its duty cycle, you'll need to factor in the cost of an upgrade shortly after buying the copier. However, if you get one that still has a lot of life left, you won't have to worry about this cost for quite some time.
Related Article: When Is the Best Time to Replace or Upgrade Your Office Copy Machine?
You can lower the cost by entering a service agreement that includes upgrades. Then, your local authorized copier dealer can upgrade your machine as needed, even if you're in the middle of a lease.
The Final Say
AOS makes it easy to stick to your budget when buying or leasing any office copier for your small business or organization. We offer copiers for lease and sale and provide affordable service agreements and managed print services. Reach out to us today to learn more about how our office equipment and solutions can help your business continue on its path of growth and success. content here…