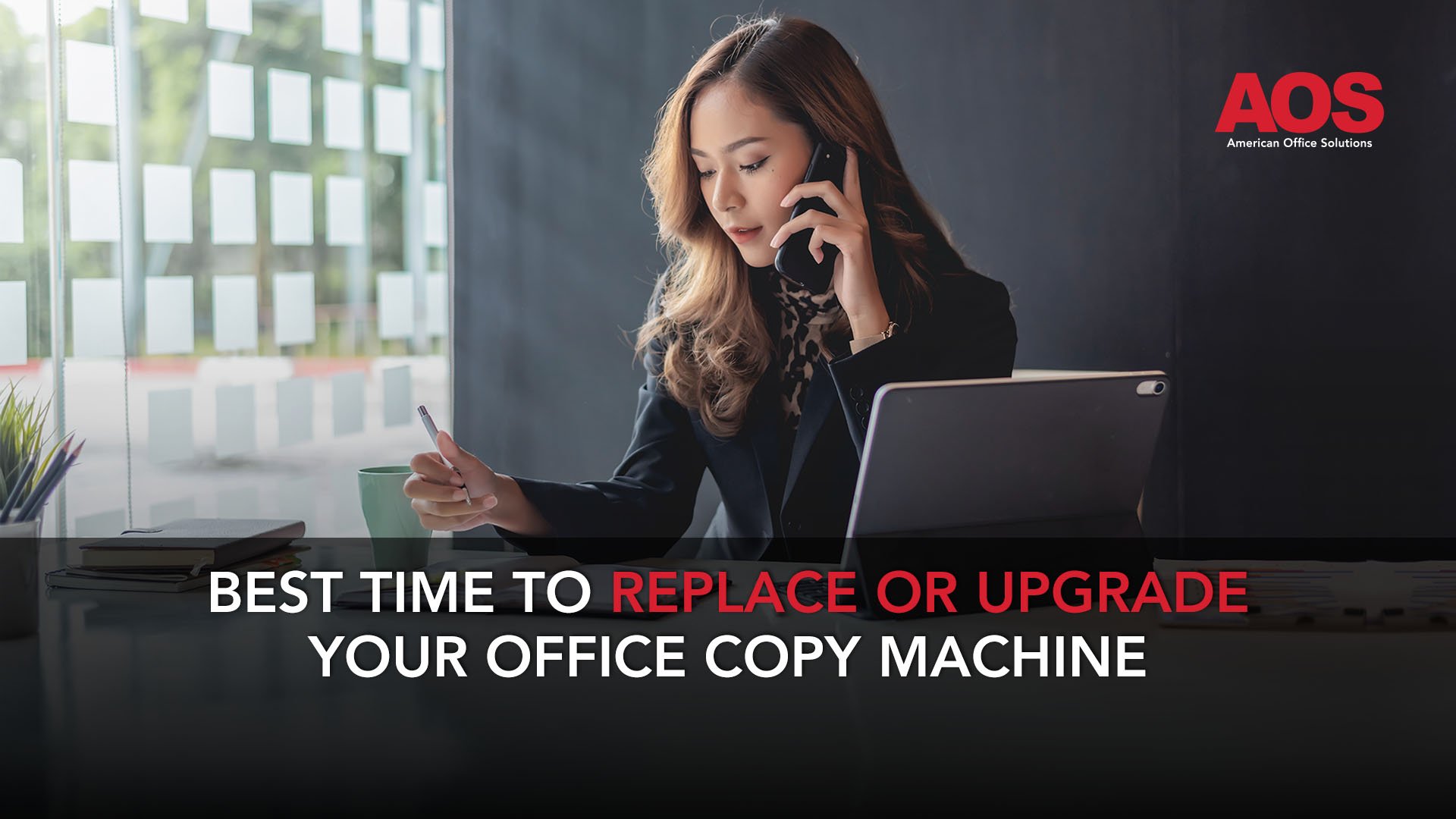 Your office copier has been by your side during countless vital projects. It's handled large volume prints, helped employees meet deadlines, and so much more.
Because of its importance, it's critical to know when the best time is to replace or upgrade your office copy machine. How come?
Waiting too long means your machine could break or shut down, causing your business to take a hit—so you want to be as proactive as possible.
Fortunately, there are some key signs indicating when it's time for an upgrade. Let's dive in!
Signs It's Time to Replace Your Office Copy Machine

Your copy machine sends you signs that it's time for an upgrade, but that's not all. You can also determine if it's time for a new copy machine by evaluating your employees and considering your wants and needs.
When you approach this from all angles, you'll have a much easier time assessing your output devices within your organization.
Do Your Employees Hate the Copy Machine

Your employees are on the front lines, using the office copier each day. Have you noticed they are complaining more about it more and more, though?
If your employees are upset that the copy machine is continually breaking down or working slower than it should, it's time to consider a replacement or upgrade. A new copier will make your entire team happy while improving productivity, a huge win for your company.
It's Hard to Find Toner and Parts

If your office copier is old and outdated, you might have trouble finding toner and other replacement parts. You might spend more time looking for parts than actually fixing the machine.
This is a sign that your office copier is obsolete. You're using old technology, and it will become more and more challenging to maintain and repair the machine. When you upgrade your multifunction printer (MFP), you will have access to the latest technology, as well as the right supplies, like toner.
By the way, an office copier and multifunction printer are the same thing. There are desktop MFPs that are smaller in size that can print up to legal sized paper (8.5x14) as well as the standard full-size MFPs that come with more features and accessories.
But what if you have a relatively new copy machine but still have trouble finding toner or parts? If that's the case, you need to reach out to a local authorized dealer, like AOS.
Your local copier or printer provider can find everything you need to maintain your devices. They can also maintain and repair the office copy machine for you, so you won't have to worry about anything besides your day-to-day tasks.
Your Printing Needs Have Changed

Your business has likely undergone some changes over the years. When a business changes, its printing needs often change as well. If your current printer doesn't support your workload or demands, it's time to upgrade.
You can choose an MFP designed to handle your printing volume and other needs. You can also get an office copier with additional functions to help your employees become more productive.
A local authorized dealer can help you choose a printer that meets your new requirements, so your business can continue to grow. You can even lease the office copier instead of buying it if you aren't ready for a major purchase right now.
You're Worried About Security
If you have an older copier machine, it likely doesn't have advanced security features, putting your business at risk.
You can quickly remedy this problem by getting a new copier. Some of the newer MFPs or copiers have advanced security features, so you don't have to worry about cyberthreats or data leaks.
You Want More Control

Unfortunately, office copiers are among the most abused pieces of equipment throughout your office. Some employees use the machines to make copies for personal use, and others make color copies when black and white would be just fine.
Misuse leads to wear and tear, causing breakdowns. If you are struggling to maintain control over your copier, it's an excellent time to consider an upgrade. You can get a new printer that lets you set user controls and can even choose who uses the office copier, who has access to color prints, and more.
You Aren't Happy With the Print Speed or Quality
Replacing your copier is something to consider if you aren't happy with its performance. First, consider the print speed. Does it seem like you're always waiting for your multi function printer to finish projects? You feel like you're wasting time at the printer because it's so slow.
Upgrading your office copier is an easy way to fix this problem as you can get a new model designed to meet the rigorous demands of your office.
You also need to consider the print quality. If your print quality is poor, consider upgrading to a printer with a higher resolution to fix this problem. Then, you will put your best page forward every time you hand over or send documents.
It's Reached the End of Its Life Span

You should also consider how long you've had your office copier as well as the amount of use it's had. Copiers end-of-life is determined by the age as well as the amount of prints and copies it produces.
With such an important piece of technology you should treat it like you would your phone or computer and build in regular refresh cycles. It's another reason why most businesses today decide to lease their office copy machine since the lease cycle automatically builds in a refresh timeline.
The Final Say: Use These Tips to Determine If You Should Upgrade Your Copier

Just like people, copier's need TLC, too. Make sure to pay attention to your copier, employees, and business needs, so you'll know if it's time for an upgrade.
Upgrading your office copier is an excellent way to improve productivity and efficiency in your office. Your documents will look more professional, and your employees will be much happier.
AOS can help you if you're interested in upgrading your multifunction printer or copier. Our managed print services will help your company reduce costs, increase efficiency, and meet your business goals. Contact us today to learn more about buying or leasing an office copy machine and how we can create a customized solution for your organization.