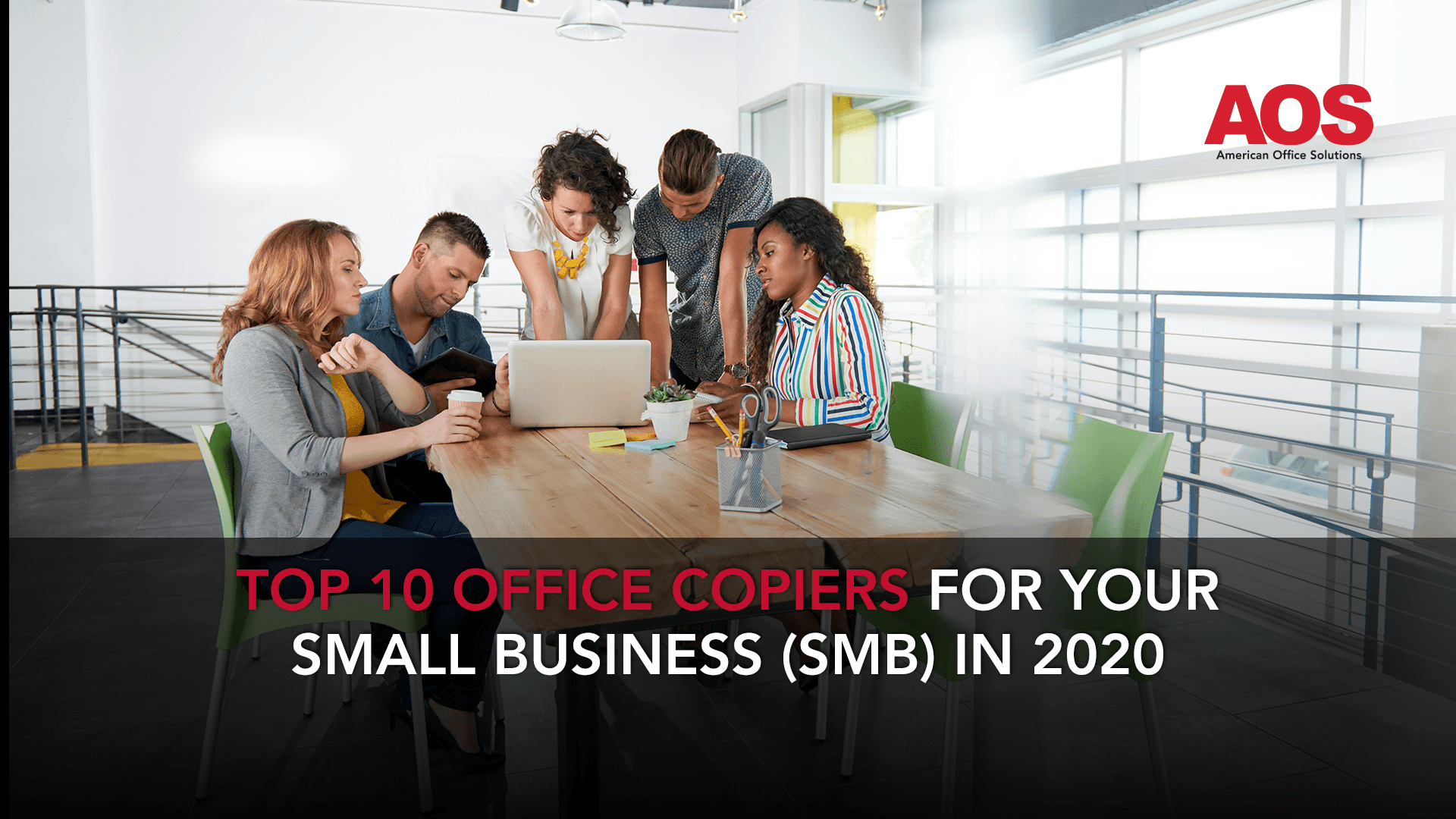 We're getting close to entering the last quarter of the year, which could mean your business is analyzing the 2020 budget and making purchasing plans for 2021.
An office copier isn't always the easiest purchase to make because it's an investment and could even become a pricey one at that. This is why we are here to help give you the tools and resources needed to do so by providing you with our picks of the top 10 office copiers for your small business (SMB).
When it comes to your small or medium-sized business, you must make the right buying decisions, especially in terms of office technology.
Typically, an office copier (copy machine or multi-function printer) is an investment made to perform various tasks. Some of these functions could mean copying, printing, scanning, faxing, and anything else to help you manage documents or workflow.
You also want to make sure you purchase a device that can grow with your business to match your volume needs. It's essential to consider an affordable office copier at the initial purchase that also doesn't bankrupt your business when purchasing toner or maintaining it.
To make this journey a little easier for you, we've taken some time to review some of the top office copiers currently on the market, so you can see which ones are best suited for your business needs.
By the way, as many of us continue to work from home due to these unprecedented times, it's significant to know how AOS is here to support you. Whatever your remote working needs may be, we are here as your trusted source so that your home office has all the tools and solutions to keep you productive. Let us know what your current remote-working struggles are.
Related: The Best Home Printers For Your Money.
The Ratings Are In! Top 10 Office Copiers
It's easy for just about anyone to make a top-ten list and throw it out on the internet for everyone to see. We must explain to you how we rated our top 10 office copiers, so you know the features we feel are most important.

We graded these office copiers by using the following categories:

1. Pricing & Associated Costs: Many of these multifunction printers (MFPs) had a range of expenses because each supplier has priced them differently. Each copier we reviewed had different costs and volume limits for toner, monthly duty cycles (maximum monthly print/copy volumes), and replacement limits for drums. Even toner volumes differed for individual copiers and toner color.

For example, some manufacturers store black-toners in their cartridges to increase the length of time between replacing black toners. This is due to higher black-toner usage when printing both black and white and color.

One last item we calculated was the cost per page to compare each of the printers for the costs associated with similar volume requirements. Certain supplies, like toner, could present high costs. However, cutting costs on supplies (using another off-brand toner) isn't always the smartest decision to make as it could damage your copier.

2. Quality: We reviewed all of these office copiers in the quality of printing and scanning (if applicable). Each office copier specifies the resolution that it can print and scan.

3. Features: Exploring different copy machine features is an easy way to review, compare, and grade copiers. Each copier's manufacturer publishes the number of prints their device can print over time or per minute (pages per minute, or "ppm").

Also, they can specify the number of pages their copier can scan per minute. This rating is characterized using "ipm" or images per minute. Another feature that differed between these office copiers was the paper capacity.



4. Additional Considerations: An office copier needs to communicate with your business and employees. It's essential for the devices to be networked so that your staff can print or scan, send, and distribute files to a directory, email address, to their inbox, or other employees. Only a few offered wireless networking capabilities, and most of these office copiers provided some form of printing from mobile devices.

Our Top 10 Office Copier Picks For Your Small Business (SMB)
And, our picks are in! We've listed some of the specifications of each device so that you can get a better idea of which printer best suits your business needs.
Be sure to note the models that were awarded the BLI Buyer's Lab 2020 Pick. Buyers Lab (BLI) is the world's leading independent provider for testing services and analytical information to the document imaging industry. These awards are delivered twice a year for office equipment based on exceptional performance.
By the way, Lexmark won the "2019 Printer/MFP Line of The Year Award" from Keypoint Intelligence, and Kyocera was named the "2018-2021 Most Reliable Color Copier MFP Brand."
1. Kyocera TASKalfa 3553ci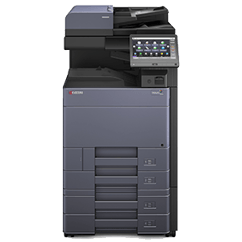 Color Multifunction Printer (MFP)
High-impact and professional finishing options
User and eco-friendly
35 ppm (pages per minute) B&W and Color
1200 x 1200 dpi (dots per inch)
Standard: 1,150 sheets, Maximum: 7,150 sheets
2. Kyocera TASKalfa 7003i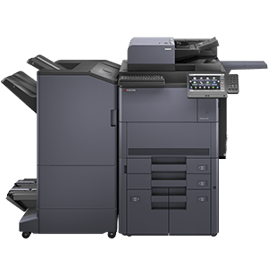 Black & White MFP
Monochrome text and detailed graphics with finishing options
Meets high-speed and high-volume needs
70 ppm B&W
1200 x 1200 dpi
Standard: 4,150 sheets, Maximum: 7,650 sheets
3. Kyocera ECOSYS M3550idn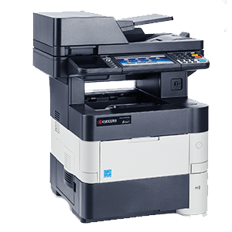 Black & White MFP
One-stop solution that streamlines document workflows
7-inch customizable and tablet-like touch screen
52 ppm B&W
600 x 600 dpi, Up To Fine 1200 dpi
Standard: 600 sheets, Maximum: 2,600 sheets


4. Kyocera ECOSYS P3055dn
Black & White Printer
Suitable for a growing business
Desktop printer with fast speeds and data security
57 ppm B&W
600 x 600 dpi, Up To Fine 1200 dpi
Standard: 600 sheets, Maximum: 2,600 sheets
5. Sharp MX-3071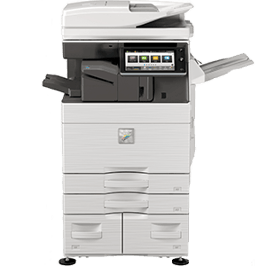 BLI 2020 Pick
Advanced Series Color MFP
Easy to use and offer enhanced productivity with an intuitive experience
Leading-edge security features
30 ppm B&W and Color
1200 x 1200 dpi
Standard: 3,000 sheets, Maximum: 6,300 sheets
6. Sharp MX-6580N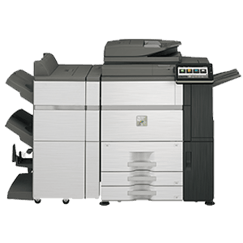 High-Speed Color MFP
User-friendly experience for high-volume office environments
Consistent color output and high-quality results
65 ppm Color
1200 x 1200 dpi
Standard: 3,100 sheets, Maximum: 8,500 sheets
7. Sharp MX-M3071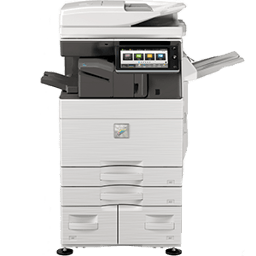 BLI 2020 Pick
B&W Networked Digital MFP
Customizable touchscreen display with easy-to-use-titles
Leading-edge security and standard wireless connectivity
30 ppm B&W
1,200 x 1,200 dpi
Standard: 650 sheets, Maximum: 6,300 sheets
8. Lexmark XC4140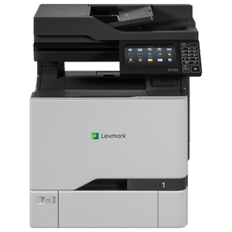 Color Compact MFP
Brilliant color and a space-saving device
High-yield toner capacity
40 ppm Color
1,200 x 1,200 dpi
Up to 2,300 sheets
9. Lexmark XM3250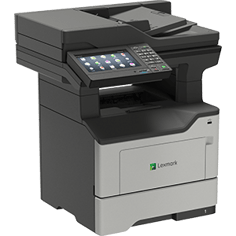 Robust Color MFP
Superior print quality and enhanced security
Optional hard drive and optional integrated stapler and capabilities
50 ppm Color
1,200 x 1,200 dpi
250-sheet tray, 550-sheet tray, 550-sheet lockable tray
10. Lexmark M3250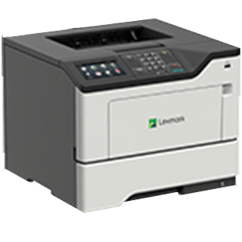 Desktop Black & White Printer
Enhanced security and built-in durability
Useful for a medium-sized workgroup
50 ppm
1,200 x 1,200 dpi
100-sheet multipurpose feeder, 550-sheet input, 250-sheet tray
The Final Say: Top Office Copiers And Your Small Business
When searching for the right office copier, make sure you consider all of the features and characteristics we provided above and compare all the different models.
Keep in mind; these are just our top picks based on our market and industry experience and our client-base. Your office copier is a tool for you and your employees and a technology solution for your business. So, make sure to do your research before purchasing to ensure you're making your organization's best purchasing decisions.
At AOS, we decided to weigh all of the different options before making recommendations on top-rated office copiers. Our goal is to help small and medium-sized business owners in their buying decisions to become more educated buyers. If you're interested in learning more about which office copier is best for your business, reach out to us today! Let us help your organization grow with the best office technology solutions.