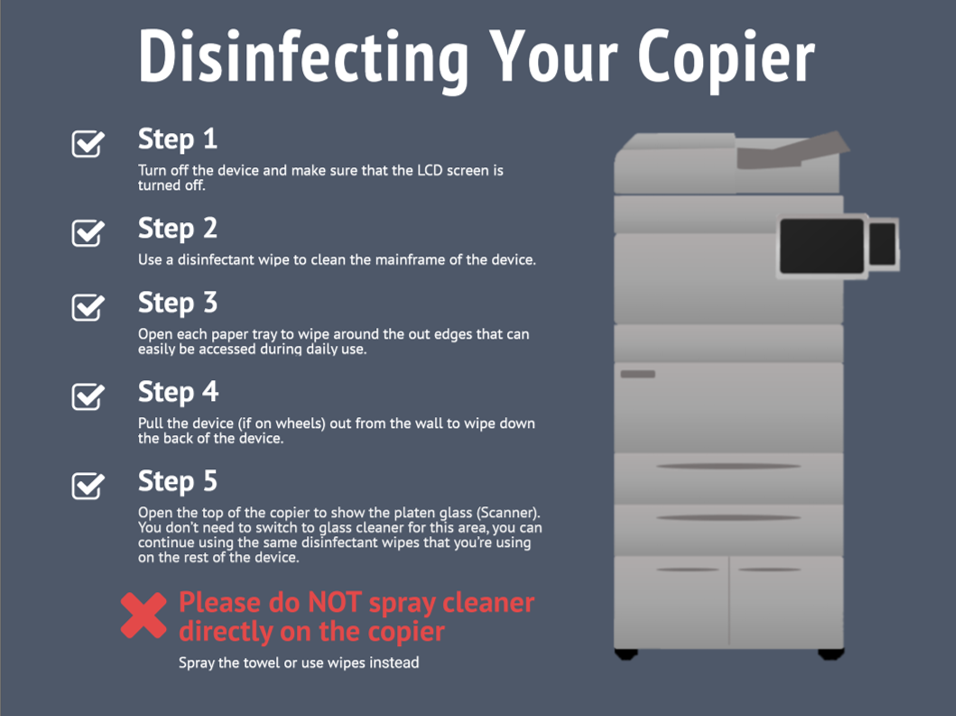 Your copiers and printers are some of the highest traffic areas in the office. To prevent the spread of coronavirus throughout your organization, you should begin by disinfecting your copy and print devices.
We're reviewing best practices for disinfecting these devices throughout the office.
What type of cleaners should be used?
Our recommendation is to steer clear of using any spray disinfectants near the LCD touch screens or monitors of the device. Sprays can sometimes cause issues that result in pixel damage within the display.
Instead of using spray disinfectant, we recommend using disinfecting wipes such as Clorox, Lysol, etc.. If disinfectant wipes are not available, you can spray a microfiber cloth and use that to wipe down the printer.
Disinfectant Process
Step 1: Turn off the device and make sure that the LCD screen is turned off. Turning off the screen allows you to immediately see any fingerprints or dirty areas that you will need to concentrate on.
Step 2: Use a disinfectant wipe to clean the mainframe of the device. Be sure to include to take extra time on high traffic areas such as the keyboard (if your device has one) and paper tray handles.
Step 3: Open each paper tray to wipe around the out edges that can easily be accessed during daily use.
Step 4: Pull the device (if on wheels) out from the wall to wipe down the back of the device.
Step 5: Open the top of the copier to show the platen glass (Scanner). You don't need to switch to glass cleaner for this area, you can continue using the same disinfectant wipes that you're using on the rest of the device.
AOS Cares
If you have any questions concerning the appropriate ways to keep your copiers and printers disinfected, please give our Client Success Team a call at (800) 346-6920. We believe that the best results come from focusing on doing what is best for one another and our clients. At American Office Solutions, we have been defined by our excellent service and our teams will continue to provide the print management services that our clients rely on during this time.