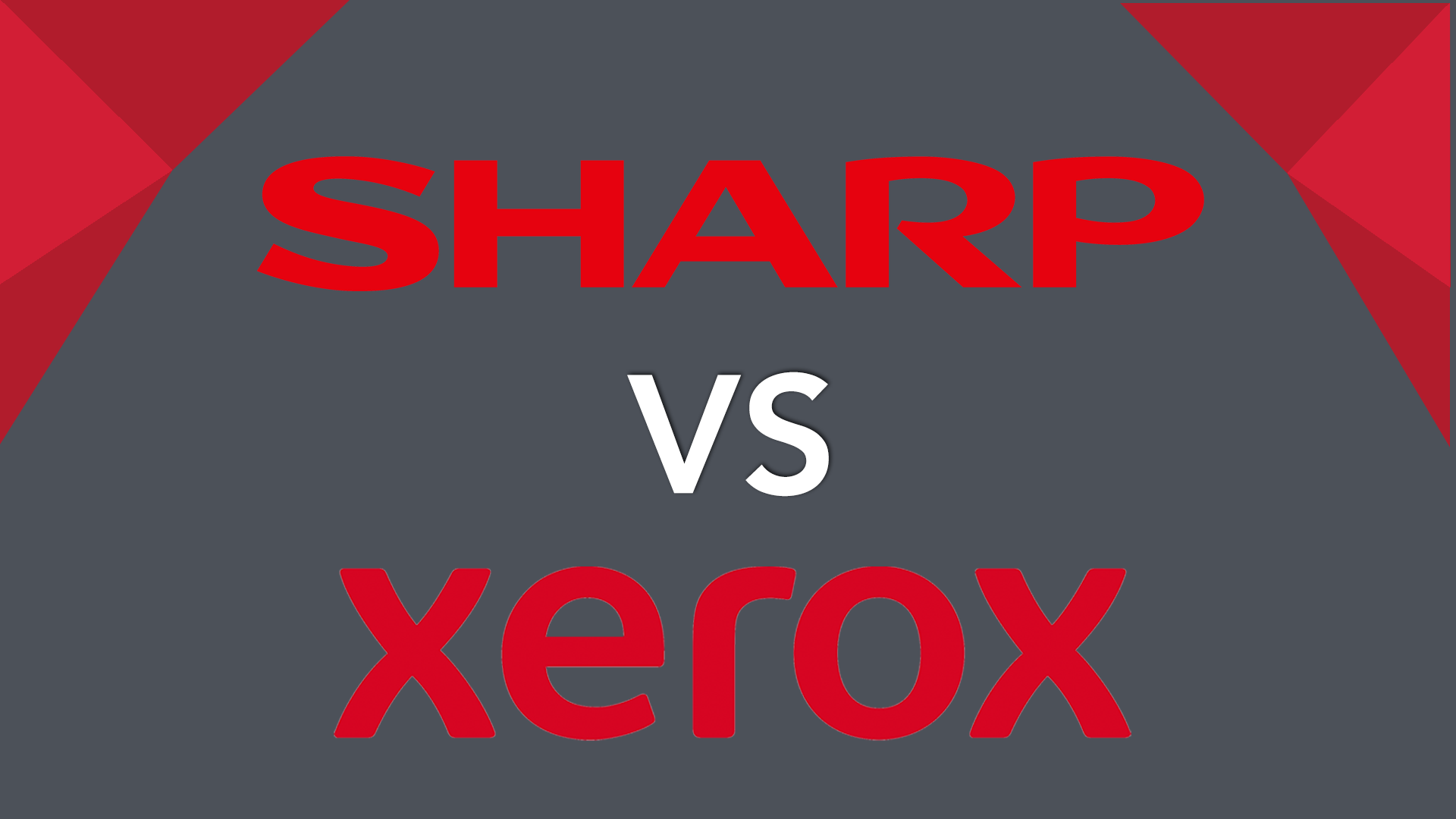 There are tons of different office copier brands on the market today, and it can feel overwhelming when looking for a new device for your organization.
Which brand is the most reliable? Is there a specific manufacturer that is known for supporting larger businesses? What unique apps does each product have that make them different from all the others?
These questions, along with others, are ones that many of us wonder about but aren't always sure what the answers are.
In this article, we're talking about two popular and well-known copier brands, Sharp and Xerox. Our goal is to give you a better understanding of the brands themselves, along with how they may or may not suit your business demands. Let's dive in!


Sharp vs. Xerox: Learn The Brands
To answer the question of which is better, Sharp or Xerox copiers, you need to first learn about the company itself and review as much information as possible. Then, you'll have a much easier time deciding which copier would work better for your business and employees.


Related Article: The Best Multifunction Printers and Copiers of 2021.


The History of Sharp
Sharp Corporation began over 100 years ago in 1912, in Osaka, Japan, with the invention of the snap belt buckle. Sharp then began mass-producing the first crystal radio in Japan, and in the early '50s, produced the first Japanese manufactured television. This ultimately led them to develop something we use almost every day—the microwave oven!
In 1962, the company established its first overseas subsidiary as Sharp Electronics Corporation, in New York City. After becoming a leading manufacturer of home appliances, Sharp began making microprocessors and calculators, and in the early 70's they entered the photocopier business.
In the 1990s, Sharp released the world's thinnest fax machine and continues to be a world leader in manufacturing consumer electronics. As you can tell, Sharp has been in the game for a while, and when it comes to a trustworthy and credible brand, Sharp is just that!


The History of Xerox
Xerox has been in operation since 1906 when it opened as the Haloid Company that manufactured photographic papers. Xerox acquired xerographic imaging rights in 1947 and rebranded to Haloid (film process) Xerox in 1958.
The brand gained popularity as it developed advanced production machines such as laser printers, word processing machines, Ethernet networking, and digital photocopiers.
This made the company extraordinarily recognizable and awarded for its outstanding services and products, especially in the 1990s. However, its revenue base has shrunk, but its machines remain a preference for many businesses and organizations worldwide. Not to mention, they've totally become a "household name."



Sharp vs. Xerox: Functions, Features, Technology, Oh My!
Today, most copiers have similar functionalities and features, so manufacturers have found other ways to make these devices add more value in the workplace. So, what makes these two stand out from one another?
Related Article: How to Choose the Best Office Copier Repair Company.


Key Differentiators Of Sharp Office Copiers
Hardware: Sharp copiers come with a fully integrated keyboard built into the machine. Sharp has made it easier for users to send documents via email, entering data, or configuring their systems by adding a full retractable keyboard.
Most other manufacturers provide this as an option, but Sharp has made this a staple of their copiers. More applications today ask you to enter data or content when scanning, storing, and distributing documents.
This keyboard makes it much easier and more accurate. Having an actual keyboard instead of typing on a touchscreen or using an optional keyboard that you may have to find a place for it to reside near or on your copier is a much better solution.
Software Applications: Sharp has created Sharp's Opened Systems Architecture or "OSA," which allows other third-party technology developers to design and integrate software applications with their Multifunction Printers (MFPs).
Technically, this used to be a Java-based software that took more development and programming to integrate with but has since been simplified to a web-based platform that supports cloud-based applications that have opened it up to many developers.
The platform today is a lot like a small, private version of the AppStore for Sharp copiers. It has hundreds of developers and apps so that you can find just about any application you may need for your business.
Easy Functionality: Sharp copiers and printers have easy procedures for replacing toners and paper—making them ideal for busy offices. They also demonstrate economic functionality with high-rated yields for essentials such as toner and drums.


Key Differentiators Of Xerox Office Copiers
Brand Recognition – We've all heard someone use the phrase "let me Xerox that for you," when they simply mean "let me copy that for you." Xerox is the oldest brand of the modern copier and has years of experience in the industry. Many find interest in it for this reason.
Touchless Access App – modern Xerox printers have a native system that makes it so you can access all the controls of Xerox's machine from the convenience of your smartphone. There's no need to ever make contact with the device. Some organizations find this to be a unique feature that allows them to access the copier from anywhere in the office.
Related Article: 2 Ways Technology Impacts Managed Print.
The Final Say: Sharp vs. Xerox
To be honest, we just scratched the surface when talking about each of these brands. But, we wanted to give you at least a little insight on the basics of these familiar brands so you become a more informed buyer. Remember, a little research goes a long way!
At AOS, our job is to inform and educate you on the best technology solutions for your business. Regardless of your industry or size, we're here to support and help grow your business. To learn more about finding the best copiers for your organization, make sure to reach out to us today.