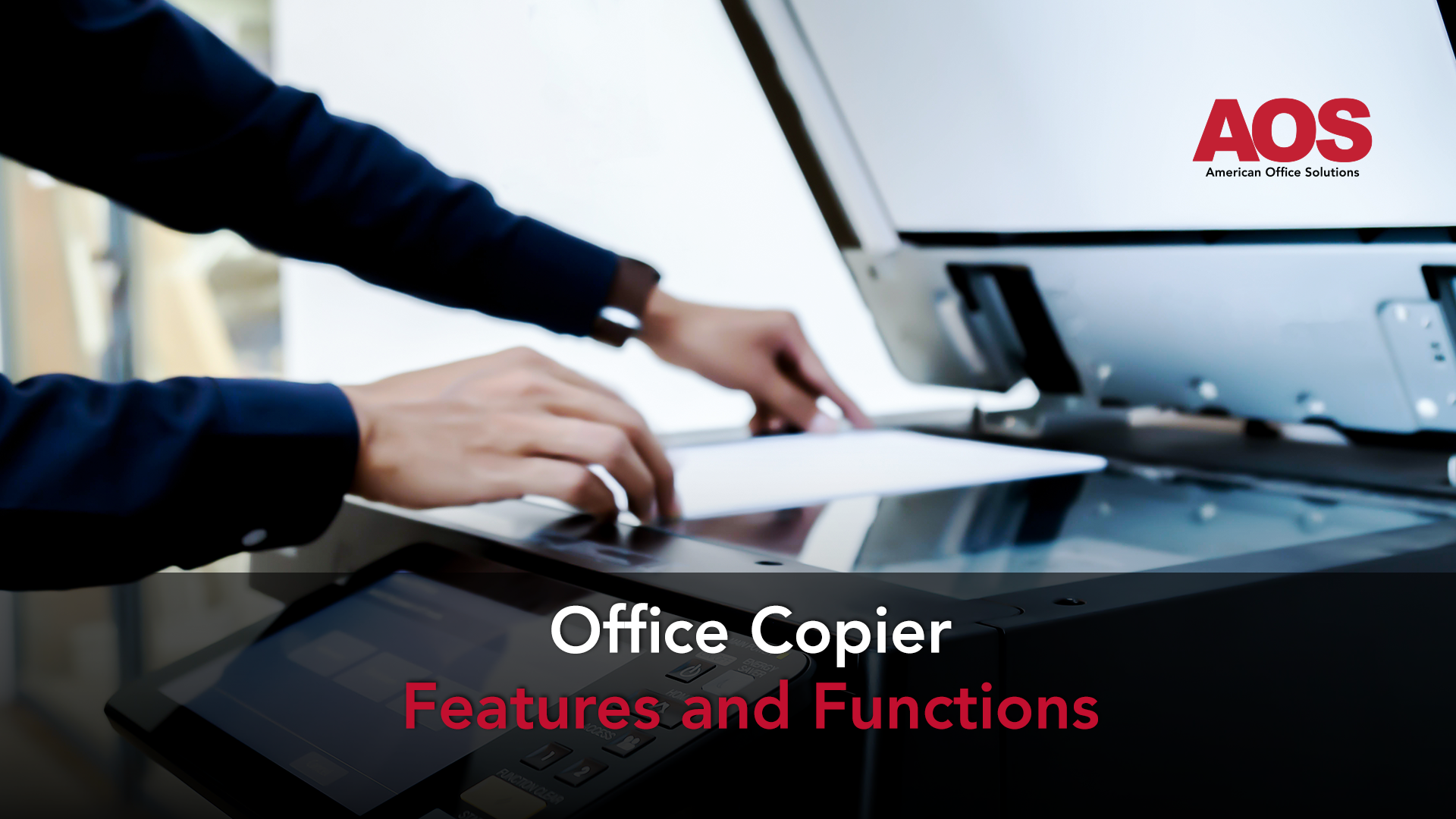 Has your business officially outgrown your copier? Maybe it can't keep up with the demands of your busy office, or it lacks the features you need to grow your organization. The problem might even come down to the machine's repair needs, which continuously force production to grind to a halt.
You know you need an upgrade, but you can't help but wonder what features and functions you need for your office copier. Because each office is different, you need to ask yourself some questions.
Questions to Ask Before Buying a New Office Copier

When you visit a local authorized copier dealer, like AOS, the team will ask various questions to help you find the right office copy machine. Let's go over some of the common questions to help you better understand what you need.
How Much Do You Print and Copy Each Month?
First, you need to consider your monthly output. Does your company average more than 1,000 pages per month? If so, you'll need to get a business-grade office copier that can handle a large volume of pages.
Before purchasing the printer, check the recommended usage, as it will tell you how many pages it can handle monthly. You'll want to select a copier that is rated to handle at least 15 percent more than you typically print each month. That way, it'll be ready to rise to the challenge as your business grows.
How Fast Do You Need to Print and Copy?
Next, you need to think about how fast you need the office copier to print and copy. In the printing world, speed is defined by its pages per minute (ppm). The higher the rating, the faster it prints.
The speed you need is primarily tied to the size of your business. For example, are you working in a home office? If so, 15 ppm will probably suffice.
Now, if you work with a couple of people in a small office, a machine that prints 20 ppm can handle the workload without any significant traffic jams.
Mid-sized offices need machines that print at least 30-50 pages per minute, while midsize to large offices often upgrade to 50-70 ppm.
What if you work in a large, bustling office? You'll want to consider a machine that can handle 70-90 pages per minute. Or, if you work at a commercial printing company, you can go with an office copier rated to handle 90-100 pages per minute.
If you aren't sure how fast your machine needs to be, speak to an authorized local copier dealer. After assessing your usage and needs, the copier dealer can help you find the right printer.
What Print Resolution Do You Need?
You also need to consider the quality of the output when choosing an office copier. This is referred to as dots per inch (dpi).
If you don't need high resolution and top-notch quality, a low-end inkjet printer might work for your needs. These printers generally provide 600 x 600 dpi. However, if the quality of the pages you print is essential, you can get a higher-end inkjet printer with double the resolution.
Laser printers are also an option. Even low-end laser printers typically print in black and white at 1,200 x 1,200. If you upgrade, you can get an even better resolution.
Think about who sees your documents. If you send them to customers, you certainly want to provide high quality.
Do You Need to Print in Color?
It's essential to think about your color printing needs before investing in a new office copier. If you want to go with a color printer, you need to consider the quality you need. Do you have basic needs? If so, you can get a color printer with a resolution of 1,200 x 600 dpi.
On the other hand, if you're a graphic designer whose reputation is built on providing images with vibrant colors and sharp details, you need a high-end color copier. High-end color copiers apply the colors in a single application instead of passing over the images repeatedly. This creates vibrant, detailed, sharp-looking images.
If you are a graphic designer or another similar profession, you can also get other features with your color copier. Popular features include color adjustment and balancing, image centering and resizing, and border erasing.
Do You Want to Do More than Make Copies?
If you only need to make copies, a basic office copier will do the trick. However, most companies need more out of their copiers. Multifunction printers (MFPs) do it all.
MFPs fax, email, scan, print, copy, and more. You can send jobs to the machine from your desk, making it easy to get work done. If you think this might be a good fit for your office, speak to a local authorized copier dealer about the various options.
Do You Need Additional Features?
Now is an excellent time to consider any additional features you need for your office. Multifunction printers offer a variety of features, including 3-hole punches, automatic document feeders, and more. Think about what you want out of your printer, and then buy a model that has everything you need.
The Final Say: Find the Ideal Printer With Help From an Authorized Dealer
Hopefully, answering these questions has given you a basic idea of what you need in a printer or copier. However, if you're still a little confused, make sure to reach out to a local and authorized copier dealer in your area.
AOS can help you choose the ideal printer or copier for your business or organization. We offer multifunction printers from the top manufacturers. These machines are for lease, so you can find the option that fits your needs and budget. Contact AOS today so we can discuss your needs.