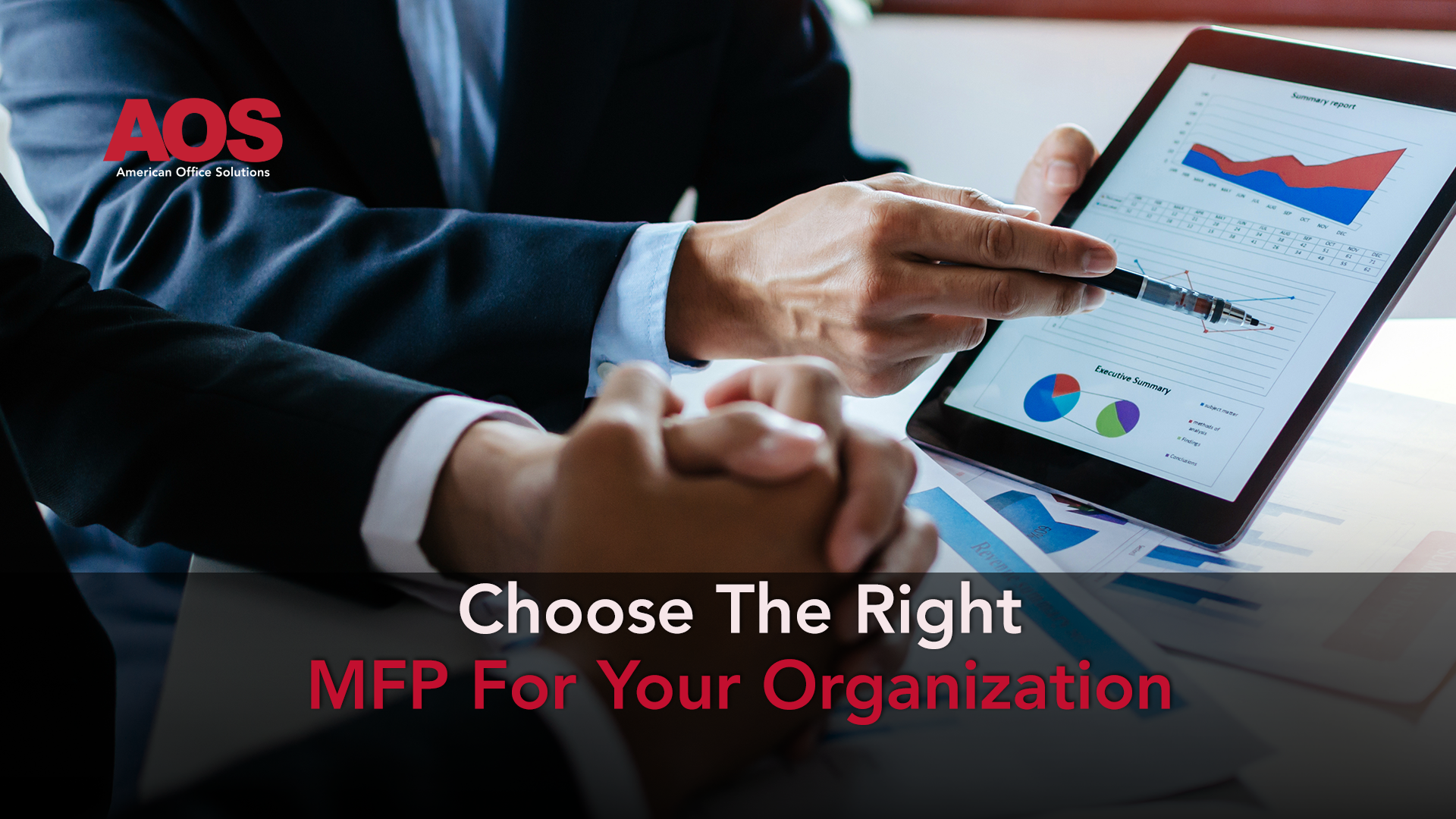 A multifunction printer (MFP) is the unsung hero of offices around the world. With printing, copying, scanning, and faxing abilities, it improves efficiency and performance.
The question is: How do you choose the right MFP for your organization? Let's go over some tips so that you can get a suitable machine for your company.
Tips for Choosing the Right Multifunction Printer for Your Office
When you are shopping for a multifunction printer, you need to think about your office needs. Do you need an MFP that prints in color or black and white? Are you interested in a laser or inkjet MFP? Where will you be using the printer?
These are just some of the things to consider before adding a new printer to your office. Let's look at each of these in greater detail.
Do You Need to Print in Color or Black and White?
First, you have to decide between an MFP that prints in color or black and white. Monochrome MFPs are an economical choice since they only require a single cartridge to operate.
Look beyond the cost before committing to a monochrome or color multifunction printer. If you just need to print black and white documents, a monochrome printer will do the trick.
However, if you need to print documents for customers, you might consider a color MFP. The color will pop on the page and look professional. Plus, you can include your logo in color when you use this printer. That will help with branding.
Do You Want a Laser or Inkjet MFP?
When you shop for a multifunction printer, you'll notice that they come in two varieties: laser and inkjet. Choosing the right one is critical for your business.
Inkjet printers are small and affordable, and they excel at high-quality printing images in color. If you walk into a real estate or marketing office, you'll likely notice inkjet printers on the desks because of the document quality.
These printers do an outstanding job of printing detailed, colorful pages that you can use for marketing products and services.
However, inkjet printers have trouble keeping up with the high demands of a busy office. Laser printers can fly through large jobs, with some printing 100 pages per minute. You will notice a speed reduction when printing in color with a laser printer. Still, these printers are faster than inkjet printers.
You might be wary of purchasing a laser printer because the machine costs more upfront. However, laser printers use toner instead of ink cartridges. Toner lasts much longer, reducing the cost per page so that you can save money in the long run.
Do You Need a Home, Small Business, or Production Multifunction Printer?
You also need to decide if you want a home, small business, or production MFP. Each type is designed to meet specific needs.
Home MFPs are created for home offices. These small multifunction printers can sit on your desk and are easy to transport.
If you work at an office, consider a small business MFP. They are freestanding and can handle printing, faxing, and scanning needs for multiple employees. They also have features you can't get with a home MFP, such as networking and the ability to handle various paper sizes and types. The features depend on the model you choose.
Finally, production MFPs are best for offices that have high-volume printing needs. These printers provide high-resolution text and graphics and come with finishing options. Some of the advanced finishing options include a cover interposer, booklet maker, and trimmer unit.
A small business MFP is likely the right choice for you. However, if you aren't sure which to choose, a local authorized printer dealer can go over your needs and help you decide.
Do You Want to Lease or Buy an MFP?
Once you decide which type of multifunction printer you want, you have to consider how you'll acquire it. Authorized multifunction printer dealers, like AOS, have leasing and buying options.
Many small business owners choose to lease a multifunction printer due to the benefits. Leasing agreements have smaller monthly payments, making it easier to get a printer with the best features and technology. Upgrading is also easier when you lease a printer and staying on a regular refresh cycle keeps you in the most economically efficient device as the newest technology provides the lowest cost of operation.
A multifunction printer dealer can go over the details of leasing and buying so that you can choose the best fit for your business.
What Kind of Support Options Do You Need?
Whether you lease or buy your printer, you should consider the support options available. Some authorized printer dealers offer managed print services and maintenance agreements.
Make sure to go over the contract to ensure that everything is covered. The right services will keep your MFP up and running and alleviate stress.
The Final Say: Choose an MFP Designed for Your Needs
Choosing an MFP designed for your business is critical. Select from the home office, small business, and production MFPs that have the features you need. Then, buy or lease the multifunction printer, paying particular attention to the support you'll receive.
AOS sells and leases multifunction printers from the industry's top manufacturers. We also provide managed print services and maintenance agreements, taking the stress off your shoulders. Contact us today to learn more about our MFPs and service options. We will go over your needs and customize a solution to meet the demands of your office.