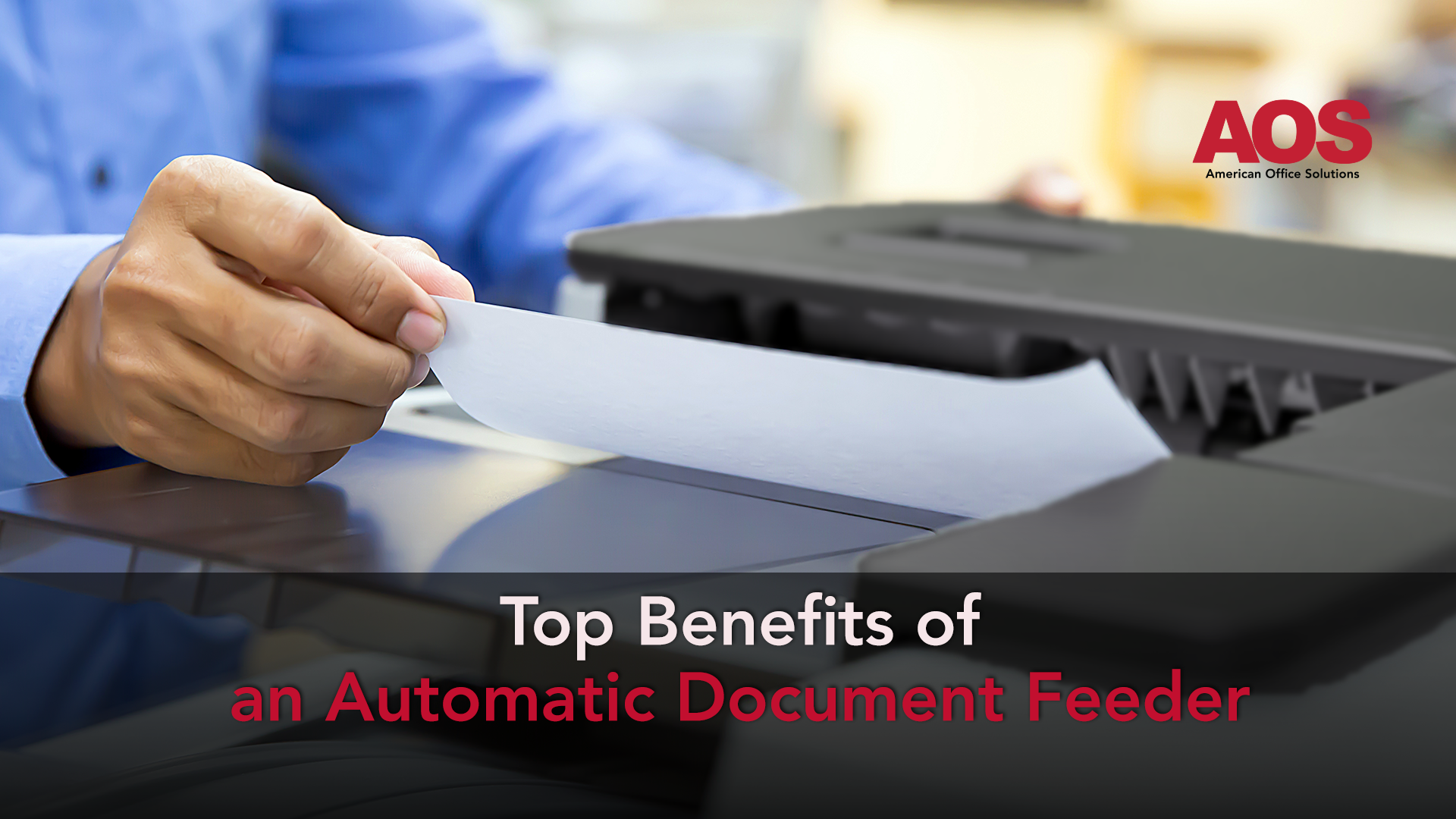 Office equipment has evolved quite a bit over the years. Manufacturers continuously come up with new equipment to make your job easier. The automatic document feeder is one such piece of equipment.
In this article, we're going over the top benefits of an automatic document feeder to see if this would be an excellent addition to your office.
Reasons to Get an Automatic Document Feeder for Your Office
Countless offices are replacing flatbed scanners with document feeders. With a flatbed scanner, you scan a single document at a time. After scanning one document, you move on to the next, and so on.
Automatic document feeders pull the paper through the machine. The scanner digitizes the document and then pulls the next page through. As you can imagine, this technology comes with lots of benefits.
Fast, High-Volume, Scanning
If your business scans a high volume of documents, you can end up with a traffic jam at the copier machine. Manually feeding the documents takes an excessive amount of time, especially if you have hundreds of pages to scan.
In fact, many flatbed scanners take 30 seconds per page. If you need to scan 100 pages at 30 seconds a page, it will take 50 minutes to complete a single job. Actually, it will take a bit longer since you will have to remove and replace each page. You could easily stand at the office copier for an hour.
With an automatic document feeder, you can place the documents in the tray and let the machine do the work. The technology is so fast that it can handle high-volume scans in a matter of minutes.
You can even get a document feeder that scans up to 200 pages in a minute. With technology that fast, you won't hold up the line at the printer.
The speed doesn't just allow you to prevent traffic jams. When you scan documents quickly, you'll have more time to dedicate to other tasks. Just think of what you can accomplish when you have an extra hour or two to spend on other projects.
Scan the Front and Back of Pages With Ease
Manually scanning double-sided documents takes even more time. Opening the scanner, flipping the page, and then scanning the other side doubles the time it takes to finish a project. That's another reason to choose an automatic document feeder.
If you scan double-sided documents, you can get an automatic reversing feeder or a dual-scan document feeder. Both can quickly scan both sides of documents. However, a dual-scan document feeder is much faster and reduces the opportunity for paper jams.
Quickly Test New Software
Software developers that build optical character recognition technologies can benefit from using an automatic document feeder. They can use the document feeder to test the software's accuracy.
By scanning numerous documents at once, they can quickly look for problems. This is much faster than scanning and comparing documents one by one.
Efficiently Confirm "KYC" Compliance
Financial institutions can also benefit from an automatic document feeder. Banks and other financial institutions have to comply with "Know Your Customer" protocols.
Doing this manually is time-consuming, and you can miss important data and put your institution at risk for fines and more.
Digitizing documents speeds up the process and also reduces errors. Financial institutions can use an automatic document feeder to scan the documents quickly. Then, employees can quickly and easily confirm compliance without sifting through mountains of paperwork.
Digitize Files Quickly and Easily
A document feeder can help you digitize your essential files. You can quickly scan the documents you have filed away and then send them to storage. Even if you have thousands of pages of documents, you can knock out this project quickly. However, it would be practically impossible with a flatbed scanner.
Digitizing files comes with numerous benefits. Let's take a look at some reasons you should consider doing this.
First, you will improve your office's security since you won't have sensitive information lying around in files. If you have any confidential information, this is critical. When you combine this with other office printer and copier security tips, you can safeguard sensitive information.
Going paperless also provides easier access to data. People can pull up the information they need with a simple click of the mouse instead of spending several minutes or even an hour looking for documents.
Also, when you go paperless, you can access those documents anywhere. You can be on vacation halfway across the world and access documents located on your server.
You can also improve customer satisfaction when you go paperless. Your team will locate documents quickly, so customers won't have to wait.
Transitioning to a paperless office will even improve your disaster recovery plan. If there is a fire at your office, you could lose all of your paper files. That could turn into a nightmare very quickly. If you operate a paperless office, you can access your data backup. You can instantly access all of the files, no matter how serious the disaster.
The Final Say: Create a More Efficient Office With a Document Feeder
It's clear that an automatic document feeder will improve your company's efficiency and performance. You can quickly handle high-volume projects, including double-sided scanning pages.
The feeder can also help with special projects, such as testing software and ensuring KYC compliance. You can even use it to digitize your files to improve security and more.
AOS can help you with all of your copier needs, including adding an automatic document feeder to your multifunction printer. We also have office copiers available for lease or purchase and offer managed print services and maintenance plans. Contact us today for a free consultation so that we can discuss your needs. With our help, you can boost productivity. Most importantly, you won't have to worry about your office copier because we will handle everything for you.