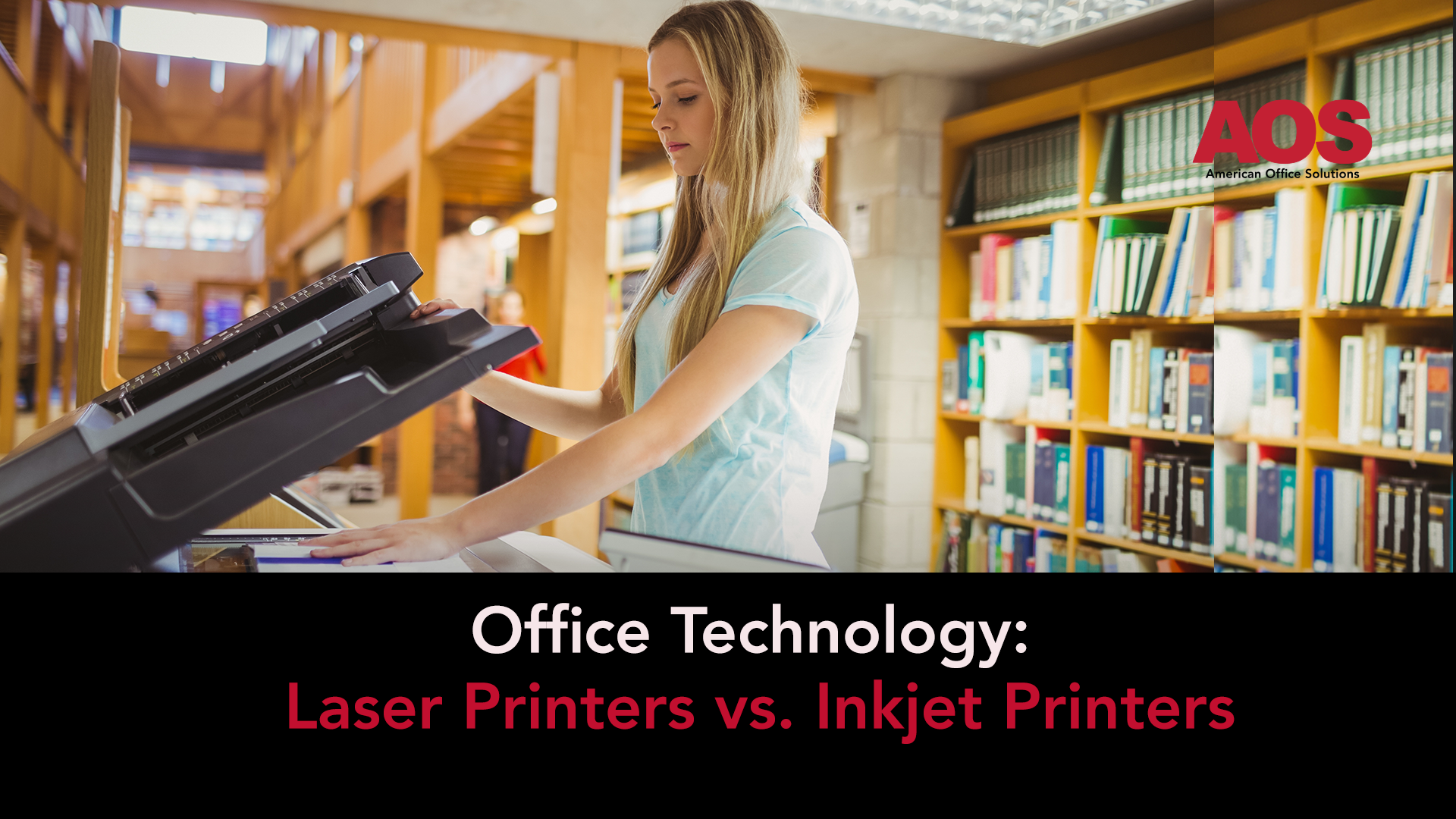 Understanding office technology can seem challenging, especially when it comes to laser printers vs. inkjet printers. You probably know that both can print documents, but that might be where your knowledge ends.
This article is a great tool to help you compare the two, so you'll know which one to choose when upgrading your office copy machine. Then you will be sure to select the type that will meet the demands of your business, employees, and customers.
The Differences Between Laser and Inkjet Printers
For starters, it's helpful to know that inkjet and laser printers use different technology to print documents. The technology impacts the cost, speed, print quality, and more.
Consider some of these differences to help you choose the best office copier for your small business or organization.
Printing Technology for Laser and Inkjet Printers
Laser printers use advanced technology to print documents. The machine passes a laser over a negatively charged drum, and the drum then collects and transfers electrically charged powdered toner to the paper.
From there, the machine heats the paper to cause the toner to melt. The use of negative and positive charges allows the printer to create permanent images that aren't prone to streaking, smudging, or fading.
Inkjet printers use printing cartridges instead of toner. You can get a black and white inkjet printer or a color printer that includes magenta, yellow, and cyan cartridges. The printer then automatically mixes the colors based on the print job.
The machine sprays the paper with ink droplets to print documents and images. This printing method is more prone to smudging, streaking, and fading.
Toner and Ink Costs
You will also notice a difference when it comes to the cost of toner and ink cartridges. At first glance, ink cartridges are more affordable. However, they tend to cost more to ship and are more challenging to store because they contain liquid.
Ink cartridges can also be more expensive to use over the long run. A standard ink cartridge can print 220 pages before replacement. You can get toner that can print 4,000 or even 12,000 pages before it needs to be replaced.
While you might spend more money upfront, you won't replace your toner nearly as often. It shouldn't take long before you start recognizing cost savings when you start using a laser multifunction printer.
Machine Costs
Inkjet printers use less complex technology, so the machines tend to be cheaper. Many manufacturers also keep the costs low because they know they can make lots of money with ink cartridge sales.
You can find low-cost laser printers, but you can expect to pay more on the front end. However, when you factor in the cost savings over the life of the machine, you will quickly discover that you can save money in the long run.
Your local copier dealer, like AOS, can provide information on how much you can save by buying or leasing a laser copier.
Related Article: Office Copiers and Printers: Avoid Hidden Costs
Printing Speed
You should also consider printing speed when comparing this office technology. Laser printers apply toner to an entire page at once, while inkjet printers go area by area. Because of that, laser printers are considerably faster than most inkjet printers.
Some inkjet printer manufacturers have taken strides to reduce the speed gap between the two. While high-end inkjet printers come close to matching the speed of low-end laser printers, they still aren't as fast.
Print Quality
It's also essential to examine the print quality before choosing between laser and inkjet printers. Inkjet printers excel when it comes to photos and images. The ink cartridges provide rich colors that make images stand out on the paper. You can get a color laser printer, but the images won't be as sharp.
However, laser printers win out when it comes to text. You can expect sharper text when you use this type of printer. The text is crisp because laser printers don't bleed. This makes a laser printer the right choice for professional documents.
Size
While sizes vary from machine to machine, laser printers tend to be larger than inkjet printers. Inkjet printers are often used for home offices and personal use. However, laser printers are the ideal choice for office environments.
Printer Noise
You will even notice a difference between the sound output when choosing between laser or inkjet printers. Laser printers tend to be much quieter than inkjet printers.
Considering the amount of time it takes inkjet printers to complete jobs, the extra sound can be annoying. Your local authorized copier dealer can help you choose laser copiers that are exceptionally quiet. That way, you won't have to worry about noise from your office technology impeding productivity.
Mobility
Because inkjet printers are smaller, you can change their locations as much as you want. You can quickly load up an inkjet printer and take it into the office and then take it back home if you wish.
The same isn't true for laser printers. These machines are large, so you'll need to keep them in one spot unless you get a tiny laser printer. Fortunately, your printer dealer can help you choose how to set up your office copiers. Then, you won't have to worry about moving them since everything will be set up in the most efficient way for your office.
The Bottom Line: Laser Printers Are the Right Choice for Offices
Both inkjet printers and laser printers have benefits. However, when it comes to running an office, you need to consider a laser printer. Laser printers tend to work faster and can save you money in the long run. Plus, you can print high-quality documents when you use this type of printer.
AOS offers managed print services for our clients. We sell and lease copiers from top brands and provide a full range of services. From setting up your equipment to maintaining it throughout your contract, we handle it all. Contact us today to learn more about our office copier services.