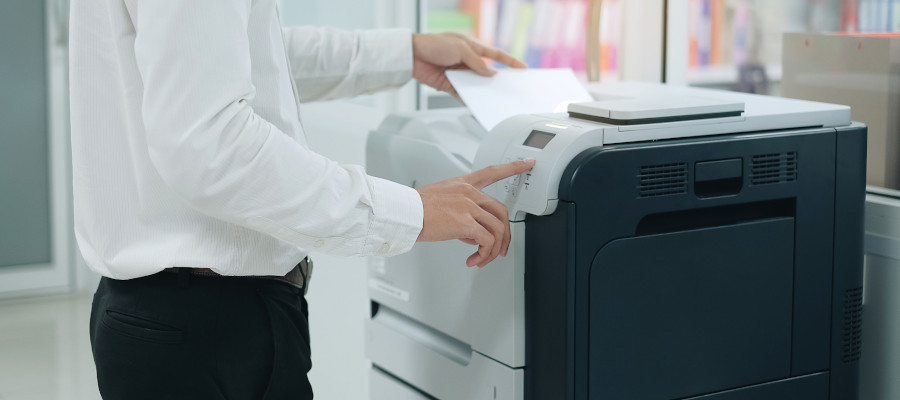 Office efficiency and productivity has steadily increased throughout the years as technology has continued to advance.
Investing in a quality multi-function copy and printer machine can easily produce documents that your business depends on to communicate with your customers. Plus, discovering the right business copier and printer system for your company can even help you to save money.
Finding the best copy machine and printer for your business can be overwhelming, which is why we've created this guide to help you choose between the two of the leading copy machine manufacturers. Interested in learning whether Kyocera or Konica Minolta machines are better for your business? Keep reading to learn more.
How to Choose a Business Copier
When you're shopping around for a business copier, there are a few things that you need to know in order to choose the best fitting machine for your company's needs. If you're not sure what the available copy machine configurations are, we've created a quick list to make shopping for a copier easier:
Different Types of Copiers
When you're shopping around for a copy machine, the first thing that you should know is whether you're interested in your machine printing in color or only printing in monochrome. You'll also want to make sure that you're choosing a copy machine that is the right configuration for your office whether that means a standard stand-alone unit or a smaller device that can be installed on a desk or counter.
There's a difference in pricing for color copiers and a monochrome copiers. Since monochrome copiers only print in one color (black), they're cheaper than copiers. Color copies and printers rely on four separate toner cartridges to print in color; magenta, cyan, black, and yellow.
Printing Speed
One of the most important aspects that you should keep in the back of your mind is choosing a printer based on printing speed. Often referred to as PPM on a spec sheet, you'll want to find a printer that's able to produce at least 30 to 40 pages per minute if you have a small business. If your company is of a larger scale, 40 to 60 pages per minute should be the average printing speed of the machines you're considering.
Paper Capacity
When looking at the specs of a copy machine, you'll find the paper capacity often are listed as a cassette or tray. Total paper capacity can range anywhere from 250 sheets to 12,500 sheets.
You'll also find the sizes of the paper that the printer can print on. Desktop all-in-one devices (known as A4) will be able to print sizes up to 8.5" x 14" while business class copiers (known as A3) can print sizes all the way up to 12" x 48".
Scanning
Having a document feeder is a must. A duplex feature on a copy machine with the ability to scan double-sided documents is the preferred option for more organizations today. Not every copy machine comes with single pass duplex capability which scans both sides of a document at once, many copiers still come equipped with the old reverse automatic style that has to scan each side of the document separately.
Memory
The majority of copy machines on the market today have an internal memory that keeps track of the scans and documents that it produces. It'll store documents that you need to print at a later date, so you don't have to keep scanning in the same document to re-print it.
If your business does a lot of re-printing on the same documents, investing a copy machine that has a larger memory will allow you to finish your printing jobs faster.

Kyocera Copy Machines and Printers
In 2018, Kyocera was named the Most Reliable Color Copier MFP brand by Keypoint Intelligence-Buyers Lab. Keypoint Intelligence is the leading source of test results and document imaging in the entire world.
Kyocera provides users with a comprehensive document workflow solution, as well as unique services for manufacturing organizations, as well as education, healthcare, legal, enterprise, and government businesses.
With their business-oriented multifunction copy machines that are best known for their ability to handle massive workloads and for their durability, Kyocera copy machines and printers are great investments if you're looking for a *more robust device that provides a lot of capabilities within a competitive price point.
The machines that Kyocera produces are easy to use and accessible, coming with features such as embossed marks that make buttons easy to find via touch, a touchscreen control panel, and mobile/wireless print standard.
History of Kyocera
Did you know that Kyocera is an award-winning printer manufacturer and was even labeled as a top copier brand? For more than 60 years, Kyocera Group has manufactured electronics, ceramics, and office technology. With more than 77,000 employees around the world, Kyocera is one of the leading office technology manufactures across the globe.
Copy Machines and Printers
The Buyers Lab Reliability award that Kyocera was presented with back in 2018 required that a group of reviews take a look at several MFPs from the company. Part of the testing process required reviews to calculate misfeeds, test total impressions, and take a review of service calls.
Reviews provided each of the tested models from Kyocera with a 10/10 and came to the conclusion that users would rarely have any issues with downtime on any of the Kyocera models.
Not to mention that several of models were included in the BLI Summer 2019 Pick Awards, where BLI raved about the multitasking capabilities, speed, and image quality from the Kyocera models.
Kyocera has a large selection of inkjet printers, laser printers, and multifunctional devices that combine printing, faxing, copying, and scanning. With software solutions to track usage, restrict color printing by staff and allow follow me job release, Kyocera devices are designed to keep users productive. They have a reputation for manufacturing printers and copiers known for an easy-to-use interface, producing high-quality documents at any volume, and being more reliable than their competition.
Combining their expertise in ceramics, Kyocera is able to offer their customers a unique advantage that other manufacturers aren't able to offer. Kyocera has developed printing devices that use ceramic drums, which require less heat and energy than other types of printers on the market.
Kyocera devices also add in ceramic particles to the tone to keep the copy machine drums clean while they're working. As an end result, this means that Kyocera copiers and printers don't require nearly as much servicing as competitive models. Plus, it also reduces the operating costs of their printers!
Cost Efficiency
Kyocera copiers and printers don't rely on an imaging cartridge to integrate the drum, toner, and developer into one unit. With other copier models that rely on this design, you have to replace the cartridge each time the toner runs out. With Kyocera models, the copier's ceramic drum is completely separate from the toner cartridge, creating a longer lifetime for the copier as a whole.
Sustainability
If you're interested in buying a printing device that was designed to reduce the impact that it creates on the environment while also reducing the costs it requires to operate, Kyocera copiers and printers were engineered for lowering operating costs, for making it easier to recycle any used components, and require less maintenance. By lowering the operating costs and requiring less maintenance, Kyocera service contracts tend to offer a much lower cost per page!
Konica Minolta Copiers and Printers
Konica Minolta is known for producing large copiers and printers in monochrome print, while most of the models offer a 30 to 60 ppm speed. Konica Minolta printers are best for home office use. With simple preset controls for the most common print jobs, the compact MFPs that Konica Minolta offers make their copy machines and printers a viable choice if you're looking for a simple printing and copy machine.
History of Konica Minolta
The beginning of Konica Minolta dates back to 1873, when the founder of the company began to sell materials for photography in Tokyo. In 1971, Konica Minolta develops its very first plain paper copy machine.
Konica Minolta Copy Machines and Printers
Konica Minolta is best known for the diversity of products that they offer for small to medium-sized companies across the globe. The printers and copy machines that Konica Minolta produces are most often used in K-12 education and home offices.
Efficiency
As with Kyocera, the devices that Konica Minolta produces also allow you to track printer usage, can require authentication to ensure that specific documents only print when the assigned person is at the printer, and allow you to restrict color printing.

However, many users have complained about the lack of standard features that come with Konica Minolta copiers and printers. Not every Konica Minolta comes with features such as automatic document feeders, wireless connectivity, or increased printing speed. Unlike Kyocera, Konica Minolta printers may only have these upgraded features available as options on the devices that were being used in stores to model the product.
Finding the Best Copy Machine for Your Business
Choosing the best business copier is essential if you're looking to reduce costs and increase the productivity of your organization. "With a low misfeed rate and zero service interventions required, Kyocera color copiers are designed to keep users productive", Buyers Lab highly-recommends choosing Kyocera copiers and printers for your business needs.

Kyocera printing and copy machines are best known for their sustainability, reliability, and cost-efficiency. If you're looking for a printer that provides you with the above listed, look no further than Kyocera.

Are you interested in learning more about what copier and printer options are available to meet all of your organization's needs? Click here to set up a free print evaluation!