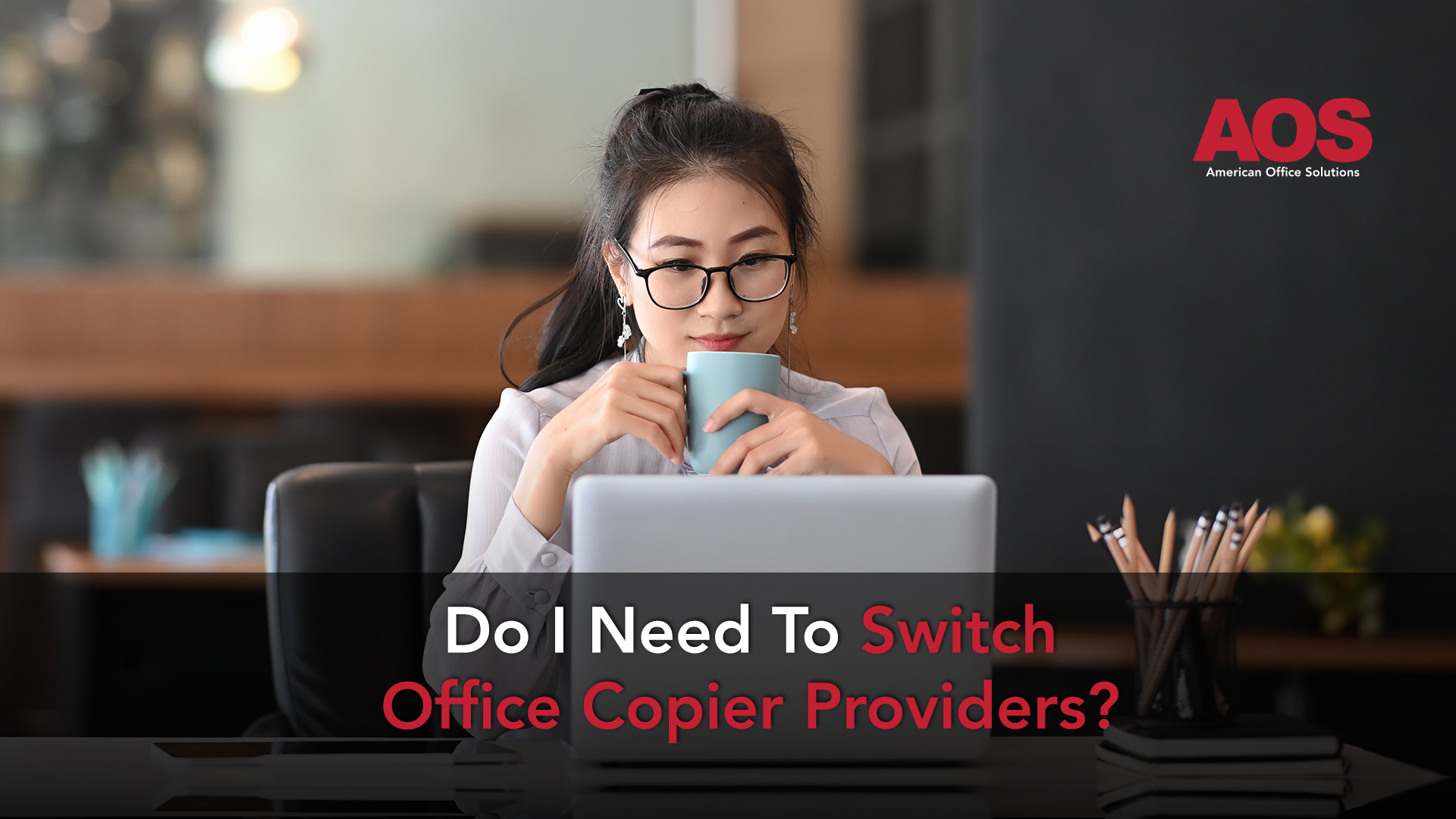 Are you unhappy with your current office copier provider? Maybe you feel like you're overpaying for services, or the company isn't up to your standards. Now, you can't help but wonder, "Do I need to switch office copier providers?"
First, we're going over some signs that it's time to make the switch. Then, we'll help you find how you can change copier providers, even if you're locked in a contract.
Once you find the best provider, you will enjoy all of the advantages of leasing an office copier without the stress.
Reasons to Change Office Copier Providers
Let's begin by looking at the common reasons to change copier providers. If you are currently dealing with one or more of these issues, it's time to explore your options.
The Customer Service Is Subpar
When you sign a contract for an office copier, you expect a certain level of service. You need the company to provide all necessary maintenance and repairs in a timely fashion.
If you have a hard time contacting the company or getting service, it's time to make a switch. You can find copier providers that respond to service calls in three hours or less and fix problems quickly. That limits your downtime and alleviates stress.
Your Equipment Is Struggling to Keep up With the Demand
Are you suffering from constant equipment breakdowns or sluggish performance? Maybe you find yourself constantly calling the multifunction printer (MFP) provider to fix yet another problem, and you've realized your machine has more downtime than uptime.
It's also possible that your office copier works, but it's far too sluggish to keep up with your growing demand. If that sounds familiar, it's time to look for a new provider.
Top-tier office copier providers have a wide range of machines built for offices of all sizes. You can choose from brands like Kyocera, Lexmark, or Sharp.
Just like a car, your new machine will have all the bells and whistles you want, plus it will be reliable and ready for use. Instead of struggling with a device that isn't up to the task, upgrade to a model designed for your office or organization.
You're Constantly Out of Supplies
Does this sound familiar? You go to your printer for a big print job, only to realize that you're out of toner once again. Then, you have to call the company to bring toner out. If that happens, it's definitely time to switch providers.
Some providers offer automatic resupplies. These companies monitor your toner usage from an offsite location and then send you more when you're running low. This is a must if you want to run an efficient office.
Your Invoices Are Way Too High
Do you feel your stress level increases every time you see an invoice from your current copier provider? While no one likes to pay bills, it shouldn't be that stressful. If it is, you're likely paying way too much.
You might even be paying more than the initial agreement. Some printer providers increase the cost throughout the lease.
You can find a copier provider that offers affordable leases with set monthly costs, though. That means you can easily fit the service into your budget, and you don't have to worry about the price going up over time.
Switching Office Copier Providers
So, you know you need a new office copier company, but there's a huge problem. You're already locked into a lease. While you might feel stuck, that's not the case.
First, some agreements have buyout options. You might not like the idea of spending money on a buyout, but if your current provider is overcharging you, it could actually save you money. After the buyout, you can enter an affordable agreement, so your monthly costs will decrease. Depending on the buyout amount, you could make your money back and then some in a short time.
You also might be able to negotiate a cancellation. Some companies are willing to let unhappy customers out of a lease early to prevent negative online reviews.
These are just two potential options. You can have a local authorized copy machine dealer, like AOS, review your current lease and provide guidance.
If you cannot get out of your current lease, you can then have the new company ready to provide a contract as soon as your current lease is up.
Whether you get out of your lease immediately or have to wait until the term is up, you need to keep some things in mind about switching providers. There are specific steps you'll need to do to ensure the process goes smoothly.
Provide End of Term Notification: Review the terms and conditions of your lease agreement to determine the window of notification to avoid autorenewal. This could be as far as 90 - 120 days before the end of your lease.



Return Your Devices: Your devices will need to be returned to the leasing company at the end of your lease This is generally pretty easy. You'll call the number provided and schedule a pickup. Then, the company will pick up the devices.

Many providers like AOS will take care of returning the device on your behalf at no additional cost to you, to make this a seamless and easy transition.



Learn More About the New Company: Go over the terms of your new lease so you will know what to expect. As you do this, find out what to expect regarding service and supplies. Ask questions and make sure you're happy with the lease before signing it. You can then move forward with your new company.
Final Say: Don't Feel Stuck With Your Current Office Copier Provider
You don't have to feel stuck with your current printer provider. If you aren't happy with your lease, take steps to get out of it and go with a new company.
AOS sells and leases multifunction printers and copiers from the top brands in the industry. We respond to service calls in less than three hours and automatically replenish supplies. With our managed print services, you can save time and money while making your office run more efficiently. We are also happy to go over your current lease agreement and explain your options. Reach out to us today to learn more about our services.