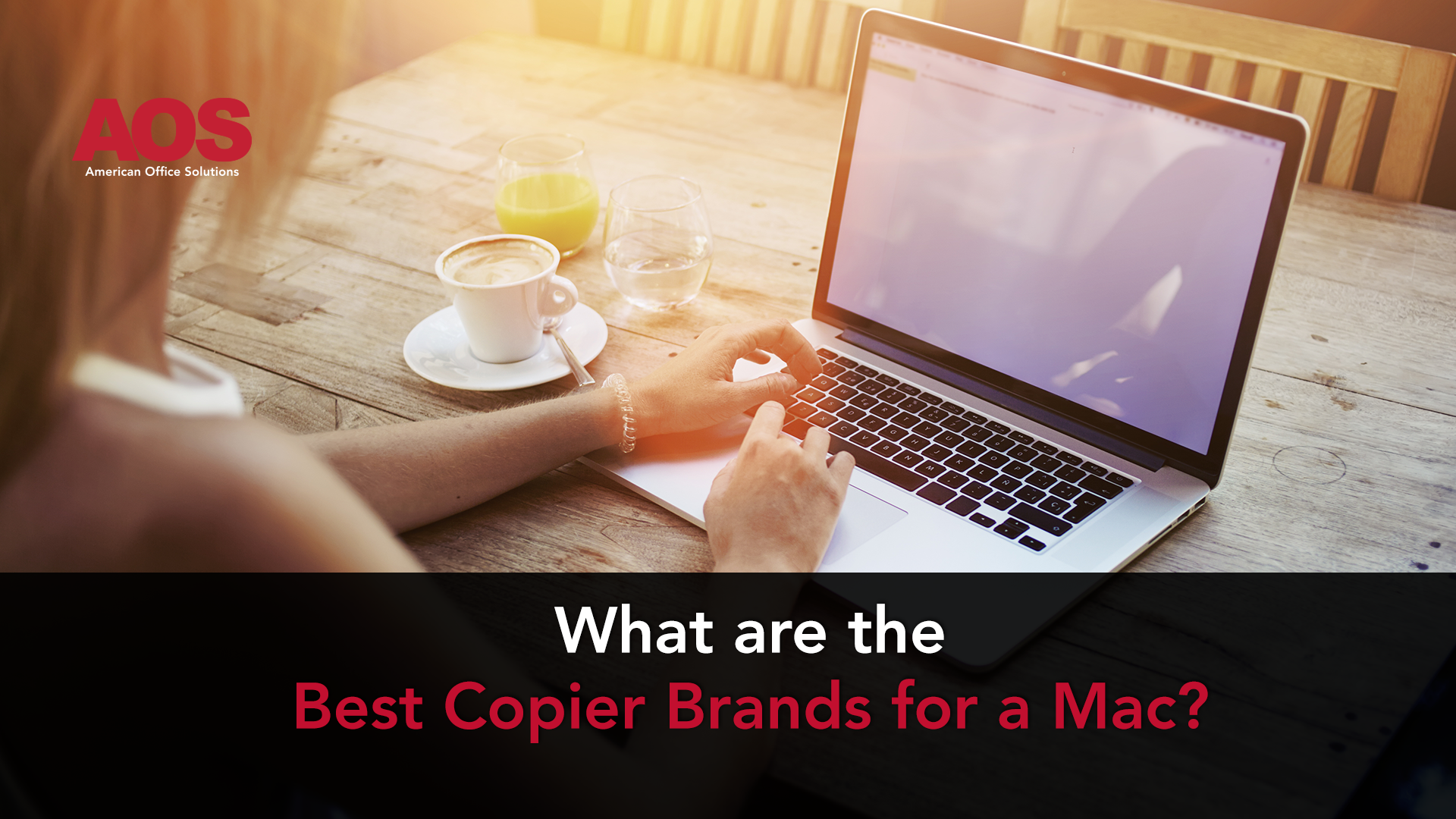 Read Time: 4.5 mins.
With enhanced security and high build quality, Mac computers are an excellent choice for offices. Now, you just need to find out what the best copier brands are for a Mac so you can complete your setup.
While there are lots of options, three brands stand out. Get the details on the top copier manufacturers for a Mac, and find out how to lease or purchase one of these multifunction printers (MFPs).

Best Copier Brands for a Mac
Kyocera, Lexmark, and Sharp are all compatible with Mac computers, but that's not all. All three are considered among the best copier brands for Macs, so you'll be in good hands if you choose one.
Let's start by taking a closer look at Kyocera's offerings.


Kyocera Multifunction Printers
Kyocera is considered one of the best copier brands around, and it's compatible with Mac computers and PCs. If you have a Mac, you'll just need to download the driver package for your computer.
Your local authorized copier dealer, like AOS, can do this for you if you don't want to set the machine up yourself.
Kyocera stands out for a number of reasons. First, the brand's MFPs include a unique ceramic drum that's designed to last until the copier reaches the end of its lifespan. The drum is separate from the toner, so you don't have to replace it when getting a new toner.
Because you don't have to factor in the cost of a drum replacement, Kyocera printers tend to be more cost-effective than other options. At the same time, the initial purchase price is in line with its competitors, so it provides an excellent value.
These multifunction printers are also remarkably easy to use. The machines have advanced features but are built with new users in mind. That means that the buttons are clearly labeled, and the interface is intuitive.
Ease of use will only get you so far, though. You need a machine that's also durable. That's another reason this is considered one of the top copier brands for a Mac.
Kyocera copiers score high marks regarding reliability and durability and last for years. You can extend the life of your machine by including a service contract from a reputable provider during your purchase.
Finally, Kyocera copiers come with various features, so you can find something that makes sense for your office. If some of your staff works remotely, you can choose a multi-purpose copier that allows people to post or fax jobs to the printer.
You can also choose Bluetooth, wireless printing technology, and features such as printing, faxing, copying, and scanning. Additionally, the printers come with various security features that will help you keep cybercriminals at bay.



Lexmark Copiers
Lexmark is also among the best copier brands for a Mac. Again, you can install drivers for the Mac or have your authorized printer dealer take care of this for you.
Whichever option you choose, you're sure to be pleased if you buy or lease something from the brand's extensive lineup of copiers.
Lexmark offers home offices, small to medium businesses, and large corporations solutions. Right now, Lexmark's Go Line Series is a standout for small and medium-sized enterprises.
With sturdy steel frames, these printers can stand up in a busy office environment. The printers come with standard two-sided print and scanning and easy-to-use touchscreens. Plus, most of the lineup can connect to the cloud.
Regardless of which of Lexmark's multifunction printers you choose, you can expect it to deliver. In fact, the lineup is so impressive that Lexmark won Byers Lab's 2019 Printer/MFP Line of the Year Award in 2019.
Buyers Lab recognized Lexmark's multifunction printers because they are reliable, include high-yield supplies, and provide numerous standard security features. Plus, the design is easy to use, and there's a lot of value packed into these printers.
You can increase the value even more by partnering with a local authorized dealer. Then, you'll have access to managed print service, maintenance, and more.


Sharp Multifunction Printers
Small business owners also rate Sharp among the best copier brands for a Mac. Its offerings range from desktop multifunction printers to high-performance systems, so your copier dealer can help you choose one to meet your office's demands.
Sharp's lineup of office copiers includes many of the same features you can get with Lexmark and Kyocera, with a few extras that are worth noting.
First, Sharp's multifunction printers include a fully integrated keyboard. Other copier brands allow customers to add this on, but you don't have to pay extra for this feature if you go with Sharp.
With the keyboard, it's easier to enter data and make use of the various applications included with the machine. Since it's easier, it's also faster, so you can increase productivity in your office.
Second, and possibly, more importantly, these printers include access to Sharp's Open Systems Architecture (OSA). The platform is full of cloud-based applications created by third-party developers. You'll have access to hundreds of apps if you go this route.
Finally, Sharp printers have a reputation for high-yield consumables, so you won't have to spend as much time replacing toner and drums.
When it comes to replacing a consumable, you'll appreciate how easy it is to do with these machines. A Sharp multifunction printer might be the right choice if you have a busy office.


The Final Say: Find the Best Printer To Pair With Your Mac
Lexmark, Sharp, and Kyocera can handle busy office environments with ease. Plus, they're all compatible with Macs, so you won't have to worry about losing functionality.
Because all three are excellent brands, it comes down to the features you want out of a printer.
AOS has been in the copier business since 1969, and we can use our experience to help you choose the best multifunction printer for your office. First, we will discuss your current printing output, future needs, and desired features. Then, we can write up a quote for you to buy or lease a multifunction printer. Make sure to contact us today to begin the process.