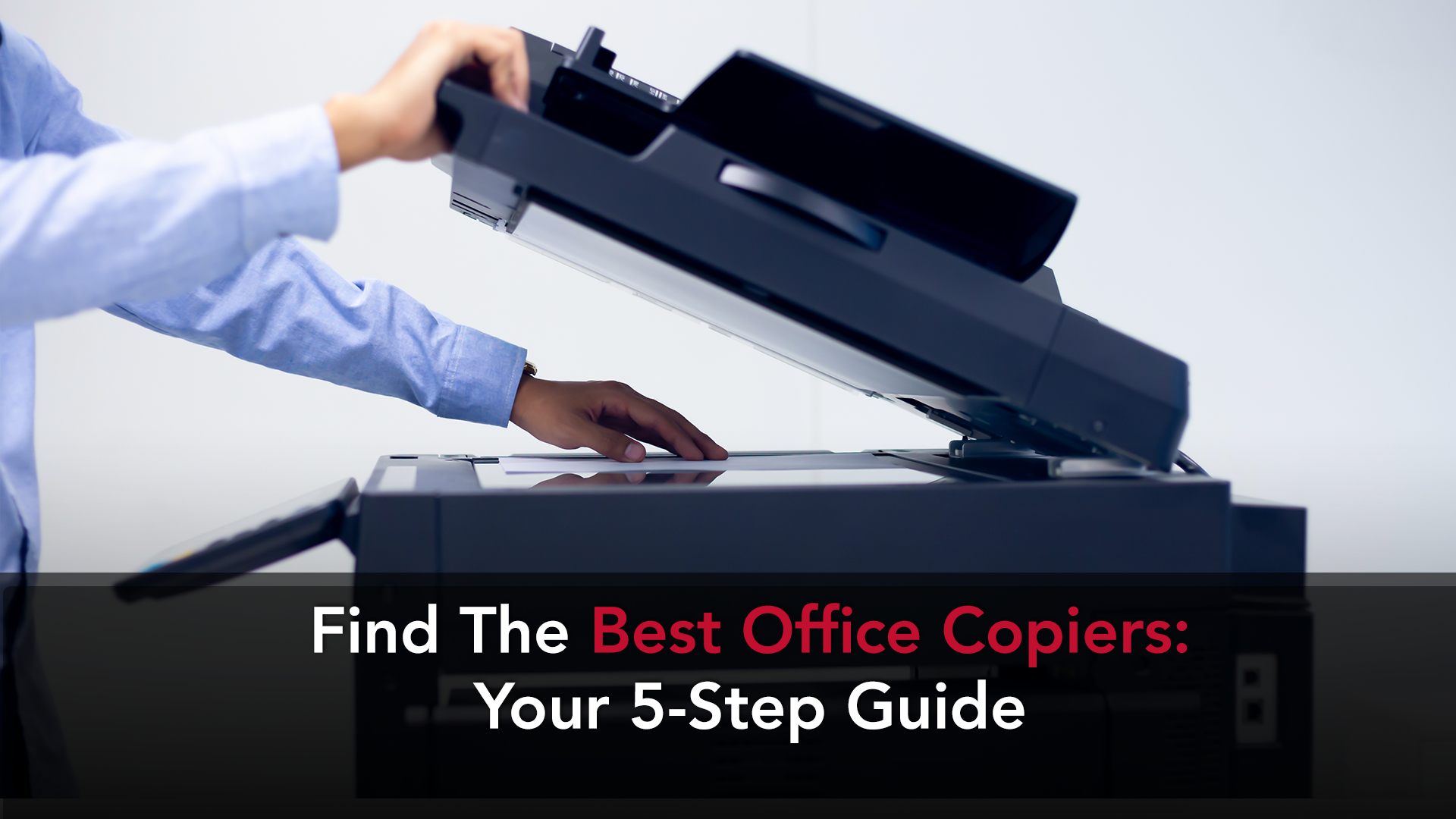 Read Time: 4.5 mins.
Shopping for an office copier is a lot like looking for a new car. You want to find something with the right balance of features, power, and efficiency so it can get the job done while providing a little bit extra.
That's not where the comparison ends. Just like going to a car dealership, there are tons of choices available when looking for an office copier. If you want to know how to find the best office copiers, this five-step guide will point you in the right direction.
We're here to help you choose a printer that meets your office's demands and makes your job easier.
Five Steps to Finding the Best Office Copier
As you move through the list of the five steps for finding the right copier, you'll notice that an emphasis is put on choosing the right dealer. Unlike car dealerships that carry one brand of vehicle, authorized copier dealers have models from various manufacturers.
A skilled and experienced dealer makes it easy to find the best machine for your small business. Keep that in mind while moving through the list.
Step 1: Go Beyond The Brand Names You're Familiar With
When shopping for an office copier, don't get stuck on a certain brand name and ignore all other options. Limiting yourself to one brand could cause you to overspend on a machine that doesn't meet the demands of your office.
Also, you could end up buying an office copier that breaks down frequently, causing you to spend more to maintain it than your budget allows.
Instead, shop with an open mind. It's important to understand that various brands create office copiers that can do it all.
You can get a Multifunction Printer (MFP) from numerous brands (such as Kyocera, Sharp, and Lexmark) that can:
Copy
Print
Scan
Fax
Download
Email
Plus, various offerings include additional features and add-ons. With the right machine, you can connect wirelessly, print from the cloud, edit images, and save energy.
Also, most machines nowadays have advanced security features to protect your data and reputation. However, you could miss out on the copier features and functions you need (or overpay for them) if you only look at offerings from one brand.
Step 2: Come Up With a Budget
Before shopping for an MFP or copier, you should set a budget. Speak with the person in charge of expenses to find out how much you can spend. Keep in mind that the cost of the copier is just one of the expenses. You also need to think about the cost of:
Installation
Maintenance
Supplies
Repairs
Some local suppliers charge separate fees for each aspect of buying and maintaining a machine, while others roll the costs together. You can find out how the company prices the devices and services when speaking to the provider.
Step 3: Ask the Right Questions When Choosing a Supplier
The office copier supplier you choose is just as important as the machine. You need a company that can manage your printing needs so you can run an efficient office.
Begin by creating a list of potential office copier suppliers. Then, vet the suppliers by asking some questions.
Be sure to ask questions, such as:
On average, how quickly do you respond to service calls?
What office copier features do I need for my office?
Which copiers can keep up with the printing volume at my office?
How many pages per minute do your machines provide?


Do you provide remote monitoring?
Does your company keep parts in supply for maintenance and repairs?
Are most service calls completed in one visit, or do you need two or more to get the job done?
Do you charge a single price, or will I need to pay for installation, maintenance, and repairs separately?
Which office copier do you recommend?
When you get the answers to these questions, it will be easy to see which local office copier partner will meet your needs and demands.
Step 4: Check References, Reviews, and Awards
After getting recommendations for office copiers, conduct some research on your own. Search the make and model of the machine and read online reviews. Then, you can find out how the devices have performed for various business owners.
Next, you need to research the service provider. See if the company has earned any awards and accolades. Also, check the client retention rate. If the rate is high, you know that people are happy with both the office copiers and the service.
Finally, see if the company is a PROs Elite 100 Dealer. Only 100 office imaging dealers in the country have PROs Elite 100 certification. These dealers have demonstrated a commitment to training and providing the best customer service possible. They continue to be audited to ensure that they maintain stellar service.
When you choose a company with this distinction, you know it's one of the best in the country.
Step 5: Visit Vendors Face-to-Face
After doing some research, you likely have two or three providers that have held your interest. Now, it's time to visit them face to face to find out which one is the right choice for your company.
During your visits, evaluate each company on its:
Certifications of technicians
Professionalism
Number of locations since multiple offices make it easier to deliver products and support.
Also, spend some time operating the models. You should get to demo a product before committing to purchasing it. If a company has a "look, but don't touch" policy, it's not a good fit.
The Final Say: A Top Copier Dealer Will Connect You to the Best Copier
Partnering with the right authorized copier dealer is essential in finding the right copier or printer for your office. After reviewing your printing needs, the dealer can go over various features that can help you meet the demands and scale up if needed. Then, the partner will be there for you when you need maintenance and repairs.
AOS has been in the industry since 1969 and knows copiers inside and out. Our dedication to our clients stands out in the marketplace. Make sure to reach out to us today to discuss your office copier and service needs, and we will customize a plan that is right for your office.