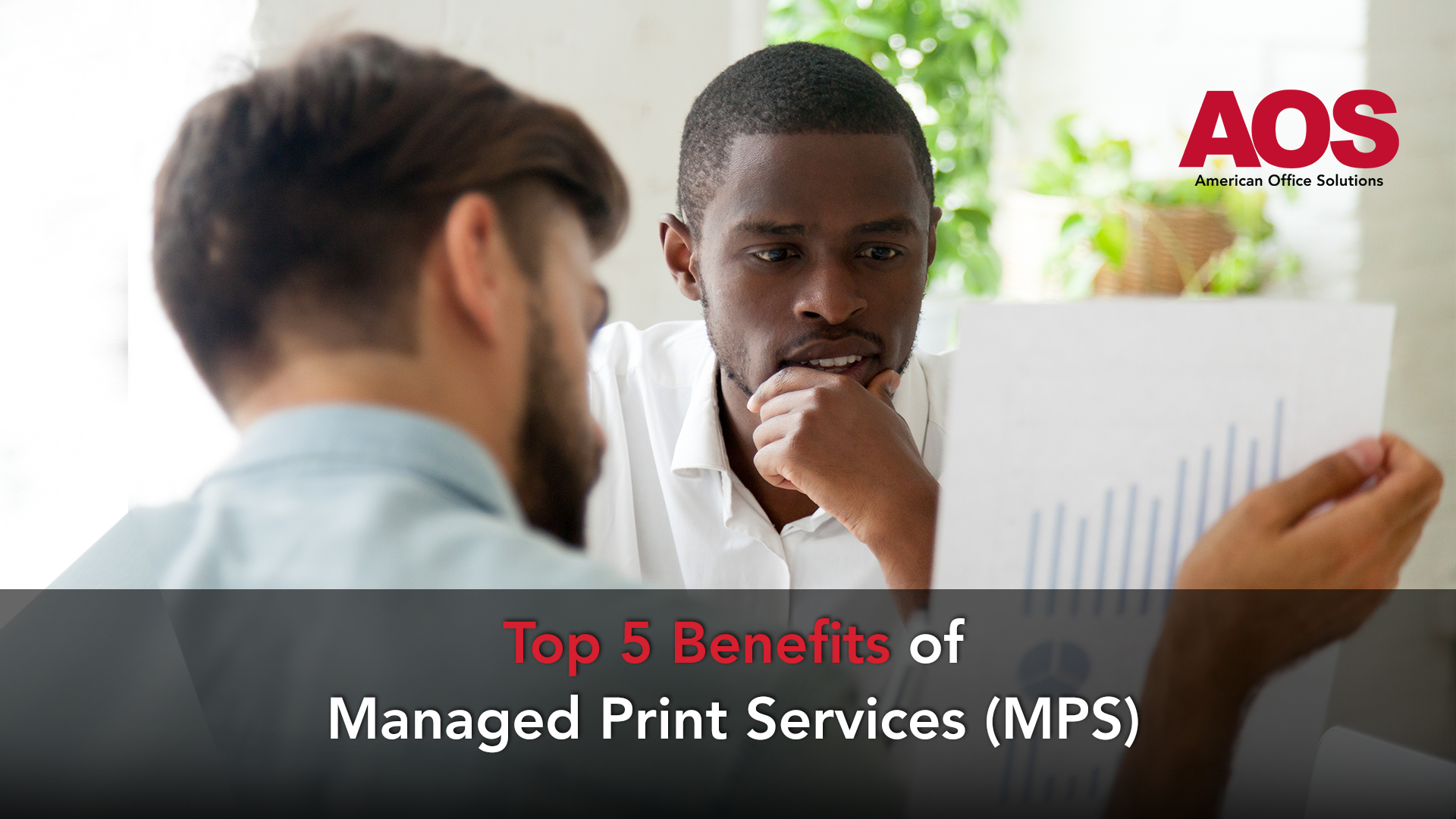 If you operate a business, you have one main goal: Remain successful and profitable. You might not realize that your office copier plays a vital role in reaching that goal as it can enhance productivity, save time, and reduce redundancies.
Managed print services (MPS) can help your output devices stay on track, so you can focus on running a successful organization or business. But what are the benefits of managed print services? What do managed print services offer to small businesses?
Let's dig in and look at what managed print services are and how they can give your company a competitive edge.
Why Choose Managed Print Services?
Before looking at the benefits, you might be wondering what managed print services are.
If you use managed print services, you'll outsource your printing management. A third-party provider (like us) will handle your printers, copiers, and fax machines for you.
These management services include maintaining your printer, providing parts and supplies, setting up devices, offering training, and more. Handing these tasks off to another company comes with countless benefits, but five stand out to us the most.
1. Let your IT Department Focus on Other Tasks
If you're like most companies, your IT department is already stretched too thin. The technicians spend their days putting out fires around the company. Often, the problems are related to the office copier or printer.
As long as they are busy handling printing-related issues, they can't put in enough time in other areas. You can free up their time by switching to managed print services.
You can then call your office copy machine company instead of your IT department whenever there is an issue. By removing office copier maintenance from your IT department's to-do list, they'll be more efficient, effective, and satisfied with their jobs—- and believe us, your staff will thank you for it.
2. Stay Secure With Managed Print Services
According to Quocirca's Print Security 2019 report, 59 percent of businesses experienced printer-related data loss in 2018. The global market insight and research company states that managed print services address this concern.
A well-qualified MPS team will begin by running a security assessment, looking for issues that could compromise data. This includes risks associated with network security, unauthorized access, and unclaimed output, to name a few.
After addressing the risks, they will patch up security holes and monitor the system, looking for additional issues. By taking a proactive approach to security threats, you can keep your data safe from potential hackers and cybercriminals.
This not only protects your data but your reputation as a business, too. A single hack can harm your reputation and even cause you to close your doors. Data security is vital, which is a huge reason to choose MPS for your business.
3. Get a Customized Plan That Solves Printing Issues
Let's face it; your current MFP likely has some issues. Maybe it takes too long to print, or the quality is too low. You might even have the wrong system for the type of paper that you use. Any of these problems can hurt your productivity.
Fortunately, if you use managed print services, the team will create a customized printing plan just for your office. Before making the plan, the team will analyze your current system to learn any current business processes, printing devices, and print infrastructure.
Then they will address the problems, recommend adjustments, and optimize your printing services.
With the right advanced technologies and adjustments, your multifunction printer will perform at its best day after day. Then it will become a vital asset that helps your business reach its goals.
4. Cost Savings
You probably think that high printing costs are just part of doing business. However, you can save money and reduce costs with managed print services. The team will analyze your expenses and look for ways to save you money.
With the right plan, you can save money while also improving your efficiency. That type of win-win is only available when you utilize MPS.
First, the managed print services provider will evaluate your office's printing usage. The team will consider the cost per page for your different devices, as well as supply usage.
It will even determine if employees are using color ink when they could use black and white. As you probably know, color ink is much more expensive and can put you over your printing budget.
After conducting an assessment, the team will create a cost-reducing plan. This might include only allowing individual employees to print in color or use your multifunction printer. The company can also save you money by providing maintenance and servicing.
Routine maintenance prevents serious problems, and servicing ensures your machine is available to handle your printing needs. Because the prices are locked in, you won't have to worry about spending top dollar when you make a service call.
5. Create an Accurate Printing Budget
If you don't use managed print services, you like to lump your printing costs with your IT costs. That means you probably aren't exactly sure how much you spend or what you need to maintain your multifunction printer.
You can organize your budget and know what to expect with MPS. Your MPS provider will categorize the costs, so you will know exactly how much you spend on each item. It is much easier to create a budget when there aren't any surprises.
It's also easier to control your costs when you know what you need to invest in your office copier and its upkeep.
The Final Say: Managed Print Services Helps Your Business Thrive
Managed print services will free up your IT department to work on other tasks while also helping you keep your office copier secure.
Not to mention, a managed print services team will address your printing issues and help you save money while staying on budget as well. With so many benefits, it's easy to understand why so many companies are turning to MPS.
At AOS, we provide top-notch managed print services to companies of all shapes and sizes. Our managed print solutions help organizations improve efficiency and reach their business goals. Reach out to us today to find out how you can benefit when you partner with us. We will create a customized solution for you so you can run a successful business.