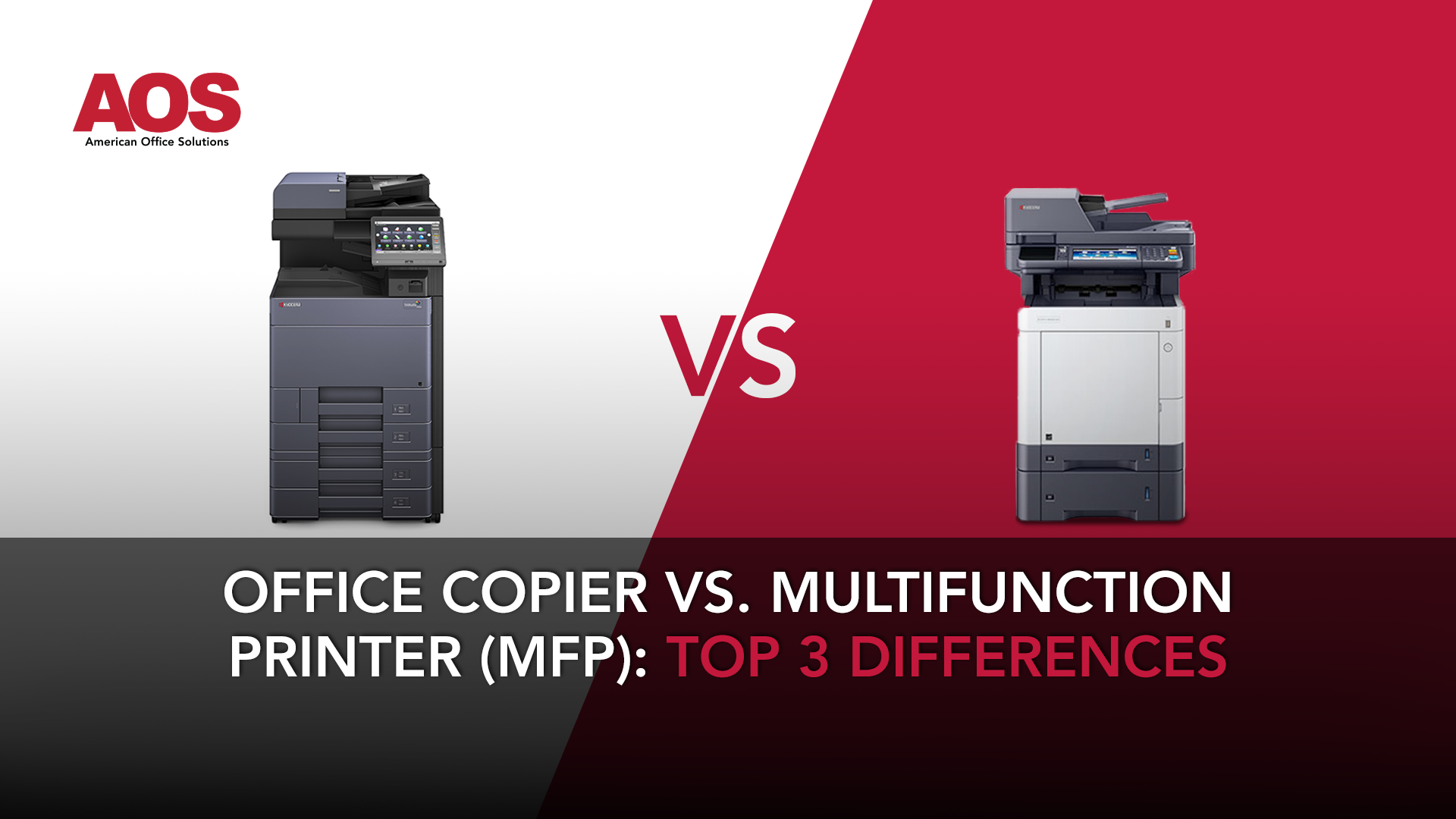 Do you ever feel like it's almost impossible to keep up with new and emerging technology trends? What about the fancy new names we're supposed to call these products, even ones that have been around for decades? Are these tech developers and experts trying to confuse us?
Your office technology products and solutions are no different. Whatever happened to the standard office copier? Now we hear multifunction printers called MFPs...or should we refer to them as printers?
The growing changes in our workplace leave many of us asking,
"What Are The Top Differences Between an Office Copier and Multifunction Printer?"
If you're nodding your head to any (or all) of this, you've landed at the right place! We've got tons of answers for you that'll make it much easier to not only understand these technology devices but how to choose the best one for your business.
Office Copier vs. Multifunction Printer
Multifunction printers (MFPs) evolved to fill a need since there was a gap between single-function desktop printers and copy machines. The copier industry noticed there was a demand for an "in-between" option.
The requirement for a smaller version of a copier that could offer similar functionality (specifically, copying, scanning, and faxing) as a standard size copy machine was what businesses wanted.
1. A Difference In Pricing
It's always about the benjamins, isn't it? When it comes to an office copier or MFP, there are some notable differences in pricing.
The device cost is typically lower on an MFP, such as the Kyocera A4 models. However, the cost per print/copy is higher. So, the right machine for a business's needs depends on things like volume and finishing options. By the way, I talk about finishing options a little further down in this article.
The print volume alone is critical when considering an MFP vs. a copy machine. There's a tipping point when a device (like the A3 models) becomes lower in operational costs, offsetting the equipment's higher price. This is due to the cost per print being lower.
Maintenance and service rates for A3 devices are also less than office copier models (like the Kyocera A4s) due to their efficiencies (meaning larger machines made for higher output volumes).
Cost is such an essential factor for all our business purchases, especially office technology solutions. Because of this, I want to go into a little more detail here–so bear with me!
Here's an example:
Your organization needs a new copier or MFP, and these are your requirements:
You only need the standard 8.5x11 inches in paper output size.
You need color copying and scanning capabilities.
Your printing and copying volume averages around 3,000 black and white prints per month and 500 color prints per month.
So that we stay on the same page, I will continue to go back to comparing the Kyocera A3 and A4 models.
When comparing these models, we know that:
The equipment cost is lower on the A4 models, but the service costs could make the A3 models a better buy based on your print volumes.
You'd see a difference in monthly savings based on the cost of service–especially when compared to how much (or little) you're printing and copying.
Keep in mind; this is just an example. There's a lot that goes into figuring out the lease or purchase price of a new copier. But, I wanted to at least provide you with the basics.
2. Finishing Options: Your Printing Specifics
What do your business and employees require in terms of printing, scanning, and assembling? How do your clients expect to receive invoices and documents from you? What do your employees need to share documents at the office or at home?
What we continue to hear from our clients is that they want more. The buying power and sheer demand by the business consumer now require the traditional copy machine to do more than copy or print.
For MFPs like the A4 models, their finishing options tend to be limited. By the way, when I say "finishing options," I am referring to value-added actions performed after the ink has been applied to the paper. A standard MFP may only include one finishing option, such as stapling.
For a more advanced office copier like the ones we see in the A3 models, there's more of a range of finishing options such as hole-punching or a folding unit for booklet assembly.
I could go on for days on the various features of copiers and MFPs. This is when partnering with a local and knowledgeable copier provider, like AOS, comes in handy.
A great business technology consultant listens to your current printing challenges, suggests the best features, and educates you on the ones you don't need. This valuable feedback and guidance allow you to stay within your budget and increase productivity throughout.
3. The Size Makes a Difference (Paper and Device)
One of the biggest differentiators between both devices has to do with the size of the machine and the output paper size.
The standard MFP (such as the Kyocera A4 models) prints and copies our conventional (or legal-sized pages) of 8.5x14 inches, which is what most of us are used to printing.
However, the standard office copier (such as the Kyocera A3 models) can print up to 12x18 inches (or the more common size of 11x17 inches) in paper size, making this device a little more versatile for businesses who have broader printing demands.
You'll notice when comparing the Kyocera A4 and A3 models above; there's also a difference in the size of the machine.
Standard office copiers (A3 models) are bigger in size since they have most robust capabilities such as paper size output and volume capacity. The larger footprint should be a consideration when evaluating a new option since you'll want to ensure you have the proper space to accommodate the copier.
The MFPs like the A4 models are a little smaller in size and, as you'll notice, can sometimes fit on the desk of a user (depending on the model). The smaller MFPs are great options to consider when accommodating employees who require their device in their office or on top of their desk.
The Final Say: The Difference Between an Office Copier and A Multifunction Printer
There's a lot that goes into learning about the different devices your office needs. So, if you're feeling a bit overwhelmed, know you're not alone!
Whether it's a standard office copier or a high-powered MFP, your output device has to remain a solution to your current challenges and problems.
At AOS, we have the knowledge and experience to understand the needs of our clients. It starts with listening to you, learning your small business operations, and identifying new ways an output device can further your organization's success. It all starts with a simple conversation—so make sure to contact us today to learn more. Let us provide you solutions that matter now and in the future.