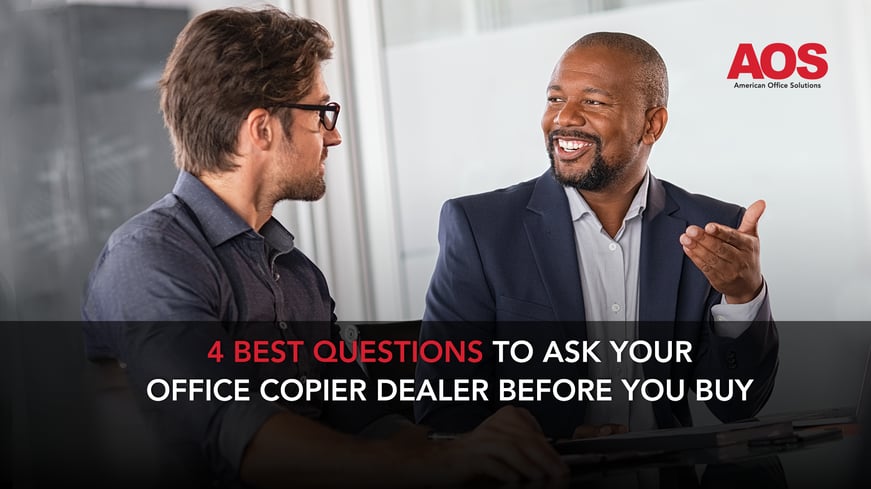 Your copier is considered an essential piece of office equipment for your small business or organization. It's right up there with your phone system and IT network.
Because your office technology solutions are so important, it's up to you to choose an office copier dealer wisely.
We're giving you some insight into the four best questions to ask your copier dealer before you buy or lease your next device, so you'll be all set when your machine is delivered.
Top 4 Questions To Ask Your Copier Dealer
When you ask the right questions before you buy a copier or multifunction printer (MFP), you'll feel more pleased with the outcome. You likely know you should ask about the specifications and features, but that's just the tip of the iceberg.
If you want to be happy with your copier provider, you need to ask questions regarding cost, customer service, and response times.
Let's dig in so you'll be ready to interview your copier dealer. Then, you can keep these questions handy when you speak to a prospective dealer. Once you have the answers, you'll know if you're ready to move forward and buy a new copy machine.
1. How much will it cost?
Before signing on the dotted line, you need to ask the copier dealer for the total lease or purchase price. You probably think, "I know I need to find out how much an office copier costs before I buy it."
Still, you might not realize that the price includes more than the sticker price. If you only have the sticker price in mind, you could end up going over your budget when you pay the copier dealer.
Consider all the factors involved in the price of your MFP. For instance, if you added any extra or advanced features, that will increase the price. You also need to consider the service contract and consumables, such as toners. Those are all added to the final price that you have to pay for the copy machine.
Your office copier dealer should provide an itemized list that shows you how much everything costs. You can move through the list line by line until you get to the total cost.
If something doesn't seem right, you have the option to discuss it with the copy machine dealer right then and there before you sign. If you wait until the deal is finalized, it might be too late to make any changes.
2. What's the price of the maintenance contract?
Your maintenance contract is as important as the copy machine itself. The agreement will cover maintenance and repairs, so you don't have to pay out of pocket when something goes wrong.
Even if your copier is brand new, you can still expect it to jam or have an error message from time to time, so never make the mistake of moving forward without a contract.
You do need to know how much your service contract costs before you sign the agreement, though. As crucial as this contract is, you need to stay within your budget. Make sure it's affordable so you can get the services you need without taking your company into the red.
3. Are the service technicians easily accessible?
When your copier breaks down, you can't help but feel like it's an emergency. You know that your copier machine is directly tied to your office's productivity. You can't afford a considerable productivity drop, so you need someone to come out and service it immediately.
Find out how accessible the copier dealer's service technicians are. How fast will they respond when you contact them? What if it's after-hours? Can they still help? Do you have multiple ways to reach out to make it as easy as possible?
Make sure the company makes it easy to get your copier fixed. From fast response times to remote monitoring options, you need to choose a company that will take the stress off your shoulders.
4. What's their average response time?
Don't sign an agreement with a copier dealer until you learn its average response time. The top companies respond to service calls within three hours or less. Get the average response time for the last year, and if it's longer than three hours, keep looking around.
If the company does have an average response time of three hours or less, ask if that's a guarantee. If the copier dealer has a three hour or less guarantee, you know you won't have to worry about waiting days on end to get your machine back up and running.
The Final Say: Interview Your Office Copier Dealer Before Buying or Leasing
Once you buy an office copier, you'll be locked into a deal. At that point, it will be too late to make changes to your contract or select a different dealer. Ask the questions ahead of time to protect your interests and ensure your office copy machine will be up and running.
AOS checks all the boxes you want in an office copier provider. When you buy or lease an office copier for your business, you can benefit from our managed print services, fast response times, and many skilled technicians on staff. We will also work with you to find a copy machine and service contract within your budget. Contact us today to learn more about how we can help you increase productivity and decrease costs.