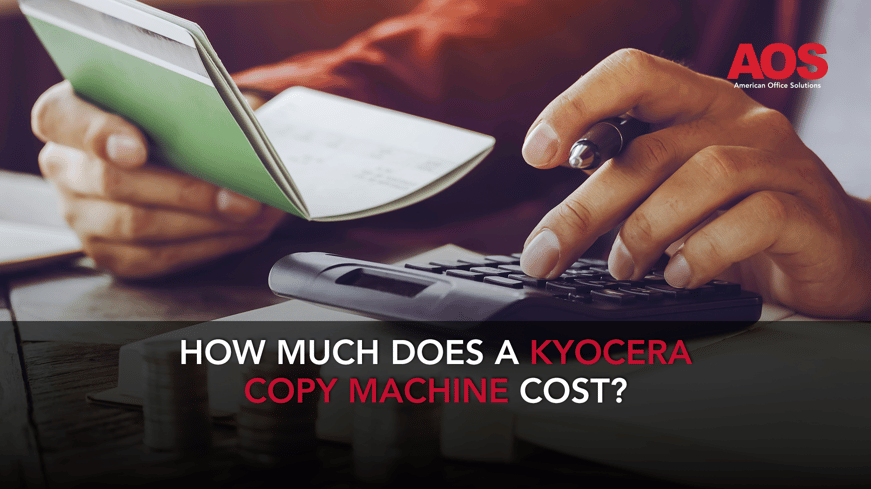 READ TIME: 5.5 MINS
If you ask someone, "How much does a Kyocera copy machine cost?" don't be surprised if you get many different answers. Some people have snagged black and white laser printers for a mere $300, while others have written checks for $25,000 to buy premium multifunction printers.
With such a vast price range, you can't help but feel confused. Let's clear up the confusion by looking at the prices of different Kyocera copy machines. Then, you'll be ready to take the next step and buy or lease an office copier.
Kyocera Copy Machine Costs: The Breakdown

Various factors go into how much a copy machine costs. First, the amount you'll spend depends on the category of office copier you purchase. Then, of course, you have to consider the features, such as how many pages it can print per minute.
As we dive in and look at the different Kyocera copy machines and accompanying features, we want you to keep in mind that the prices vary.
We're also choosing to give you a leasing price for these machines as you may find it more beneficial to lease these machines instead of purchasing them outright.
The leasing prices of the device categories listed below range from about $10 per month to about $600 per month.
By the way, did you know that you could lease your office copier? How nice is that? Finding a qualified office equipment provider like AOS gives you a better idea of specific leasing costs and the breakdown for each machine you'd like for your organization.
Related: 7 Benefits of Getting a Printer Lease for Your Business.
Kyocera Black & White and Color Printers

Small to medium-sized workgroups and individuals who frequently print typically lease or purchase a Kyocera black and white or color printer.
Don't let the machine's small stature fool you. These printers can handle 22 to 62 pages per minute (ppm), and since they can print in color or black and white, they have your printing needs covered.
With such a low price point, you're probably expecting a low resolution, right? That's actually not the case with these printers.
At 600x600 or 1200x1200 dots per inch (dpi), you get the same resolution you'd expect from a high-end product at a much more affordable price.
This type of printer is the most basic but can still print around 20 pages per minute and hold approximately 600 sheets.
On the other end of the spectrum, a higher-end printer that can print about 62 pages per minute and can hold about 2,600 pages of paper. These top-of-the-line devices also have some cool features, such as data security.
For example, the ECOSYS M3155dn is a black and white single functional printer. The lease price range for this device varies between $10-$45 per month.
Kyocera Black and White Multifunction Desktop Printer

If you need a copy machine that can do more than just print, consider a Kyocera multifunction printer (MFP). A multifunction printer can print, scan, copy, and fax.
Most of the multifunction desktop printers come with a resolution of 1200x1200 dots per inch. They also have a large control panel, so you don't have to worry about accidentally faxing a document to the wrong person or inputting the wrong number of copies.
Even with all of these features, desktop multifunction printers are surprisingly affordable. These MFPs come with a basic and easy-to-use control panel that provides you with access to essential functions.
With a black and white MFP, you can also upgrade to a higher-performing machine that would cost just a little more but print more pages per minute. If you like all bells and whistles, you'll be pleased with this office copy machine.
An example of a device in this category is the ECOSYS M3145idn and ranges in price between $20-$40 per month as a lease price.
Kyocera Color Multifunction Desktop Printer

Do you need to brighten up life at the office a bit? Instead of going with a black and white printer, a Kyocera color multifunction desktop printer is the right choice. You might expect to pay a premium for color. But, if you're assembling reports that contain multiple graphics (such as charts, graphs, or images), this is the copier you'll want.
Here's something else that's surprising. When you go with a color multifunction printer, you will get a more advanced control panel than you would if you spent the same amount on a black and white printer.
Also, the color version has network capability so that you can print on the go. Talk about convenience!
An example of a color MFP desktop printer is the ECOSYS M6635cidn and the lease price ranges from $24-$52 per month.
Kyocera Black and White MFP or Copier

Most people refer to Kyocera black and white MFPs as the "big guns" because they can do it all, except for printing in color. These easy-to-use office copiers have a 1200x1200 dpi resolution, and they can handle about 30 to 90 pages per minute.
Also, with integration and business applications, these copiers provide advanced features ideal for busy offices.
As you can expect, these MFPs are a bit pricier. However, if you're trying to stick to a tight budget, you have leasing and purchasing options for lower-end machines that perform exceptionally well.
An example MFP in this category is the TASKalfa 4003i and ranges in lease price from $60-$500 per month.
Kyocera Color MFP or Copier
If black and white isn't an option, you'll need to move down the list to the Kyocera color MFP or copier. These machines can do everything the black and white MFPs can do, but maybe just a little better.
If you decide to go with one of these Kyocera office copiers, you'll notice a print speed anywhere between 24 and 90 pages per minute.
Plus, with cloud and scan-to-email capability, you'll feel like you're living in the future with all the advanced technology functions.
Kyocera color MFPs have the most comprehensive price range. You might be shocked by the price range and even a little confused. But, keep in mind, it comes down to the add-ons you choose.
Deciding which add-ons are best for your business is a great discussion point with your copier provider. Some of these extra features could include additional paper trays, hardware, and card readers.
An example device in this category is the TASKalfa 3553ci and varies in price from $75-$600 per month as a lease.
The Final Say: Which Machine Is Right for You?
With so many price ranges and add-on features, choosing a Kyocera copy machine can seem overwhelming.
Fortunately, we're here to help! We can customize a printing solution for you with the add-ons you need to meet your business goals while staying within your budget. Our managed print services are built for each client from the ground up. You'll get what you need without overpaying for features you won't use. Contact us today, so we can begin developing a managed print solution for you.