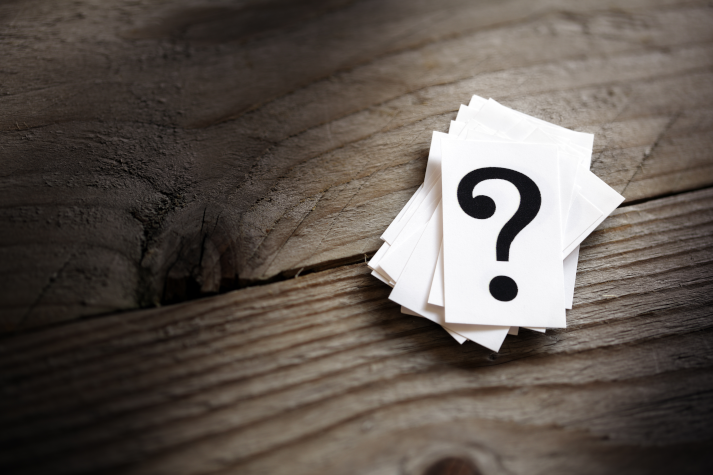 As 2019 comes to a close, our team has been reflecting on all of the questions that we've gotten about copiers and printers over the past year. We've compiled a list of our most frequently asked questions and answered them here.

Does AOS sell or lease copiers?
While the majority of our clients choose to lease their devices, we do offer direct purchase as well as multiple lease term options.
Whether you're purchasing a copier outright or starting a new printer lease, we always include your delivery, installation and user training at no additional cost.
How do I get a copier proposal or quote?
We like to approach each organization as a data consultant, rather than a salesperson. With this approach, we've found that having the following information available allows us to understand the unique copy and print environment of your individual organization. We generally request that you gather this information as the first step in the proposal process so that we can recommend and implement the very best solution for your needs.
Ideally, we would like to have the following information in order to craft a proposal for your needs:
Current Lease agreement – This provides your current device model(s) with configuration as well as your lease end date
Current Service agreement – This provides your print volume and any cancellation terms
Last 3 invoices from your lease & service companies (if separate) – This confirms the current monthly volume usage
If you are unable to provide these documents, consider answering the following questions to the best of your ability.
Do you own or lease your current printing devices?

If leased, what is your lease end date?

What is your current monthly cost?

Include equipment and service costs, if separate.

What is your current black & white print volume?
What is your current color print volume?
What is your current black & white

Cost Per Copy

or service rate?
What is your current color

Cost Per Copy

or service rate?
We understand that buying an office copier can be a daunting task and we would love to set up a brief meeting with you to learn more about your organization's specific copy and print needs. If you're unsure about the answers to these questions, we'll be able to work with you to uncover the details and determine the best solution for your print environment. Please reach out to our Client Success Team at AOSClientSuccess@getaos.com or (800) 346-6920 for more information about obtaining a price quote.
Will your dealership match competitors' pricing?
We welcome the opportunity to offer you the best pricing and will do everything within our power to provide you with a competitive quote. This includes taking the pricing to our copier manufacturers when necessary, to see if they can offer any additional discounts or alternatives.In short, yes, however, we'll need to have the competitive quote in writing to confirm that the solutions are equivalent models and configuration.
How long does it take to get a new copier?
Our award-winning installation team can generally complete installation within 1-2 weeks of receiving the signed purchase documents. Typically, it can be much sooner, depending on what device is ordered.
This time frame includes delivery, set up, networking, software integration, any initial training requested by those users on-site during installation and removal of the previous copy machines.
What does the installation process for a copier look like?
To carry out any new printer or copier placements, we utilize our Client Success Team, Installation Team and Service Team to help coordinate the install and initial training with your staff.
Client Success Team

Our client success team plays an integral part in our partnership with clients. From initial communication to addressing questions, later on, our growing team lives in the details for you. Coordinating a time that works best with you for the installation to take place, answering any pre-installation questions, and detailing what staff training is needed while our technicians are on-site.
The client success team will continue to be a resource for you long after the device has been installed. Always welcoming your calls and emails, they work as a team to address any questions or concerns.
Installation Team

The installation team coordinates with your staff to make the integration process as smooth as possible. Completing any device relocations while on-site; we would also remove any of your obsolete devices for recycling or shipping while we complete installation of the new devices.
Service Team

Our certified service technicians focus primarily on serving you through quick response times and high first call efficiency rates. Their support is foundational and begins immediately by installing print drivers, setting up workstations, and coordinating with your IT department to ensure a smooth transition. Support continues from then on with ongoing training and support as part of your service agreement.

Do you sell toner and ink cartridges?
Toner and ink cartridges are included as part of our Managed Print Services (MPS) agreement; however, we also offer toner and ink à la carte as needed.
What's included in a copier service or managed print service agreement?
Our preventative maintenance includes all parts, supplies, toner, labor, service calls, preventative maintenance, and unlimited training throughout the agreement. Paper and staples are not included.
How long should I have to wait for someone to respond to my copier service request?
Our award-winning Service Team works diligently to give you the best service possible. Their response time currently averages 2.8 hours and we guarantee a service response time of less than 4 hours. As our client, you will be notified via email when the service technician has been dispatched and again when the call has been completed.
How do I place a service request for my copier or printer?
Service can be requested through our website form Here, email Support@GetAOS.com or call (800) 346-6920. Our team monitors the inbound emails and calls to provide the fastest response possible. You will be notified via email when the service technician has been dispatched and again when the call has been completed. Your email after the service call will also include a survey with questions about your experience.
What if my copier can't be fixed? Does AOS offer free copier replacement?
Once on-site, if the technician is unable to diagnose the core issue with a device, our Field Service Manager will personally come out to assess the situation.
If for any reason the device is not able to be back up and running in less than 3 days, an equivalent service swap device can be installed to provide interim service until your device is returned to operation at no additional cost. Your workflow and productivity are our greatest concern, we will take care to ensure that any work disruptions are brief.
How do I place a toner or supply order for my copier?
Toner and supply orders are reported automatically via remote monitoring software, submitted via website form Here, emailed to Support@GetAOS.com or by placed by phone at (800) 346-6920.
How much do you charge to enroll in automatic toner delivery?
Automatic toner delivery is a benefit of our award-winning service and is available for all networked copiers and printers through our remote monitoring solution at no additional cost.
What if I don't understand how to use my new copier? Do you offer additional user training?
Yes, we offer ongoing training throughout the life of the copier service agreement at no additional cost.
At AOS, we tailor our solutions to fit the individual needs of each client. This is true in the scope of user training as well. We take our cues from you as to how many staff members you would like us to train and how in depth their training should be. We will make sure that our experienced training team is available to assist as needed.
We provide on-site training to staff and key users, as well as ongoing training to ensure that all staff continue to be comfortable with the equipment. We have online training videos available for those that do not wish to attend on-site training as well as troubleshooting guides for those that like to have information on hand even after training has been completed.
We're here to make your staff successful and productive with whatever training option suits them best.

Can I set up my copier to do scan to email?
Yes! All of the manufacturers that we work with, that scan documents, include standard scan-to-email capability on all of their devices. Contact our Service Team at Support@GetAOS.com or (800) 346-6920 to request additional information on getting this set up.
Can my copier print from my phone?
All of our manufacturers include standard mobile print capability. Contact our Service Team at Support@GetAOS.com or (800) 346-6920 to request additional information on getting this set up.
Can you recycle my old laser printer?
Yes. With any installation, we can arrange for free pick up of any obsolete devices as well as old toner or consumables that you would like recycled.
Can you recycle my used toner containers?
Yes, please visit our recycling resource page for additional information on toner recycling. If you have any questions or need assistance, please contact our Service Team at Support@GetAOS.com or (800) 346-6920.
How do I ship my old copier back to the leasing company?
As part of the proposal process, we will help you navigate any current leases to determine the specifics of the agreements to plan for your currently leased devices to be shipped back to the leasing company without any additional cost to you.
What is CPC / CPI / CPP?
When it comes to copier service, CPC/CPI/CPP is defined as the Cost Per Copy, Cost Per Image, or Cost Per Page. They all mean the same thing, the price that you will be charged for each print, copy, and incoming fax page. By charging a Cost Per Copy, the service company is ensuring that no matter how much your company prints, they'll be able to cover the cost of supplying your toner / ink, service, labor, all parts, and maintenance.
What are copier service base rates & allowances?
The vast majority of copier service agreements start with a Base Rate & Allowance.
Base Rate: The minimum monthly cost of your service & maintenance agreement. The Base Rate should include a set Base Allowance of included prints/copies. The calculation should be
Base Allowance X CPC = Base Rate
Base Allowance: The minimum monthly copies/prints included in the service agreement. This should be set by your anticipated monthly volume.
The company would be charged a Base Rate per month for any month that they use the Base Allowance prints / copies or less. On months that they go beyond the Base Allowance prints/copies, there would be additional prints/copies charged at the same service agreement Cost Per Copy.
What do Copier Service Base Rates & Allowances have to do with my billing?
Many companies use Base Rates & Allowances to forecast annual service costs and spread out budgets evenly from month to month.
For this example, we'll use an agreement with a

3,750 Base Allowance

X

$0.008 Cost Per Copy

=

$30 Base Rate

If the company uses up to 3,750 prints/copies in the month of September, they'll be charged $30.

If in October they used 4,500 prints/copies in the month, the company would be charged a total of $36 to cover the Base Allowance and the 750 additional copies/prints that were used.

750 Base Allowance

X

$0.008 Cost Per Copy

=

$6 Additional Cost
$30 Base Rate + $6 Additional Print/Image Cost = $36 Total Monthly Cost
Since the Cost Per Copy is same for the prints/copies in the Base Allowance as it is for any additional prints/copies, it allows the company to plan monthly budgets more accurately without incurring any extra costs.
How will my copier lease and/or service be billed?
We bill net 15 and have one invoice for your service and lease. We are able to segment your invoice by building or department if needed. We prefer to invoice on the 1st or 15th of the month but are flexible in coming up with another day of the month, if needed.
Why am I being charged shipping on my copier service invoice?
At AOS, we do not charge when we ship toners or any other supplies to our clients, to balance that we add a 3% shipping charge to all invoices. By doing this, shipping is based off of true usage and will not fluctuate with changes in shipping costs or fuel pricing.
Are there lease origination fees on office equipment leases?
The short answer is yes, there is a one-time lease origination fee of $125 that is assessed by the leasing company for the initial lease processing. This is included on all new office equipment leases to cover the costs of the UCC (Uniform Commercial Code) filing with the State of Michigan.
What is transitional billing?
We set up our agreements to bill on either the 1st or the 15th of the month so that it's easier on accounts payable to plan and budget accordingly. Since we do installations throughout the month, the installation date may not be the same date that the agreement billing starts on. Transitional billing is the timeframe between installation and the official start of your new contract.
For example, an agreement with a $50 monthly payment that was installed on the 18th of September would have an agreement start date of October 1st. Transitional billing in the amount of $20 would be included on the first invoice to cover the 9/18-9/30 timeframe.
Do you accept ACH payments?
Yes. To set up your account for ACH payments, please complete and return this form to the Client Success Team at AOSClientSuccess@GetAOS.com.
Do you charge late fees?
Payments over 30 days past due are subject to a 1.5% monthly finance charge.
If your company finds that the current billing schedule is conflicting with your check printing or payment schedule please contact the Client Success Team at AOSClientSuccess@GetAOS.com or (800) 346-6920 so that we can coordinate a better billing pattern for your company's needs.
What is a miscellaneous charge invoice?
This is the 1.5% monthly finance charge assessed to accounts that are over 30 days past due.