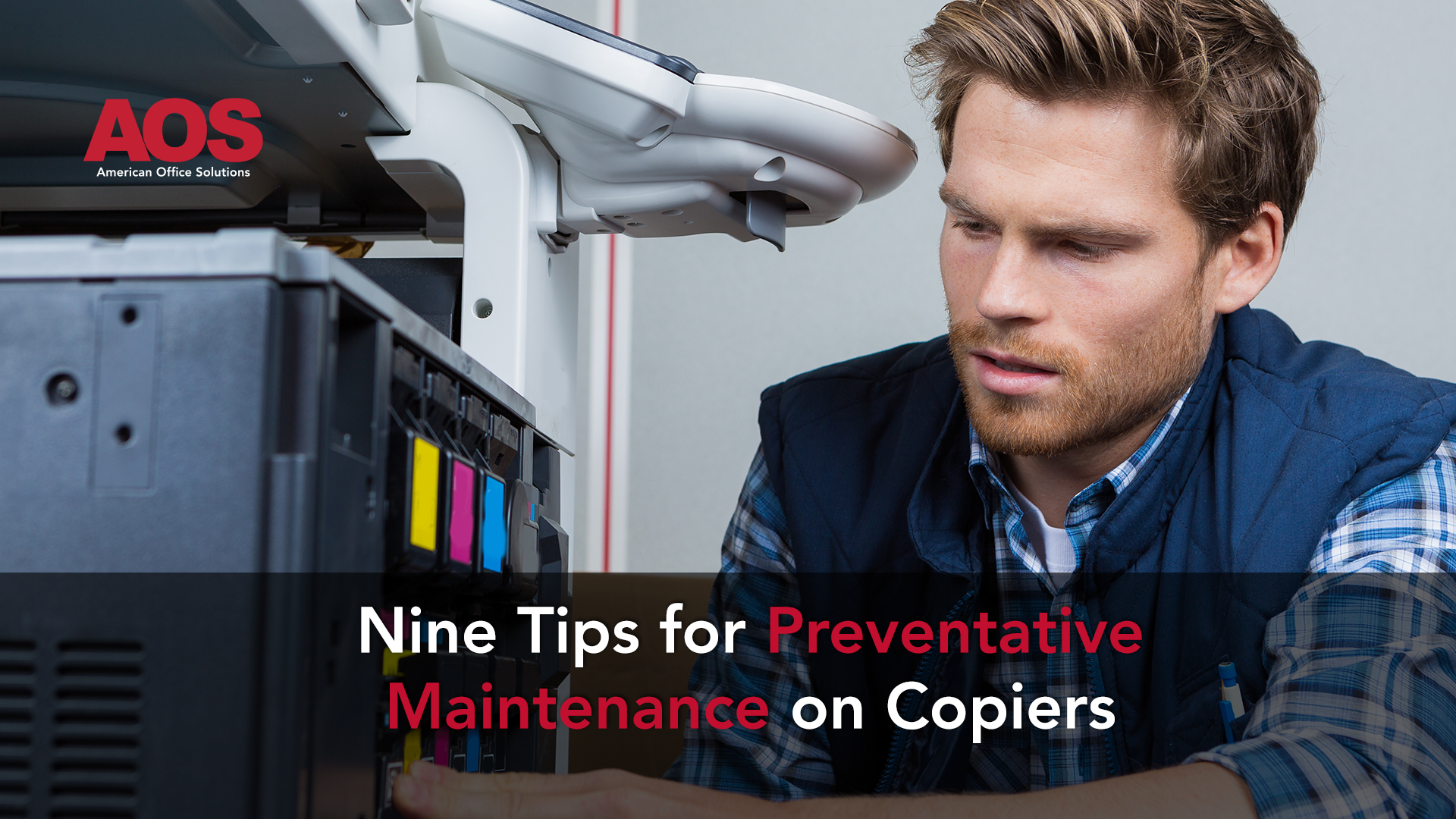 Keeping your copier in working condition is a necessity for maintaining a stable workflow. Because of that, preventative maintenance can help keep your copier working as intended for a long time to come. Below are nine helpful tips that can aid you in maintaining your copier's condition.
Start the Copier Early
As a rule of thumb, booting up the copier at the beginning of the day before it is needed can help avoid extra wear and tear. Starting early allows the device to properly warm up before being used. Think of it like an athlete who needs to warm up before heading onto the field. Perhaps not warming up might not cause damage early on, but as the copier ages, wear and tear will accumulate. Giving it a chance to warm up before heavy use can help alleviate that to some extent. Modern copiers usually have an option to start up when you walk by them for this reason.
Use Quality Toner and Paper
Like most machinery, using quality parts and supplies goes a long way in maintaining the longevity of the device. For copiers in particular, using quality toner and paper is key. Although purchasing cheaper products may save a few dollars in the short-term, using good toner and paper can help a copier work as intended for much longer than when using alternative supplies.
Many copier providers will provide optimal toner as part of a service and supply agreement. Taking advantage of that can alleviate cost concerns without sacrificing toner quality.
Clean the Slit Glass Regularly
One of the most common issues with copier usage is streaks on copies. How can you fix streaks on copies? Most of the time, cleaning the slit glass should do the trick. If you need more information on how to clean the slit glass on Kyocera devices, click here.
Request Scheduled Cleaning
Along similar lines as streaks on copies, you may have issues with blotchy or faded prints. One of the best ways to fix these issues is by cleaning the device. In cases where you expect to print a large number of documents, requesting a device cleaning with your copier repair provider before or after can increase the lifespan of your copier. In some cases of faded prints, the toner cartridge may be old, but it is best practice to contact a copier repair provider for assistance when such printing issues occur.
Only Contact Qualified Technicians
When your copier requires service, always call a qualified technician. Many copier providers can provide service as part of a service and supply agreement without requiring extra charges. If you have an agreement with a copier provider, always call them for service instead of reaching out to third party technicians. If you are in need of service on a copier but do not have an agreement with another copier provider, American Office Solutions would be happy to discuss options. The service technicians working alongside AOS have years of experience and numerous official qualifications under their belts.

Check the Waste Toner
Another important aspect of preventative maintenance is checking the waste toner cartridge levels on a regular basis. Although a full waste toner will not cause extra damage, it can affect workflow. Ensuring you have an extra waste toner cartridge on hand at all times can help avoid workflow interruptions. If you need more information on waste toner, click here.
Load Paper Carefully
Although it may seem simple, loading paper into the paper trays carefully is important for avoiding excessive paper jams. Haphazardly tossing stacks of paper into the trays may leave gaps that can lead to excessive paper jams that may interrupt workflow. Always make sure paper is placed into the trays neatly and snugly and fan the paper as necessary.
Let the Copier Rest
Allowing your copier to rest from time to time is another great way to increase the longevity of your copier. Much like a car, leaving the device running 24/7 can lead to extra wear and tear, though to a lesser extent. A good practice would be to occasionally shut the copier off during a weekend or holiday.
Handle the Copier Gently
While it may seem simple, handling your copier with care is one of the most important aspects of ensuring the working condition of the device. For example, setting a coffee mug on top of a printer or copier or hitting the device are both bad practice that can potentially cause irreversible damage. No matter what it is, treating any object with care is important for longevity's sake, and printers and copiers are no different. Also, purposely damaging company property is a bad idea no matter when or where.
The Final Say: Take Care of Your Copier, and It Will Take Care of You
The nine tips mentioned above should allow you to maintain the working order of your copier for a long time to come. However, no matter how well you take care of your device, all printers and copiers have a shelf life. When it comes time to finally replace your device, consider American Office Solutions, a copier provider in the Western, Central/Mid, and Southeastern Michigan areas. We provide quality printers and copiers for all sorts of business and organizations, big or small, from Churches to Hospitals. For further information, give us a call at 800-346-6920.