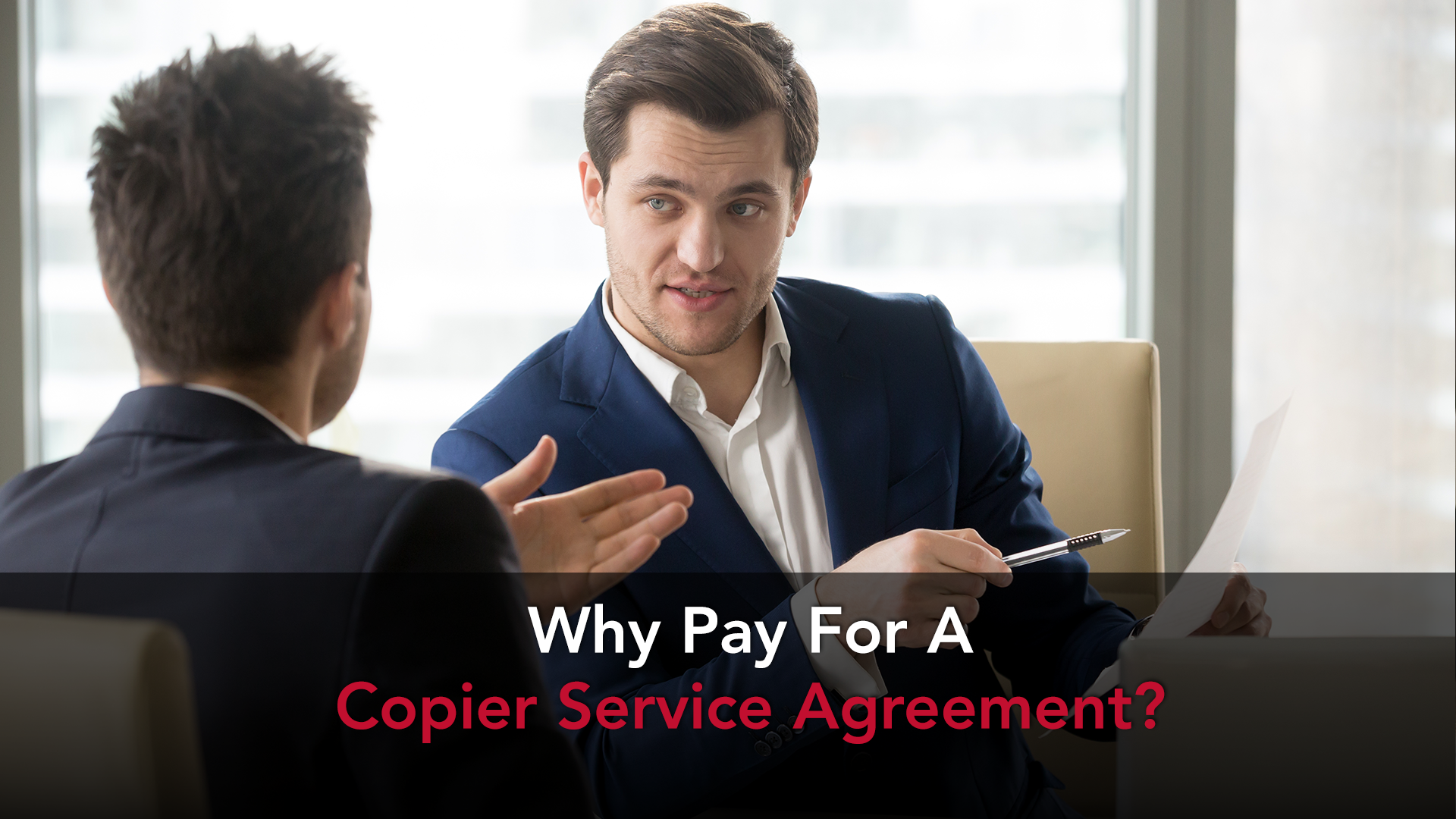 Read Time: 6 mins.

Getting a new copier or multifunction device (MFP) for your business can be exciting. However, the chances are that after choosing which copier system is best for your business, the brand that best fits your needs, the copier model to go for, the optimal accessories to be added, and whether to lease or purchase, you likely end up with decision fatigue.
Still, there is one more critical decision to be made. Mainly, you have to decide if you should pay for a copier service agreement.
What Is a Copier Service Agreement?
When you buy or lease a copier, it automatically comes with a manufacturer's warranty. The latter is expected to protect you from any issues that arise due to manufacturing errors or what could best be described as premature failure.

For your business, this warranty is advantageous because it covers any costs of repairs that arise due to the device being defective within a specified time period.
That's where the copier service agreement comes in. At its tenet, the copier service agreement is a service contract from the service provider that works pretty much like the maintenance package you have on your car.
For a regular monthly fee, the service provider provides you with any service, maintenance, or repairs that your copier might need. Typically, this service contract covers any quality issues you might experience, repairs necessary for the optimal running of the MFP, parts you might realize you need, and the labor costs incurred during said maintenance visits.

Why You Should Pay For a Copier Service Agreement
When you lease a copier, the service provider will include the service agreement cost within the leasing costs.

However, if you buy the unit, you may choose to pay for a service agreement for a monthly fee. Why should you go the extra mile to get the copier service agreement?
Related Article: Printer and Copier Guide: What's Included In Service And Maintenance Agreements?
Predictability
Copier service agreements ensure that even when something goes wrong, you can simply call the service provider, and a technician will come to repair the device before further delays.

What's more, you do not have to incur any additional costs, which essentially means you can predict your monthly expenditure.
Less Downtime
For most organizations, the copy pipeline is central to the smooth running of the business. When there is an interruption in the said pipeline, there will likely be an impact on the business processes.
Having a service agreement in place means that the moment a breakdown occurs, you are assured that productivity will not be halted for an extended period, as you are guaranteed faster service.
Additionally, most of these service agreements will include regular preventive maintenance as an industry standard. This translates to the service technician unearthing and resolving any problems before hampering productivity.
There's Inclusion of Consumables
Imagine a situation where you have a tight deadline then your team runs out of the required toner! When you have a copier service agreement, you no longer have to ponder about this eventuality.
As your device is monitored remotely, the service provider is notified when the toner is running low. This means that you get a replenishment just in time, which should ascertain business continuance.
The Final Say: Paying For A Copier Service Agreement
A copier service agreement provides you with a peace of mind. You no longer have to worry about whether your copier is being properly maintained or if you have to incur any surprise service costs and toner is automatically shipped to your organization.
With this kind of agreement, you also get to have a print and copy ecosystem with minimal downtime. All of these come in handy, especially in settings where day-to-day business depends on a smooth copy pipeline. Make sure to give us a call and let us help you through the process.